Canada's Prime Minister Justin Trudeau finally met with his Indian counterpart Narendra Modi on Friday during a bumpy eight-day trip to India that has been overshadowed by suggestions of a lukewarm reception by the Indian government.
Trudeau said India was a 'natural partner and a trusted friend' as his country looked for new opportunities to do business beyond its borders.
Trudeau was speaking after co-chairing delegation level talks with Modi in New Delhi. India and Canada signed agreements in areas of energy, education, ICT, customs enforcements and sports, among others.
Trudeau added that he and Modi were united in a renewed economic partnership that must create jobs and benefit everyone.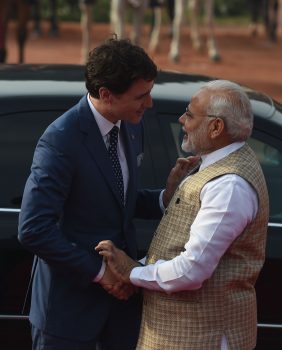 Earlier this week, Trudeau rejected suggestions that he had been snubbed by Modi. The Indian leader tweeted a welcome to Trudeau late on Thursday, on the eve of a bilateral meeting between the two, six days after the Canadian leader arrived in the country, adding: "I hope PM @JustinTrudeau and his family had a very enjoyable stay so far."
The trip, partly aimed at shoring up support for Trudeau's Liberals among the politically important ethnic vote in key regions, has been criticized in Canada for being light on official government business.
Support from Canada's large and concentrated South Asian community helped Trudeau's Liberals gain power in 2015, and all three of Canada's main parties—including the New Democratic Party, led by Jagmeet Singh—are courting the Indo-Canadian vote ahead of the 2019 election.
Meanwhile, in a veiled reference to the movement for an independent Sikh homeland called Khalistan, Modi said there should be no space for those who misuse communality for political motives and try to create a divide.
The Canadian leader's tour has been overshadowed by suggestions of a lukewarm reception by the Indian government after Modi sent a junior minister from the agriculture department to receive Trudeau at the airport instead of coming himself. This was reportedly due to India's concerns about Trudeau's perceived soft approach to Sikh extremist groups in his country, and those that sympathize with them.
In comments to the media on Feb. 19 however, Trudeau strongly rejected suggestions that Canada was encouraging Sikh extremism, saying Canada's position of supporting "one united India" had not changed.
Recommended Video:
How Doctors in China Turn into Murderers