Canada's Role in Iraq Under Scrutiny
Harper says Canada will soon decide its next steps
September 25, 2014 9:45 am Last Updated: September 25, 2014 2:58 pm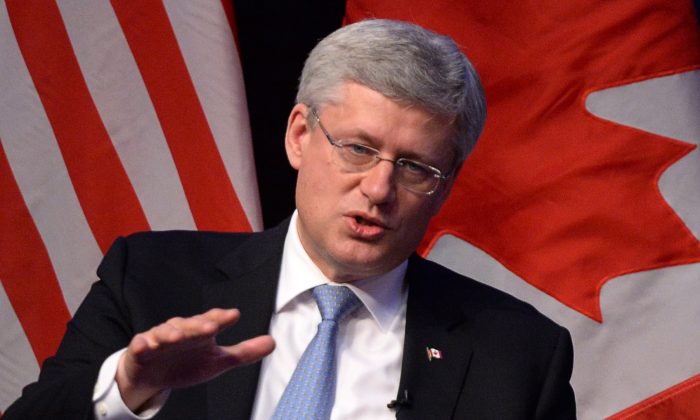 PARLIAMENT HILL—Canada looks set to get deeper into the conflict in Iraq following a request by the U.S. and comments made by Prime Minister Stephen Harper.
In New York on Wednesday, Sept. 24, Harper said the U.S. has asked Canada for further involvement in the fighting in the Middle East. Washington has been working to build a coalition to take on ISIS in Iraq and Syria. 
"We need to have some additional debate in our government before we reach a final decision," he said during a question-and-answer session in New York before an audience of U.S. business leaders.
Harper also said the matter would need to be brought before Parliament, where his government has pledged that any decision to play a combat role will be subject to a vote in the House of Commons.
"The government of Canada will make a decision on that very, very shortly," he said.
Canada is already delivering military supplies and providing humanitarian aid in Iraq. Harper noted that Canada has moved more supplies into northern Iraq than the U.S. Air Force.
Canada has also contributed 69 military advisers, a move the NDP has opposed because it was not subject to a vote. The government argues the advisers are not playing a combat role. 
But it seems that debate will be coming soon. The advisers were sent on a 30-day mission that ends Oct 4. With Harper weighing deeper involvement in Iraq, it seems likely he will bring the matter to the House.
Canada's role in Iraq came front and centre this week after ISIS, also known as Islamic State or ISIL, called for Canadians to be killed in any way possible. 
"If you can kill a disbelieving American, or European—especially the spiteful and filthy French—or an Australian, or a Canadian … Kill him in any manner or way," said a statement in a 45-minute audio recording being attributed to ISIS spokesman Abu Muhammad Al-Adnani.
Canadian MPs of all stripes have been universal in their condemnation of the terrorist group. 
"It's just so repugnant it almost defies belief," said Daryl Kramp, chair of the Parliament's national security committee.
But the NDP has taken the government to task for not providing enough details about the current role Canada is playing in the country. 
For example, the total number of Canadian forces on the ground in Iraq remains unknown and the government has been vague on that point.
When reporters on Tuesday asked James Bezan—parliamentary secretary to the Minister of National Defence and point person for questions on Iraq—how many Canadians were involved in Iraq, he couched his answer. 
"We committed to 69."
"No, but how many are on the ground right now?" pushed a reporter. 
"We committed to 69. National security," answered Bezan.
Bizarre Scene
That exchange followed moments after a bizarre scene during question period when Harper's parliamentary secretary Paul Calandra traded words with NDP leader Tom Mulcair.
"Will the Conservative government confirm that the 30-day Canadian commitment in Iraq will indeed end on Oct. 4?" asked Mulcair.
Calandra answered by questioning Mulcair over statements critical of Israel made by someone claiming to be an NDP fundraiser.
"Mr. Speaker, there is a great deal of confusion with respect to the NDP position on Israel," started Calandra.
Calandra answered Mulcair's next question about exactly how many Canadians were on the ground in Iraq by answering, "What does the Leader of the Opposition not understand? Our friends in Israel are on the front lines combating terrorism."
A frustrated Mulcair criticized House Speaker Andrew Scheer for not compelling the government to address the question in some way. 
Scheer responded Wednesday by warning that challenging the Speaker's character can be a punishable breach of privilege. He also noted he had no role in compelling the government to answer questions.
"As we have heard many times, that is why it is called question period not answer period," said Scheer.
That scenario points to one of the challenges facing Harper as he looks at how Canada can play a larger role in Iraq.
While the Liberals have backed the Conservatives on Canada playing a limited role, the NDP call it ill-defined and warn of a slippery slope to military engagement. 
While reports indicate the U.S. is not asking Canada to play a combat role, any involvement in Iraq brings risks. Harper will want the NDP's support for any role Canada plays so he can avoid taking sole responsibility for future costs and potential casualties.
But while a combat role is unlikely according to some, Calandra believes Canadians would support it.
"I think Canadians are 100 percent in support of the fact that we have to fight this terrorist group, that we have to fight terrorism. I think Canadians are behind the government and behind all parliamentarians who support fighting ISIS," said Calandra.

With files from The Canadian Press