As scenes emerged of police confronting the Freedom Convoy protesters in Ottawa in February, Kevin Vickers, a former House of Commons sergeant-at-arms and Canada's ambassador to Ireland from 2015 to 2019, started receiving messages from his international contacts about what was happening in Canada.
"I think those images, whether they're benign or whatever, are certainly something that will come back to haunt us," Vickers, who as sergeant-at-arms famously helped subdue Parliament Hill attacker and killer Michael Zehaf-Bibeau in 2014, told The Epoch Times.
"It's our country's reputation that's at stake here. These types of things have to be managed to ensure control so that Canada's not seen as being heavy-handed in democracy and towards its citizens."
Prime Minister Justin Trudeau invoked the Emergencies Act on Feb. 14, for the first time since its creation in 1988, to clear the convoy protests, after which police escalated operations against the protesters who had been camped in Ottawa since late January demonstrating against COVID-19 mandates and restrictions.
Heavily armed police were deployed starting on Feb. 18, along with riot police wielding batons and using pepper spray, pushing the protesters back and making arrests. In one incident, mounted police advanced toward a crowd of protesters, knocking down at least two, one of whom needed hospital care. The protesters were mostly cleared by Feb. 21. Two days later, the federal government revoked the act.
The Freedom Convoy movement was started by truckers opposed to the federal government's COVID-19 vaccine requirements for cross-border truck drivers. It expanded into a larger movement as those opposed to different COVID-19 mandates and restrictions from all across the country joined the cause.
As the protesters rolled into the capital in late January, Trudeau repeatedly said he wouldn't meet with them and associated them with hateful and racist movements. Organizers of the Freedom Convoy denied this charge, saying that they are all of diverse backgrounds.
'Terribly Disappointed'
Vickers, who had a long tenure with the RCMP before serving as the House of Commons sergeant-at-arms from 2006 to 2015, says that throughout his career, he has never experienced an incident where there was a major "public civil disobedience" protest and the government refused to talk with the protesters.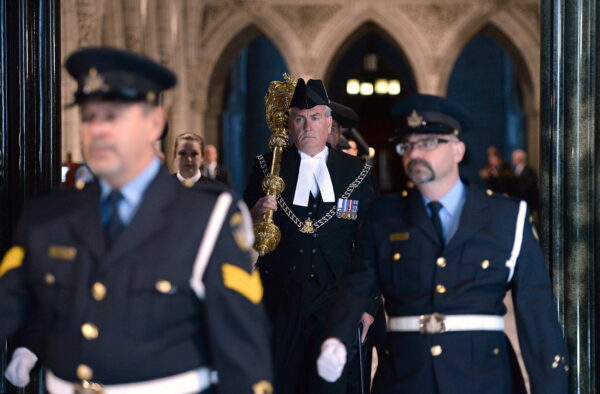 "I'm terribly disappointed that there wasn't at least an attempt to resolve this through meeting one another. … To say we're not talking to you just defied any logic to me," he said.
"There are other tools in the toolbox. That can be communication, that can be education, respect, dialogue facilitation. A tool of last resort should be enforcement. And usually when you go to enforcement, it's degrees of losing for everybody."
Vickers, who also led New Brunswick's Liberal Party in 2019 and 2020, says there have been many other major protests in the Parliament area, such as ones by farmers in different years where they brought their tractors and parked in the nation's capital's downtown core.
In all the cases, he says dialogue helped to ensure there was a resolution.
He recalls another experience, when members of First Nations communities came to Ottawa to protest their conditions as part of the Idle No More movement in the early 2010s. Vickers took part in a formal exchange of tobacco with the protesters to show respect and facilitate dialogue.
"The House of Commons is not a government building. The House of Commons belongs to the commoners. It just happens to be where the government, the Parliament, sits, but it's the home of the people. And no one ever should have the right to tell anyone that they can't go to the home of their democracy," he said.
'Responsibility of Being Canadian'
Vickers says there are many other examples from his long policing career where a peaceful resolution was the safest result for all involved, including a 2000 incident in which a group of indigenous fishers were arrested for illegal lobster fishing in Miramichi Bay in New Brunswick.
The arrests were seen as unjust by members of the Esgenoopetitj First Nation community, who believe they have the right to their own fishery plan, and invited other indigenous protesters from across Canada to join their protests.
Although protesters set up road blockades and even set vehicles on fire, Vickers said he realized that escalated action would lead to further counter measures by the protesters and would put the community at greater risk. So law enforcement pursued a path of dialogue, he said, and the barricades were eventually removed and greater violence was avoided.
Vickers says Canadians have long cherished their democracy and there should be a realization that the responsibility to uphold freedom of speech comes with inconveniences at times.
"We live in a democracy, where people are free to speak their mind and hopefully can do that in a peaceful manner. I think there are times in a democracy that the bigger society has to be tolerant. These things will arise from time to time, starting back from the history of our country," he said.
"Canadians are especially unique. There's something about Canada and the responsibility of being Canadian, looking after one another and assuring one another, and listening to whatever the grievance. This really makes us a great example for the world to follow."