Canada's Public Safety Minister Resigns Ahead of Cabinet Shuffle
July 8, 2013 12:46 pm Last Updated: July 9, 2013 12:40 am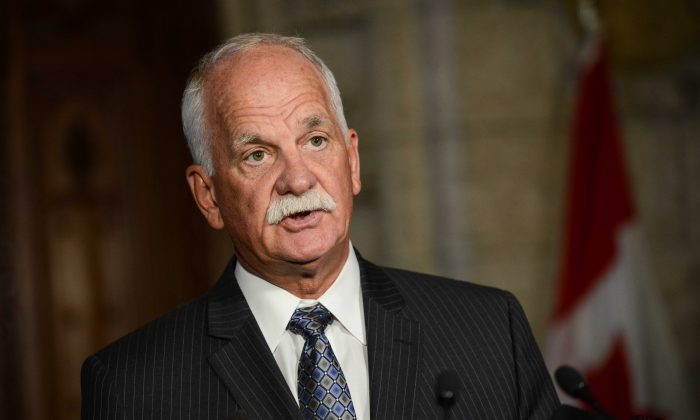 PARLIAMENT HILL—Public Safety Minister Vic Toews will step down from his cabinet post and seat in the House of Commons as MP for Provencher, Manitoba.
Toews announced his resignation Monday morning, effective Tuesday.
He said it was an honour to have represented his Provencher riding for the past 12 and a half years, but it was time to move on.
"I would like to express my gratitude to my constituents for placing their trust in me. It is a responsibility I took very seriously and a privilege I will never forget."
Toews thanked Prime Minister Stephen Harper for the post and his previous roles as Attorney General of Canada and President of the Treasure Board. He also lauded the PM's leadership, describing him as "a man of great character and integrity."
"His leadership has seen our country through very difficult economic times. Canada is recognized as a global leader and is the envy of nations around the world. I know that Canadians will continue to benefit from this government's ongoing work."
Toews didn't spell out exactly why he was leaving, but noted the sacrifices his family had to make to accommodate his time in office.
"It is not an easy life for family and words alone cannot describe my gratitude for your unyielding support," he said.
He also took note of his own accomplishments, saying the country is now more attuned to the victims of crime and better secured against terrorism and cyber attacks.
Toews said his decision to resign was made with some difficulty.
"It takes a great deal of deliberation on the part of those who decide to enter politics. It takes an even greater amount of consideration and effort to step out of office when one still enjoys the support of those who elected them.
"However, for me, the time has come to step aside and begin the next chapter of my life."
He said he would focus on family life and "opportunities in the private sector."
Harper is expected to shuffle his cabinet in the coming days, which could be a factor in Toews resignation.