Earlier this month, Canada's new Foreign Affairs Minister Stéphane Dion quietly issued export permits for a $15 billion sale of about 1,000 combat vehicles to Saudi Arabia, the green light for a highly controversial deal many Canadians thought had already been granted. It is the largest arms export contract in Canadian history.
Information on Dion's decision was subsequently released by Canada's Justice Department in response to a lawsuit seeking to block the sales. The revelation countered claims by the Trudeau government that its hands were tied on the sale by the previous Harper government.
General Dynamics Canada and its predecessor have sold Light Armored Vehicles (LAVs) to the Saudis since the 1990s. The latest deal commits to sustaining 2,100 jobs in London and 900 spread over its Canadian supply chain. An opinion survey by Nanos Research, however, indicates that six in ten Canadians think it is more important to ensure that arms go only to nations that "respect human rights" than to support employment over 14 years in economically depressed southwestern Ontario.
In February, the European Parliament voted by a large majority for an EU-wide ban on arms sales to the Saudi Kingdom, citing the disastrous humanitarian situation, including deaths of women and children resulting from the Saudi-led military intervention in Yemen to support the Yemeni president under threat from forces aligned with its arch-enemy Iran.
Professor Michael Byers, the research chair in global politics and international law at the University of British Columbia, says Saudi actions in Yemen are possible war crimes and crimes against humanity and, because the prohibition on targeting civilians in a widespread and systematic manner has the same legal weight as the prohibition on genocide, "the contract with Saudi Arabia is void."
By selling Canadian equipment for Saudi cash, Canada would help prop up the absolute monarchy and its authoritarian practices until the conclusion of the deal in 2028.
By selling Canadian equipment for Saudi cash, Canada would help prop up the absolute monarchy and its authoritarian practices until the conclusion of the deal in 2028.
A key element of the export permits is a human rights assessment to determine that any deal would not contravene Canada's export control policies.
"Based on the information provided, we do not believe that the proposed exports would be used to violate human rights in Saudi Arabia," states a leaked internal document. Such assertions raise serious questions about whether the new Liberal government sets high standards for weapons exports in public and then lowers them in private.
Long named as a systematic human rights abuser by Amnesty International and Human Rights Watch and by Freedom House as among the "worst of the worst," Saudi Arabia executed 158 persons in 2015. The only country in the world to carry out the death penalty by beheading, it shocked the world in January by executing 47 people in a single day, including a prominent Shi'a Muslim cleric.
Saudi blogger Raif Badawi in early 2015 received 50 lashes outside a mosque in Jeddah—the first of 1,000 he was sentenced to, along with 10 years in prison for "insulting Islam through electronic channels." His wife and three children had fled to Canada several months earlier.
Attempting to deal with the deteriorating bilateral relationship, President Obama traveled to Riyadh last week to meet with King Salman and other Saudi officials. America must deal with a startling report on April 17 that indicated that Saudi Arabia is threatening to sell off up to US$750 billion of American assets if Congress passes a bill that would allow the Saudi government to be held responsible in American courts for any role in the Sept. 11, 2001, attacks.
As time passes, more countries and persons have become enmeshed in the shadowy underworld surrounding Saudi Arabia's Saud family. Although it cannot be denied that some arms dealers sell their wares to disreputable customers for huge amounts of quick cash, wiser ones realize that it is better business to steer clear of wholesale rights abusers and scoundrels as customers.
A bill placed before Dutch lawmakers in early March referenced Saudi Arabia's rising tally of executions (73 to date this year) and its bombing campaign in neighboring Yemen, which has led to more than 6,000 deaths—half of them civilians. A U.N. panel report leaked in January said that the kingdom's assaults on civilian targets were "widespread and systematic attacks" and violations of international humanitarian law.
The Dutch parliament chastised Saudi Arabia for its abhorrent human rights record and voted to ban arms exports to the country. Canada, which was the sixth-largest vendor of arms globally to countries with questionable human rights records in 2011, should, despite the economic cost, follow the Dutch lead and terminate its arms deal with the kingdom.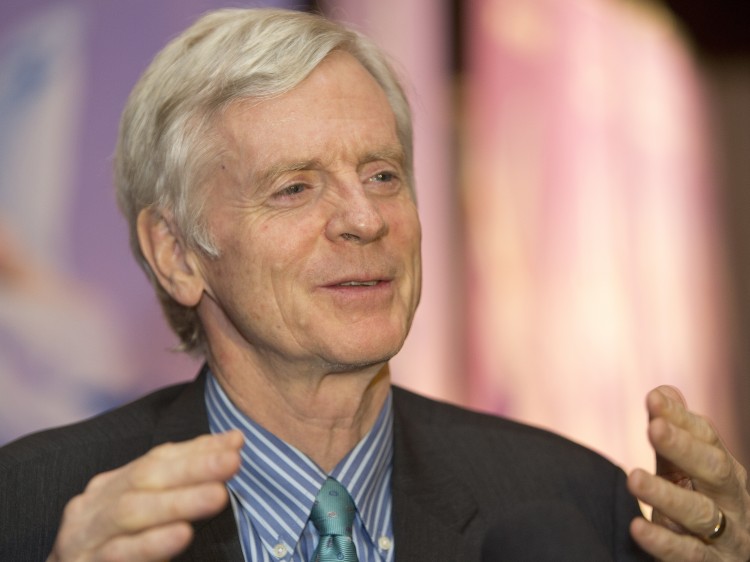 David Kilgour, a lawyer by profession, served in Canada's House of Commons for almost 27 years. In Jean Chretien's Cabinet, he was secretary of state (Africa and Latin America) and secretary of state (Asia–Pacific). He is the author of several books and co-author with David Matas of "Bloody Harvest: The Killing of Falun Gong for Their Organs."
Views expressed in this article are the opinions of the author and do not necessarily reflect the views of The Epoch Times.