Canada's May GDP Increases by Less Than Expected
U.S. economic data and Fed drown out Canadian news
July 31, 2013 5:37 pm Last Updated: August 1, 2013 9:35 pm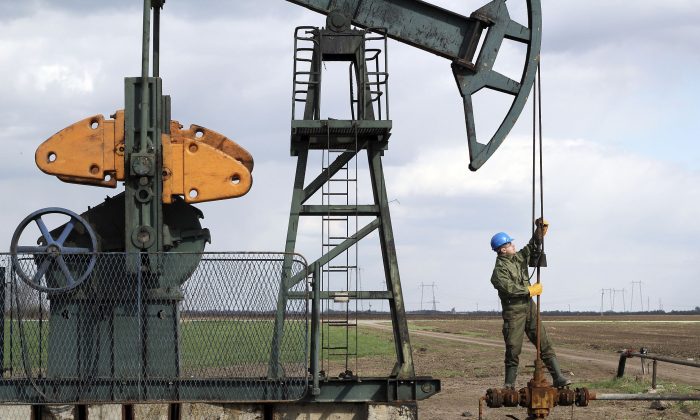 Canada's real gross domestic product (GDP) in May grew by a modest 0.2 percent, according to a Statistics Canada release on Wednesday. On a year-over-year basis, GDP increased by 1.6 percent. Overall, 15 of 20 industries reported higher output than the previous month.
The 0.2 percent rise fell short of the consensus forecasts for Canada's May GDP, which centered on 0.3 percent month-over-month growth and a fifth consecutive monthly increase. The April gain was 0.1 percent.
Looking at an industry-by-industry basis, the gain in GDP was held back by the energy sector's drop of 2.0 percent. The financial services sector, which ran at a 4 percent overall pace in the past year, decelerated to a 0.1 percent increase in May.
The gain was driven by the services sector (a rise of 0.5 percent) such as retail and wholesale trade. However, the goods-production sector fell 0.3 percent as a result of a decrease in mining, quarrying, and oil and gas extraction (-1.7 percent), among other industries.
Retail trade was up 1.8 percent after a strong May retail sales report that was boosted by motor vehicles and parts dealers.
Statistics Canada will release GDP data for June on Aug. 30. The big Canadian banks are expecting a decline of 0.3 percent. June's Canadian GDP print is expected to move lower due to the flooding in Calgary and a province-wide construction strike in Quebec.
Canada's May GDP release, which came at 8:30 a.m., took place on an extremely busy day for information in financial markets.
The market reaction in Canada, however, was driven even more so by data out of the U.S. on Wednesday morning, with a stronger-than-expected ADP employment report at 8:15 a.m. and a second-quarter GDP release at 8:30 a.m. pushing bond yields slightly higher.
The Canadian dollar fell slightly after the Canadian GDP release.
The U.S. second-quarter GDP release came in at 1.7 percent. This improvement was pared back by a revision to first-quarter GDP to 1.1 percent from 1.8 percent. Still, growth is expected to pick up in the second half of 2013 as effects from sequestration wear off.
Most importantly the Federal Open Market Committee (FOMC) led by U.S. Federal Reserve Chairman Ben Bernanke concluded its two-day meeting with a statement at 2:00 p.m.
Very little in the way of new information was expected from the FOMC, and the committee duly met those expectations; however, the next FOMC meeting in September is widely believed to be a seminal event as details on reducing the amount of quantitative easing are expected to be delivered.
"Quantitative easing" is the monetary policy being used by the U.S. central bank to stimulate the economy by buying government and mortgage-backed securities (MBS) in an effort to increase the money supply and to promote greater lending and liquidity through lowering long-term interest rates.
The Fed left the fed funds target and asset purchase program unchanged. The fed funds target will remain in the 0 to 0.25 percent range, while asset purchases will continue to be composed of $45 billion per month of longer-term U.S. Treasury securities and $40 billion per month of agency MBS.
The Fed has tried to make it very clear to markets that it is not remotely close to tightening monetary policy (raising rates), despite the potential reduction in asset purchases.
There was no press conference or update of economic forecasts by the FOMC, and the minutes of Wednesday's meeting (to be released on Aug. 21) will be of greater significance than the actual statement.
The reason for this is that the minutes are likely to show the degree to which FOMC members are prepared to reduce quantitative easing.