Canada's main opposition, the Conservative Party, is calling on Canadian Prime Minister Justin Trudeau to directly phone Chinese leader Xi Jinping and ask detained Canadians to be released.
"It troubles me—and I know the Canadian families that I have spoken to that have concerns about family members working in China—that the prime minister appears ready to call the leadership in the United States, leadership in Japan but won't pick up the phone to call the Chinese leadership,"  Erin O'Toole, a member of the Canadian Parliament and Conservative shadow minister for foreign affairs, said at a press conference in Ottawa.
China has detained 13 Canadian citizens since Canadian authorities arrested Huawei CFO Meng Wanzhou in Vancouver on an extradition request from the Untied States.  Some of the detained have been released but five, including former Canadian diplomat Michael Kovrig and businessman Michael Spavor, remain detained. Chinese authorities say Kovrig and Spavor are charged with endangering China's national security.
In a phone conversation on Jan. 7, Trudeau and U.S. President Donald Trump agreed to continue to work to end the "unlawful detention" of Spavor and Kovrig.
According to a statement released by Trudeau's office, the two leaders also discussed the United States' request for the extradition of Meng, and "reaffirmed the importance of respecting judicial independence and the rule of law."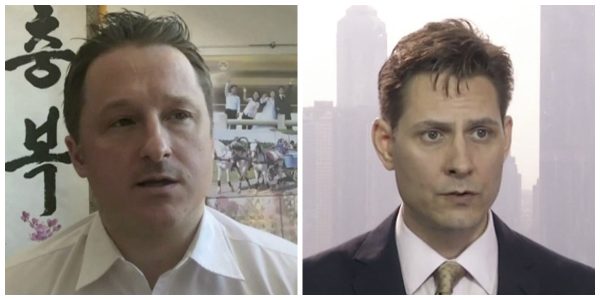 In an interview with Reuters in December, Trump indicated he would intervene in Meng's case if it helped to resolve the trade row with China or serve U.S. national-security interests.
"Prime Minister Trudeau made very clear indication in his call with President Trump concerns about the extradition process and statements President Trump had made," O'Toole said. "In my view, that call was as much to show his condemnation to China of those comments than to really secure any more support from the U.S. that we have already had with their displeasure with these detentions," O'Toole said.
Conservative MP Stephanie Kusie, who previously worked as a diplomat for many years, said her former colleagues who are both current and former diplomats, have contacted her to express concern about the "lack of political response" from Canada's leadership.
"[The detention of Canadians] was a clear retaliation for [the arrest of] Ms. [Meng] Wanzhou. As such, this is not just a consular matter, this is a political matter and it requires a political response," she said.
'Not a Regular Business Executive'
O'Toole believes China's detention of Canadians in what he calls retaliation for Meng's arrest shows Meng is not just "a regular business executive."
"[Huawei] is a state-owned enterprise, and [her arrest] is seen by the [Chinese] state as almost a diplomatic detention. [This] would be the closest allusion," O'Toole said.
"The prime minister has made really the center piece of his foreign policy over three years the desire to enhance relationships with China en route to a free trade agreement. He needs to show that he is willing to personally invest some political capital to try and secure the release or address the so-called security concerns of the two Canadians."
Huawei was founded by Meng's father, Ren Zhengfei, a former officer of the People's Liberation Army. The company has been cited as a security risk in intelligence circles due to its close ties with the Chinese communist regime.
The Conservative Party says that Canada should bar Huawei from Canada's emerging 5G network, as most members of the Five Eyes intelligence alliance, of which Canada is a member, have done. The Liberal government says it still has not arrived at a conclusion as to whether to ban Huawei.
Meng was released on a C$10 million ($7.6 million) bail in Vancouver, and will return to court in February for the start of her U.S. extradition hearings.
Requests to the prime minister's office for comments were not responded to before deadline.
In a statement released on Jan. 8, Foreign Affairs Canada said the "Canadian government remains deeply concerned by the arbitrary detention by Chinese authorities of these two Canadians since last month and continues to call for their immediate release."
It added the government appreciates support from those who have spoken in support of the detained Canadians, including the United Kingdom, France, Germany, European Union, United States, and Australia.
With reporting by Limin Zhou in Ottawa