Canada's hemp industry is set to have a record production year, but industry experts say that with further relaxation of regulations by Health Canada, the versatile plant's real potential may just be beginning.
"I've been through many ups and downs, but this industry is developing really fast and we are now taking off rapidly," says Jan Slaski, a leading hemp expert with Alberta Innovates, a government-funded centre where he studies the many uses of hemp.
Slaski projects that more than 130,000 acres of industrial hemp will be grown in Canada in 2017, which is a substantial gain from the 76,000 acres planted in 2016. According to Statistics Canada, hemp exports have grown from $12 million in 2011 to an impressive $135 million in 2016.
And it's not just the level of production that is increasing. Slaski says since industrial hemp first became legal to grow in Canada in 1998, most of the industry has been geared toward the harvesting of the grain for food consumption. But now, with an increase in fibre-processing plants in Alberta, there can be a wider diversity in the industry, from textiles to industrial building materials to car parts.
"Where hemp is going right now, in particular with the fibre part of the industry, there's a much bigger societal impact and economical impact where everyone can benefit," says Slaski, adding that the environmental benefits of replacing oil-based plastics with hemp products could be substantial.
If we can get those regulations removed we can get the industry to $1 billion of activity by 2023.
Alberta Innovates has a small processing plant in Vegreville, but Hempco, a publicly traded company based in Nisku, a hamlet in an industrial/business park in Alberta, is building a new 56,000-square-foot grain and fibre-processing plant.
On top of the new facility, Slaski says "it's not just a matter of if, but where" a major clothing company, whose name he couldn't disclose, will be opening another new plant in Alberta in the near future.
Industry leaders have fought hard for this growth, often spending weeks at a time in Ottawa lobbying to open up an industry that often gets stigmatized due to its association with marijuana. Unlike the pot plant that contains around 10 percent of the psychoactive THC, hemp contains 0.3 percent, meaning it's impossible to get high off industrial hemp.
Because of the stigmatization, Health Canada required farmers to test for THC content, which was costly, slow, and hindered investment and interest in developing the hemp industry in this country.
In November, however, Health Canada loosened and modernized regulations, which is helping expand the industrial hemp sector.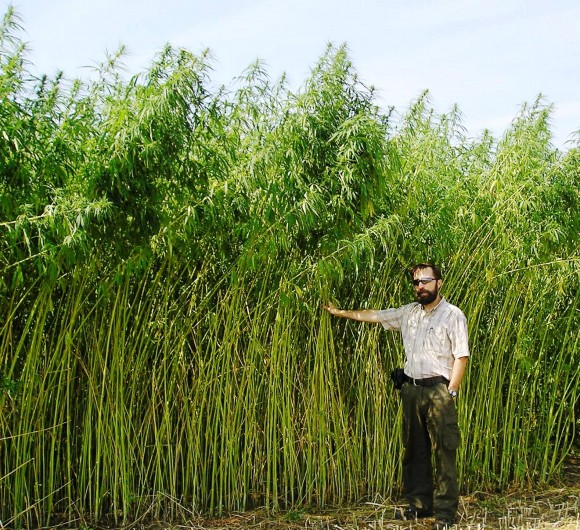 Red tape frustration
But for many players in the industry, regulations need to be relaxed even further to develop other untapped parts of the market.
"We're looking to really push the federal government to loosen up the red tape—this crop has a proven history and track record for being safe," says Keith Jones, who manages Rowland Farms in Taber, Alberta, the world's largest hemp farm.
Jones voiced frustration with the lengthy process it takes in Ottawa for changes to take effect. Particularly, the flowers of the hemp plant produce a medicinal product called cannabidiol (CBD), which could generate a lot of economic growth. It is in demand for treating illnesses such as multiple sclerosis and diabetes, although the treatment remains controversial.
The cultivation of CBD from industrial hemp is currently banned by Health Canada, and the leaves and flowers are supposed to be destroyed after harvesting the plant.
"If we can get those regulations removed, we can get the industry to $1 billion of activity by 2023," Jones says.
Despite the red tape in Ottawa potentially costing the industry millions, Jones believes the upcoming Cannabis Act legislation that will legalize marijuana could also help relax hemp regulations further.
The environmental benefits of replacing oil-based plastics with hemp products could be substantial.
He became even more hopeful after travelling to Ottawa earlier this year with the Canadian Hemp Trade Alliance to meet with the government's drug czar, MP Bill Blair, who is in charge of the Cannabis Act. Blair told the group he would be looking at regulations within the hemp industry and considering moving the industry into Agriculture Canada, like any ordinary crop such as canola or wheat.
In an email response, Health Canada did not comment on dropping the ban on CBD cultivation or moving the industry under Agriculture Canada, saying only that the department is "committed to ongoing reviews of the existing system with the goal of reducing regulatory burdens for industry and streamlining processes."
The government's slowness to implement change has definitely hindered the industry, some business experts say.
"We can do just about anything with this plant—fibre, food, or medicine," said Hempco CEO Charles Holmes. "We've been lobbying these guys, writing letters, jumping up and down for 20 years."
Holmes said he is "all in" when it comes to his investment in Canada's hemp industry—despite his frustration with regulations—and he says there's lots of excitement with the new facility in Nisku that will look to utilize the whole plant.
Jared Gnam is a freelance reporter based in Vancouver. He broke into the world of journalism covering the Stanley Cup Riot in 2011.