Canada's Gupta Empire: How strong family relationships and good parenting build a new immigrant's success.
April 10, 2014 10:18 am Last Updated: April 10, 2014 10:18 am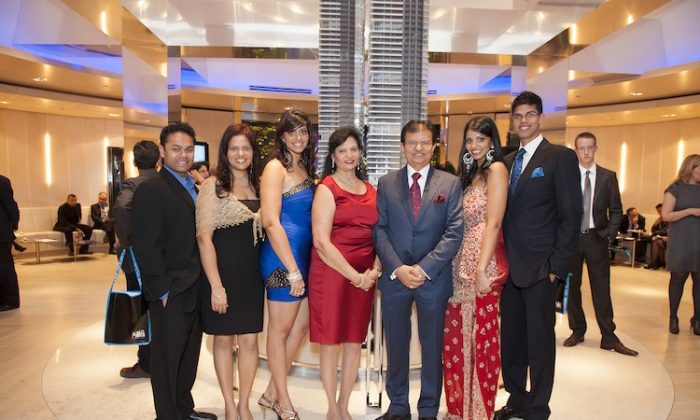 In the 40 years since Steve Gupta and his wife emigrated from India to Canada in 1973, he has built one of Canada's most successful hotel empires. Today Gupta, his wife, and very accomplished children run the family company, Easton's Group of Hotels, as a team. 
The Guptas own 15 hotels across Ontario and Quebec, winning multiple awards including the 2009 Marriott Outstanding Contribution Award, the 2009 Hilton Developer of the Year award, and in 2010 Steve Gupta was the first Canadian to win the Marriott Horizon Partnership Circle award.
We sat down with Gupta and his daughters Shelly and Reetu to discover the elements that have lead to the continued success of the family. 

Breaking into Mainstream Canadian Society
Gupta's story is not quite rags to riches. He came to Canada with a good command of English and bachelor's and master's degrees in science from India. His father was a builder of everything from bridges and hostels to small retail areas and even an air force base, in the small town Gupta is from. 
But coming to Canada as an immigrant with little money and no social connections was a massive challenge. 
"At that time we felt this is so difficult to get into the mainstream," says Gupta. "You have to work hard to make inroads." 
His first job in Canada was selling insurance. "I didn't know anybody. How do you sell insurance?" He decided to knock on doors, walking from floor to floor in Toronto's many rental apartment buildings. 
Gupta kept his eyes and ears open, learning the surnames and communication styles of Toronto's many cultural groups, building relationships with Canadians of all kinds. 
"It's very important to feel you are part of the mainstream," said Gupta, who resisted the urge to work solely within his own community. "If you continue working in a small pond, then that's your limitation."
By 1978 he had saved up enough money selling insurance to make his first real estate acquisition, a truck stop and gas bar in Port Hope. He walked in and put everything he had into the $3 million deal—a mere $15,000 in cash. 
"When you have no money, you're coming to a new country, you have to take risks," he said.
The truck stop became profitable, but Gupta wasn't at rest. He bought his first house at Pape and Queen, renovated it himself, and sold it at a profit of $4,000. He did the same with a condo in Hamilton, netting $1,500. 
By the mid-80s he began buying up the very apartment buildings he'd patiently and methodically walked selling insurance. 
"I didn't have to go in because I had already seen them. I knew what kind of people were living there." he said. He eventually owned around 7,000 apartment units.
He didn't even think of hotels until 1997, when he converted the old RCMP building at Dundas St. and Jarvis St. into a Comfort Suites (it's now the Hilton Garden Inn Downtown). 
After many hotel successes in Toronto, Gupta began to build more hotels as far away as Sudbury, Thunder Bay, and Point-Claire, Quebec. 

Reputation and Hard Work
One of Gupta's most cherished possessions is his reputation. "A good reputation will always make you money," he said. 
"I will not compromise my name or my integrity to make a few more dollars, I've never done that."
If something doesn't feel right, or seems unethical, he feels it's best to say no. He is also very conscious of his competitors, feeling the key to defeating them is to exceed their efforts. He wants to be sure he is working harder than everybody else. 
Gupta has passed his work ethic and bottomless ambition on to his children. 
Last year, daughters Reetu and Shelly spearheaded Easton's Group's first residential condo project, King Blue. Their first project was a great success, winning three BILD Awards the year it launched and two more the following year. 
Remember Gupta's first hotel at Dundas and Jarvis? He still owns it, but not for long. It will be the site of one of Easton's most ambitious projects to date—a 978-unit residential condominium, Dundas Square Gardens. 
Clearly his children are building on the successes of their father, something children of wealthy parents don't always do. 

Teaching Children to Build on Your Success
"Family values are very important to me. Whatever I've built, if my children blow it, everybody loses. Whatever I'm building I built it for myself, my children, my family and also for Canada. I've created maybe 2,000 jobs … people get their bread and butter from it."
Seeing Easton's Group as both a family legacy and a family responsibility upon which employees depend creates a feeling of shared ownership and duty among Gupta, his wife Rashmi, and their four children.
The eldest children tailored their education to suit the needs of Easton's Group. Reetu has completed her BBA, and MBA, and is now working as vice-president of sales, marketing, and strategic development.
Shelly finished her BBA, is in the middle of her CFA, and is off to do her MBA next year. She is currently the executive director of finance for Easton's Group. 
Eldest sister Reema Balaram (nee Gupta) is director of operations and administration. Only youngest son Suraj wants to make his own name outside the family business working in investment banking. Father Steve is exceedingly proud of all of them.
"They're very, very intelligent, all of them. … They've learned the business very, very fast. What others learn in 20 years, they'll learn in maybe a year." 
What Have the Guptas Done Right?
Besides having high expectations and faith in his children, Gupta taught by example. The children traveled the halls of the family's hotels, watching their father interact with the staff, from cleaners and cooks to managers—he is approachable and engaged, treating everyone as important.
Gupta and his wife did not raise the children with a sense of entitlement, instead focusing on work ethic and responsibility and a means of success. It was very important to Gupta that their children had a positive attitude at the start of every day, and dressed neatly for school, and later for work.
The children began working with their father in junior high, around Grade 7 and 8. "They were on payroll when they were young," Gupta explained. "Everybody must feel rewarded for what they're doing." 
That is not to say they were motivated by money. The family feels their wealth is shared, and Gupta gives unconditionally, rarely denying his children anything.
"When you start putting conditions, 'I did this for you, you do this for me,' where is the love? Where is the sacrifice? Where is the unity? Where's the affection? It's not there. If you feel money is important you'll fight for money, if you feel our unity and relationship is important, you'll say the money doesn't matter." 
Working hard for the family business became an extension of a loving family home.
"We've grown up with this not really feeling like a business. … To us work is almost like a second home," said Reetu. "It's life to us."

Trust Begets Trust
Sharing failures and mistakes with your children along with your successes is a powerful act of trust. Also, if children see parents as infallible, they will be unable to accept and effectively deal with their own errors. 
"Any mistake or any deal I did I always discuss it at home," Gupta said. By treating his children as stakeholders, they could see themselves as part of the family business's solutions. It also enabled the children to learn from their father's mistakes.
The Guptas trusted their children to navigate their own relationships. When the children bickered, they were allowed to work it out themselves. "You'd go to your siblings before you'd go to your parents!" Shelly confirmed. Working out their conflicts collectively is a part of why the Gupta children are so close. 
They have formed a sort of sibling network. "We all play the buffer role (between children and parents). There's a way that the siblings work together. No one needs to know how that works," Reetu joked.
They were also encouraged to build strong friendships. "We encouraged them to invite their friends to our house. We didn't mind paying for the food. That way we controlled the environment," Gupta said. 
Warmth from home has spilled over into the workplace. "We have fun together. That's what I love about working with my family," said Reetu, who maintains an open-door policy, dealing with staff concerns daily. "Whoever we work with we make sure they feel included … everyone feels like their part of our family." 
Managing and retaining 1,500 employees across the businesses requires the people skills the Guptas began developing at home.

Spirituality and Culture
The role of spirituality is also considerable in the Gupta home. They have a small Hindu shrine where parents and children take time to pray daily. On weekends they may visit a local shrine, and occasionally arrange to travel to an ashram in India.
"Spirituality is definitely a big part of life," said Reetu. For her it's not about what religion you choose, but about your morals and living a life focused on good deeds and thankfulness. It allows you to deal with failure, to be patient. Rather than blaming everyone around you, you can give it a little more time."
Gupta himself uses his spiritual belief as a benchmark with which to measure his actions. "We feel whatever you did, at the end of the day you review and discipline yourself."
They all agree the family benefits from the guidance of their beliefs—not for financial success but for personal success, which Steve Gupta defines as follows:
"Successful doesn't mean you make more money. Success means people like you, you're happy, your family is happy, you have enough to eat. That's success. You can be happy with $100. You can be unhappy with $1 billion."