Canada's auto industry could be in big trouble if General Motors goes ahead with a plan to close its plant in Oshawa by December 2019, says the head of the union that represents workers at the plant.
Unifor president Jerry Dias said GM has moved production of five models of vehicles to Mexico and the United States in the past few years, and if the Oshawa plant closes, the company will have only one left in Canada.
He said GM's plan to close the plant puts it on the brink of leaving Canada completely. If that happens, it would devastate the auto parts industry, which would cause big problems for other car companies—which might in turn also leave.
"GM is on the cusp of complete disinvestment and will lead to a catastrophic end to Canada's most lucrative export industry. We are not going to let our plant close," Dias said in a press conference on Nov. 27 after meeting Prime Minister Justin Trudeau on Parliament Hill.
The Oshawa Assembly Plant, which began operating 100 years ago, is one of five in North America that the automaker plans to shutter as it restructures to cut costs and focus more on autonomous and electric vehicles.
The shutdown directly affects the jobs of over 2,500 workers and threatens thousands of additional jobs in the region and in the auto sector supply chains in Ontario and beyond. The closure of the five plants will see approximately 14,000 jobs cut.
Dias called for an "aggressive" strategy such as punishing tariffs on GM vehicles produced in Mexico and job action in Canada and the United States to force the automaker to reverse the closures.
"We're playing with a corporation that plays by their own rules, so we have to have governments that are going to play by very strict rules as well," he said.
Dias urged Trudeau to work with U.S. President Donald Trump to keep manufacturing jobs from shifting south. He said the new US-Mexico-Canada (USMCA) free trade deal should help eventually, but the parts that apply to the auto sector won't kick in for years and by then it could be too late.
GM's decision to cut jobs right after the USMCA deal was reached has drawn the ire of Trump, who is threatening to pull federal help for the company if it follows through on plans to build new interconnected, electric-powered vehicles outside the United States—particularly in China.
Larry Kudlow, director of the National Economic Council, is citing the new free trade pact as one of the reasons why Trump is so disappointed with the latest job and production cuts at General Motors.
"He believes—as, frankly the prime minister of Canada, Trudeau, believes—that the USMCA deal was a great help to the automobile industry and to autoworkers," Kudlow told a White House briefing.
"There's disappointment that it seems that GM would rather build its electric cars in China than the United States, and we are going to be looking at certain subsidies regarding electric cars and others, whether they should apply or not."
As the briefing was taking place on Nov. 27, Trump tweeted an ominous threat to withdraw all GM subsidies in retaliation for the cuts, including for electric cars. "The U.S. saved General Motors, and this is the THANKS we get!" he wrote.
'Bailouts never work'
Canada has also subsidized GM. During the global economic meltdown in 2009, GM and Chrysler together received $13.7 billion in federal government support. So far, only about $3.7 billion has been recovered, according to CBC News.
Businessman and analyst Kevin O'Leary, who campaigned to be the leader of the Conservative Party of Canada in 2017, said GM's plan to close its Oshawa plant shows bailouts don't work.
"The GM Oshawa plant closing is proof that government bailouts never work and Canadian taxpayers always lose," the "Shark Tank" and "Dragon's Den" star told the Toronto Sun.
"GM was a poorly managed company that should have been allowed to go bankrupt and restructure. Instead, Canadian taxpayers were offered extraordinary returns and long-term jobs. They got neither."
Marty Warren, director of the United Steelworkers Union in Ontario and Atlantic Canada, said the company noted last fall that it didn't expect job losses from its strategy of expansion in the electric vehicle market—and now come the closures.
"Liberal and Conservative governments have spent billions of taxpayers' dollars—with no meaningful job guarantees—to subsidize multinationals such as General Motors, yet these corporations continue to eliminate Canadian jobs and shift production out of the country," he said in a news release.
In addition to the $13.7 billion Ottawa injected into the auto sector, the federal and Ontario governments became GM shareholders as part of the bailout package, but decided to sell off their shares and give up leverage they could have used to protect Canadian jobs, the release said.
Warren said GM's decision to shut down its Oshawa operations comes on the heels of the corporation's report of a $2.5-billion, third-quarter profit.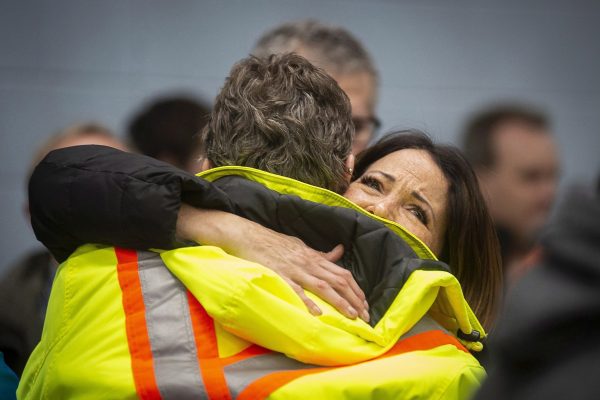 Sweeping strategy
GM announced the closures as part of a sweeping strategy to transform its product line and manufacturing process to meet changing demand in the transportation industry, a plan that it said will save the company US$6 billion by the year 2020.
The company also said it will reduce salaried and salaried contract staff by 15 percent, which includes 25 percent fewer executives. The US$6 billion in savings includes cost reductions of US$4.5 billion and lower capital expenditure annually of almost US$1.5 billion.
However, a GM executive said the company isn't planning to divest itself of its other Canadian enterprises as Dias claimed. David Paterson said the company is hiring 500 people for its technical centre in Markham, north of Toronto, to help write software for self-driving cars.
Dias's tough talk underscored the union's fury at GM's decision to close the plants.
Chantal Gagnon, a spokeswoman for Trudeau, said he and Dias discussed their respective talks with GM. Trudeau also told Dias about his own call with Trump earlier on Nov. 27 about the auto industry "and how best we can stand up for people affected on both sides of the border."
Time and again during his press conference, Dias rejected any notion the plant will actually close when asked about possible employment insurance help for affected workers, or whether other automakers could fill the void in Oshawa.
"We are talking about keeping the plant open, period. Our members in Oshawa want their jobs. They're not looking to be retrained," he said. And he suggested that despite his talk of helping workers facing layoffs, Trudeau doesn't believe the closure of the plant is a fait accompli, either.
Dias will meet his American counterparts this week in the United States to decide what, if any, action the union will take, such as having workers walk out at other GM plants alongside the ones slated to close.
He warned he was ready to have his members take job action unless the Oshawa plant stays open.
With files from The Canadian Press