Canada-Wide Rallies Call for End of Falun Gong Persecution Campaign
19 years since Chinese regime launched brutal campaign against adherents of traditional practice
July 21, 2018 Last Updated: July 25, 2018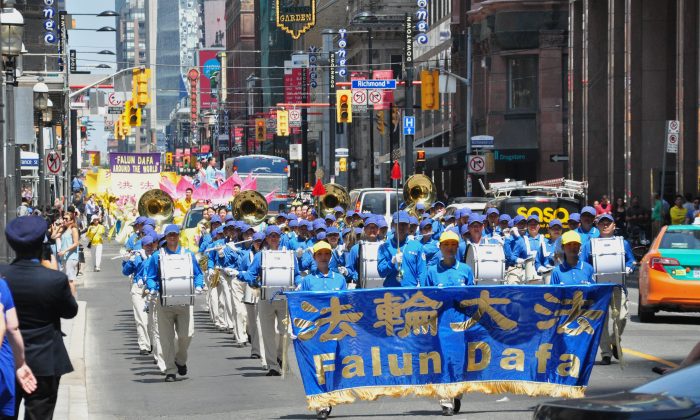 In recent days, practitioners of Falun Gong have been rallying across Canada and around the world to commemorate July 20, 1999. On that day, the Chinese Communist Party launched a far-reaching campaign of persecution against adherents of the traditional spiritual discipline that teaches following the principles of truthfulness, compassion, and forbearance.
In the 19 years since, practitioners of Falun Gong (also called Falun Dafa) in China have been subjected to intense torture, brainwashing, dehumanization, and forced, live organ harvesting.

In Toronto, practitioners took part in a parade through downtown and held banners and handed out brochures at Nathan Phillip Square to raise awareness of the persecution in China. They also held a rally and press conference in front of the Chinese Consulate calling for an end to the persecution, and a candlelight vigil to honour the victims.
Speaking at the rally in Toronto, former senator Consiglio Di Nino said he supports Falun Gong practitioners in their quest for fundamental rights and freedoms for their fellows in China.

"What the Chinese [regime is] doing is wrong," Di Nino said, adding that he was addressing the workers inside the Chinese consulate.
"You are human beings, these are your brothers and sisters. All they want is what most of the world gives to its citizens—the ability to live a life free without oppression and particularly to practice their beliefs. The Falun Gong beliefs are about truthfulness, compassion, forbearance. It's about treating others as you would want them to treat you, and this is being denied."

De Nino said it's important that the Chinese people in particular know about the persecution in their home country.
"You can't talk to the Chinese Communist Party, they don't listen, they don't want to hear, but the Chinese people who fundamentally I believe are good people—we need to continue to talk to them and reach out to them, because the Communist Party's days are numbered," he said.

"The world will not stand by and allow persecution by a state of its own people without standing up for them."

A speech from the Falun Dafa Association of Canada that was read at the rally condemned the Chinese regime's crimes against humanity and called for and end to the persecution and the release from prison of all practitioners, including Canadian citizen Sun Qian and 12 family members of Canadians "jailed for nothing other than following the principles of truthfulness, compassion, and tolerance."

'19 years of unrelenting human rights violations'
On the same day, a rally was held in front of the Chinese Embassy in Ottawa, where dignitaries also called on Beijing to stop the Falun Dafa persecution campaign.

Alex Neve, Secretary General of Amnesty International Canada, lamented the fact that the persecution has continued unabated for 19 years now.
"It's staggering even just to say that number. Nineteen years of unrelenting human rights violations against Falun Gong practitioners and their family members. Nineteen years of human rights violations that have absolutely torn apart and devastated the lives of countless, countless individuals—women, men, children," he said.

"We're here because we have a message that we want to be heard right across the street, and that is that these 19 years of devastating human rights violations must come to an end," Neve added, noting that he also had a message for the Prime Minister's Office.
"That message is that Canada must be strong, firm, unwavering, and unconditional in its message that these 19 years of human rights violations must come to an end. That it's time, not to put trade first, not to put business first, not to put geopolitical interests first. It is time to put human rights first in our relationship with China, and that absolutely includes the human rights of Falun Gong practitioners right across the country."

Former MP and secretary of State David Kilgour talked about his 2006 report and subsequent book with human rights lawyer David Matas, which concluded that Falun Gong prisoners of conscience in China were being killed for their organs to feed the country's lucrative transplantation industry.
"Beijing-run organ trafficking has victimized innocent citizens—mostly Falun Gong and other prisoners of conscience—across China for almost 20 years," he said.
An updated report released by Kilgour, Matas, and American investigative author Ethan Gutmann in July 2016 found "much evidence of a state-directed organ transplantation network, controlled through national policies and funding, and implicating both the military and civilian healthcare systems," Kilgour said.

"We conclude cautiously that a minimum of 60,000 transplants per year are being done across China as of mid-2016, not the approximately 10,000 the government claims. … This means that about 150 persons daily are killed for their organs."
"The first step in a better direction for China is to end organ pillaging/trafficking/tourism now."
Also speaking at the Ottawa rally was Ludwik Klimkowski. He is the chair of Tribute to Liberty, the organization that spearheaded a monument to the over 100 million people worldwide who perished or suffered under communist regimes currently being built in Ottawa.
"To the people of this embassy: this must stop today. Nineteen years is 19 years too many," he said.

"Communism always fails. Evil always fails. Tribute to liberty will always prevail. You can take someone's kidney, you can take someone's liver, but you will never take their own soul."
"Their life, their freedom is being remembered and uplifted by people who are here [today]," he added.
"And those people, as well as many other Canadians, including our Canadian government who is not far from here, have the obligation, the model obligation, to always remember and always put the pressure on the regime to stop this evil practice. Taking someone else's organs, abusing their freedom, limiting the life that they want to pursue, is evil. And that evil, is called communism. That must stop today."
Finding the 'Authentic Self Within'
The parade in Toronto featured floats, demonstration of the Falun Dafa exercises, photos of some of those who have been killed as a result of the persecution in China, as well as many banners.

Joseph Gigliotti, a chiropractor from Hamilton and a Falun Dafa adherent, decided to join the parade as he said he wanted to raise awareness about the persecution.
"It's tragic that in a different part of the world people are being persecuted for truly just trying to be better people. That's why I'm here and I hope to let more people know about that," he said.
Gigliotti said the Falun Dafa practice has taught him many things.
"Cultivating four years has really taught me to look within. The meditation is just extraordinary. It has really taught me to be more considerate of others, to take things more lightly, and to just be more authentic because there is a deeper side to all of us…and if you don't search for it, you don't find it," he said.
"Falun Dafa has taught me to find that authentic self within me."

Kevin Mo, another Falun Dafa adherent, said he joins the parade every year to raise awareness about the persecution. Mo said he has benefited from the Falun Dafa practice greatly.
"On the surface, it's helped improve my health for sure. But most importantly, I've been able to see the world with a different perspective," Mo said.
"It's taught me a lot of things, given me a lot of wisdom that has been really helpful to me."
With reporting by Emily Chian and May Ning.