Conservative Party Leader Erin O'Toole says the Canada-U.S. relationship hasn't been at such a low point in decades, saying it jeopardizes the Canadian economy and several of its key sectors.
In an interview with The Epoch Times, O'Toole said Canada's influence as a strategic trading partner has been weakened with its southern neighbour, putting the blame at the Liberal government.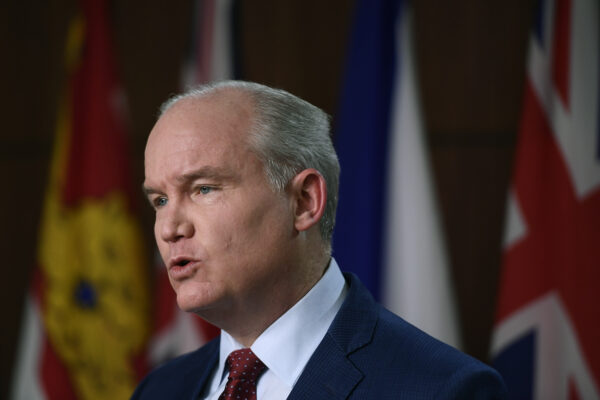 "We have lost and lost and lost, on agriculture, on steel and aluminium, on autos, on softwood lumber. I have never seen the Canada-U.S. relationship so weak, so poor," he said.
The Epoch Times reached out to the Prime Minister's Office for comment but did not hear back by the time of publication.
Canada was recently excluded from a new alliance between the United States, Australia, and the UK centred on acquiring nuclear submarines. During a meeting related to the alliance with the Australian Prime Minister Scott Morrison in September 2021, U.S. President Joe Biden said his country "has no closer or more reliable ally than Australia." That status has traditionally been reserved for Canada.
On the trade front, there have been a number of points of contention between the two countries in recent years.
Washington nearly doubled its tariffs on Canadian softwood lumber in November 2021 on the belief that the Canadian lumber industry gets help from the federal government. Ottawa is challenging that position.
Canada is also challenging the Biden administration's US$12,500 incentive for Americans to buy domestic electric vehicles, which puts Canadian-made EVs at a disadvantage.
On Jan. 4, a dispute panel found that Canada's supply management of dairy products goes against the Canada-U.S.-Mexico free-trade agreement.
Cost of Living
O'Toole says supply chain challenges have already increased cost of living expenses for Canadians, decrying the government's move to increase the Canada Pension Plan and Employment Insurance premiums this year, which he says is meant to pay for the government's "out of control spending."
The global supply chain disruptions due to COVID-19 have been worsened recently as more workers have to isolate themselves if they get infected with Omicron, and as the federal government has imposed a vaccine mandate for all truck drivers.
"There's a cost of living crisis in Canada right now. Housing, it's impossible to buy a house in some parts of Canada. Rents are going up dramatically. Costs of groceries are going up, predicting another thousand dollars for groceries this year. Gas, all the everyday essentials are going up," he said.
"Mr. Trudeau is increasing taxes on your payroll, on your paychecque," he said.
Statistics Canada said on Jan. 19 that the annual pace of inflation climbed to 4.8 percent in December, a pace that hasn't been seen since September 1991.
Driving growth on the consumer price index were prices for groceries that climbed year-over-year by 5.7 percent—the largest bump in a decade—and for housing that climbed by 9.3 percent compared with December 2020.
O'Toole also raised concern that the Liberal government may be planning to implement a home equity tax.
"At first, [the federal government is] going to suggest it's a way of controlling [the] housing crisis, but this is the way that most Canadians save for retirement," O'Toole said.
"So the minister will say the government is not even looking at these things, and then we see a number of studies being funded by the federal government looking at this very thing."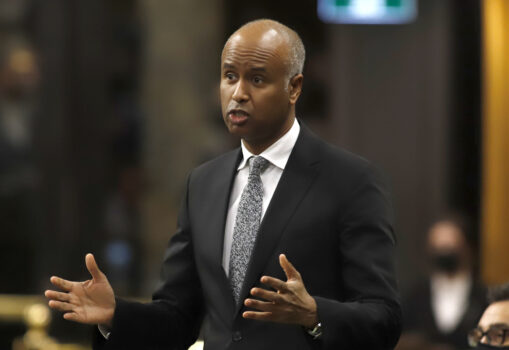 Housing Minister Ahmed Hussen has denied that the federal government is entertaining the thought of implementing a home equity tax.
"The Government of Canada is not looking at charging capital gains on primary residences. This is not under consideration by our Government. Any suggestion otherwise is false," said a July 2020 by Ahmed Hussen, then the minister of families, children, and social development.
Hussen's comment was in response to a report by Blacklock's Reporter about a $250,000 study commissioned by the Canadian Mortgage and Housing Corporation (CMHC) to examine ways of implementing an equity tax on people's primary residence.
A more recent report, released on Jan. 5 by Generation Squeeze, a CMHC-funded lab, recommended that the federal government implement a home equity tax.
"Put a modest price on the housing inequity created by runaway home prices, via an annual (deferrable) progressive surtax on the top 10% of homes valued at over $1 million," the report said.
O'Toole said Canadians should be wary if the federal government doesn't get its spending under control.
"We know a lot of them want to tax your home," he said.
Tammy Hung, Vivian Yu, Omid Ghoreishi, and Rahul Vaidyanath, and The Canadian Press contributed to this report.