Canada Urged to Investigate Uyghur Crisis in China
July 10, 2009 10:06 pm Last Updated: July 3, 2012 9:50 am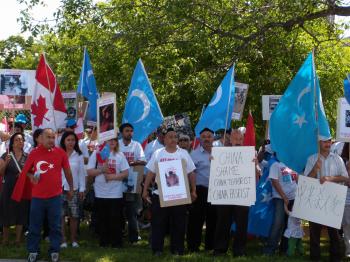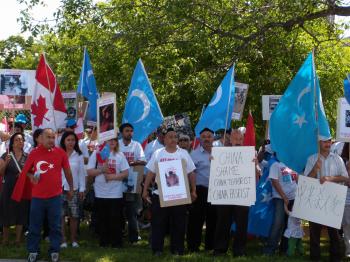 OTTAWA—Concerned Canadian groups are urging the government to launch an immediate investigation into the crisis in northwest China where human rights protests by the Uyghur minority have escalated into large-scale rioting and violent suppression with growing casualties.
Demonstrations first began July 5 in Urumqi, capital of China's Xinjiang Uighur Autonomous Region (XUAR), and have since spread to other parts of the region.
The protests were prompted by grievances over the Chinese regime's handling of an incident at a factory in Guangdong province in June in which two Uyghurs were killed.
As Chinese authorities dispatched security forces to quell the protestors, the incident turned into violence with the Muslim Uyghurs, who have traditionally lived in Xinjiang, facing Han Chinese, who migrated there in recent years at the regime's encouragement, and the mainly Han Chinese security forces.
Human rights observers say the protests and the regime's crackdown and information blockade reflect communist China's longstanding repression and rights abuses against the Uyghurs.
"The violence and human rights violations that have been so widespread in the Xinjiang region for many years have obviously spilled over into the terrible violations and suffering this week," said Alex Neve, Secretary-General of Amnesty International Canada's English Branch, at a demonstration in front of the Chinese embassy Friday afternoon.
"The Chinese government must be pressed by Canada and all other governments to immediately agree to launch an independent and credible investigation into what's happened," he said.

The U.S. embassy in Beijing has sent representatives to Xinjiang. Mr. Neve urged Canada to do the same and to also send a parliamentary delegation to investigate the situation first hand.
Chinese authorities say that 156 people have been killed, over 1,000 injured, and 1,434 detained.
But Mr. Neve said it is very difficult to get an accurate and clear understanding of the situation.
"The Chinese government has been restricting access to information, barring journalists from many parts of Xinjiang, imposing restrictions, as they often do, on Internet use. So it's been very difficult to get the kind of information that is so crucial right now."
Along with supporters from Toronto, London, Montreal, Ottawa, and elsewhere, Mehmet Tohti of the Uyghur Canadian Association was at the demonstration following a press conference and gathering on Parliament Hill earlier in the day.
He said the Chinese regime has imposed martial law and deployed more than 70,000 troops to Kashgar and 30,000 troops to Urumqi.

Today, Friday, is a day for Muslims to gather in prayer. But Mr. Tohti said only two mosques are open in Urumqi and "the government did not allow people to come to pray. Police search, house by house, is continuing. Lots of arrests and lots of people are still dying in hospitals."
Uyghur sources in Xinjaing report that more than 1,000 Uyghurs have been killed, he said.
David Kilgour, former Secretary of State for Asia-Pacific, also at the embassy, noted a report by Human Rights Watch (HRW) and Human Rights in China that extensively documented "egregious restrictions" on people's rights in Xinjiang.
He said a BBC report this morning showed Uyghurs being surrounded by police and beaten by batons while coming out of the mosques.
Yasin Altug of the Turkish Canadian Cultural Association of Ottawa was also at the demonstration.
He called for help from the world community. "There is a genocide happening [in Xinjiang]. They have to stop," he said.
The Uyghurs are a Turkic ethnic group and many Uyghurs exiled from Xinjiang live in Turkey. Turkey's Prime Minister has said his country will ask the United Nations Security Council to address the crisis.
Canada's Transport and Infrastructure Minister John Baird left yesterday for a ten-day trip to China to promote trade relations.
Mr. Kilgour urged Mr. Baird to speak up against the persecution of the Uyghurs and other groups in China.

"He has a real opportunity to raise these issues at high levels with the government. We would say to him that he has a responsibility to do so," Mr. Neve agreed.
Canada's Foreign Affairs Minister Lawrence Cannon issued a statement July 6 urging "restraint on all sides" and calling on Chinese authorities "to respect freedom of speech and information and the right to peaceful protest."
Mr. Neve said what is needed "is a strong statement that recognizes that the Uyghur people are experiencing grave human rights violations and that Canada is determined and committed to bringing that to an end."
Urging Canada to join the U.S. and other countries to investigate the crisis, Mr. Tohti also called on foreign investigators to talk directly with local Uyghurs who are the "victims of this atrocity."