Canada's Trade Minister Begins Trip to Japan, China
April 8, 2009 2:02 pm Last Updated: October 1, 2015 9:56 pm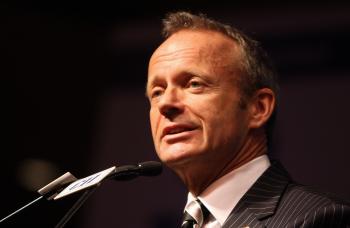 Canada's International Trade Minister Stockwell Day arrived in Tokyo on Wednesday to begin his ten-day trip to Japan and China to promote the benefits of doing business with Canada.
"The goal is to expand opportunities for Canadian investors, entrepreneurs, and ultimately workers in Canada," said Mr. Day at a teleconference with media on Tuesday from the Vancouver International Airport.
He will be taking the message that Canada is a very sound place to invest, with the world's most stable banking system, and one of the lowest business tax rates in the Organisation for Economic Co-operation and Development (OECD). Canada also has very high technology and a highly educated population with experience in many fields and products, he said.
Mr. Day is joined by Canadian business representatives, among them executives from the engineering firms of Bombardier and SNC-Lavalin and software technology company ACL.
"There will be a variety of, not just individual businesses, but individual sectors that will be represented," he said. They include the technology, construction, transportation, and agricultural sectors.
Asked whether he will discuss human rights and security issues with China, such as North Korea's recent rocket launch, Tibet, and the ongoing persecution of Falun Gong, Mr. Day noted that although his trip is primarily a trade mission, nothing has been ruled out from discussion.
"This mission obviously has a trade focus, but we look at all aspects of the relationship," he said.
Mr. Day said he raised human rights and environmental issues when meeting with the Chinese regime's trade minister in November.
A journalist asked whether issues like the environment and human rights have become less important than increasing trade in the government's view because of the economic downturn.
"All of these issues are interrelated and none are mutually exclusive," said Mr. Day. "That's why everything is on the table in terms of advancing the discussions."
In Tokyo and Nagoya the delegation will meet with government officials and the heads of auto and other companies.
As Japan is one of the largest, if not the largest, net importer of food in the world, great opportunities exist for Canadian agricultural exports to the island nation, said Mr. Day. For example, Canadian wheat exports to Japan last year increased 76 percent from 2007.
At the end of 2007 Japan was also Asia's largest foreign direct investor in Canada, he said. "So already not just the interest but the knowledge of Canada is something that is very clear to investors in Japan."
The delegation arrives in China on Friday and will visit Shenyang, Beijing, Beichuan, Chengdu, Guangzhou, and Hong Kong. Mr. Day will open six new trade offices in China.
Canada was the second largest donor to earthquake relief in China following the devastation last May in Sichuan province. Mr. Day will be visiting the reconstruction in Beichuan where significant supplies of Canadian wood and housing products are being used.

Prime Minister Stephen Harper also plans to visit China "as soon as is practically possible," Day said.
During his trip from April 8 to 17, Mr. Day will also be promoting Canada's Asia-Pacific Gateway. Canada offers reduced shipping distances via the Vancouver and Prince Rupert ports, and an integrated road-and-rail system that can cut shipping time "anywhere from 4 to 7 days" to Canadian and U.S. destinations, he said.
China is Canada's second-largest trading partner after the U.S., counting both imports and exports. However, trade is skewed, with Canada importing $42.6 billion from China in 2008 and exporting only $10.4 billion, for a trade deficit of $32.2 billion.
Trade with China made up 9.6 percent of Canada's imports last year and 2.1 percent of its exports.
Trade with Japan is more even, with Canada importing $15.3 billion and exporting $11.1 billion last year, for a trade deficit of $4.2 billion. Japan is now Canada's third-largest export destination after the U.S. and the U.K., driven by increasing sales of coal, canola, and wheat to that country.
Exports to Japan rose 20.2 percent last year, while exports to China rose by 9.1 percent. Imports from Japan dropped by 1.1 percent in 2008, while imports from China climbed 11.3 percent.