Canada Post to Face Billion-Dollar Losses by 2020, Report Finds
Mail volumes declining rapidly in digital age
April 24, 2013 11:49 pm Last Updated: April 24, 2013 11:49 pm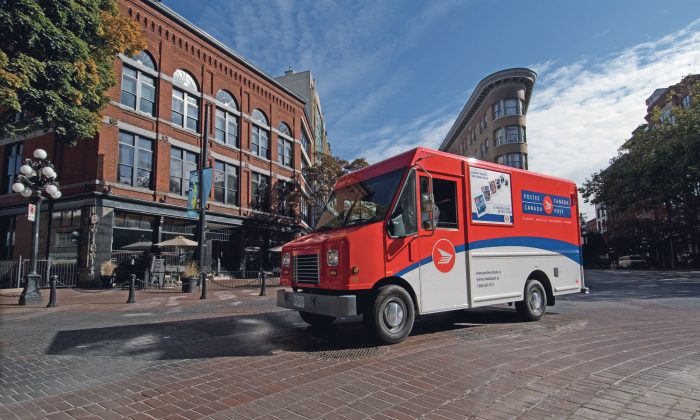 Technology is changing the way Canadians use postal services and it's having a devastating effect on Canada Post's bottom line, according to a new report.
The decline in mail volume due to digital alternatives is projected to push Canada Post to an annual operating loss of $1 billion by 2020 says the report, which was conducted by the Conference Board of Canada for the Crown corporation to assess the future of postal service nationwide.
The report looked at how the needs and expectations of Canadian households and businesses are evolving, and assessed options that could enable Canada's postal service to remain self-sustaining in the digital age.
"Canadians recognize that the way they use mail is changing, but haven't yet fully understood how severely that is affecting Canada Post's business model," said David Stewart-Patterson, vice-president of public policy for the Conference Board.
"E-commerce is boosting demand for parcel delivery, but households are sending fewer letters, businesses are encouraging electronic bills, governments are moving to direct deposit, and advertising is moving to the Internet. Canadians must consider what kind of postal service they really need in the years ahead."
Though Canada Post managed a modest profit in 2012, it expects to lose money in 2013 due to rapidly declining mail volumes. Almost one billion fewer letters were mailed in 2012 than in 2006, the post office reported.
The Conference Board report found that almost half of all Canadian households now send a maximum of just two pieces of mail through the postal system each month. The Canadian experience is not unique, however, as postal services around the world are being forced to deal with the same pressures on traditional mail volumes.
The Conference Board estimates that Canada Post's transaction mail, addressed and unaddressed advertising mail, and publication volumes will decline by more than 25 percent by 2020.
The good news is that parcel volume in Canada is expected to increase by 26 percent by 2020, due in part to the growth in e-commerce. However, this growth will not make up for the corresponding loss in revenue from other lines of business.
Ways to Cut Costs
The Conference Board examined five options for cutting costs in order to keep the Crown corporation viable, including wage restraint; alternate-day delivery for mail (except for parcels); converting Canadian households door-to-door delivery to community mail boxes; further replacement of corporate post offices with franchised postal outlets; and reduced speed of delivery.
The report notes that eliminating delivery to the door for urban residential customers would be the option with the largest financial impact, saving a projected $576 million a year.
Canada Post responded to the report Tuesday, saying it reflects their challenges and "the urgent need to transform to serve the changing needs of Canadians."
"It is clear that Canadians will continue to want and need a national postal service, but one built for the services they require today and in the future," said a statement Tuesday. "This will require fundamental changes on the part of the corporation in order to avoid becoming a burden on taxpayers."
Canada Post also said it will seriously consider all the options put forward by the Conference Board, with the understanding that no single initiative will be sufficient to stem the losses from the steep decline in mail volumes.
The corporation said it will soon be soliciting feedback from Canadians and a broad range of customers on the future of Canada Post.