OTTAWA—Taiwan is a democracy with similar interests and values to those of Canada, and the ties between the two countries should be much stronger, experts say. The problem is that Canada's "One-China" policy needs to be reviewed in the face of greater China aggression.
Given deteriorating relations with China following the arrest of Huawei executive Meng Wanzhou last December, Canada has increasingly more in common with Taiwan. China seeks to annex the jurisdiction of 23 million and head off foreign intervention in the region. As Canada becomes more acquainted with how China attempts to influence its decision-makers, it can learn from Taiwan, which is experiencing those kinds of threats at an unprecedented level, observers say.
"Taiwan is a major success story," said former Canadian MP and secretary of state for Asia-Pacific David Kilgour. He noted that Taiwan is one of 30 parliamentary democracies in the world.
Kilgour and other Taiwan experts were speakers at an Ottawa event on April 16 hosted by the Macdonald-Laurier Institute (MLI) public policy think tank to mark the 40th anniversary of the United States' Taiwan Relations Act (TRA). While Canada does not have an equivalent of the TRA, the clear messages at the forum were that Canada can benefit from greater relations with Taiwan, it should not be intimidated by China, and its allies can serve as role models on steps to take.
Another key point is that the "One-China" policy is a double-edged sword. China's rhetoric uses it to try to keep other nations from interfering with its Taiwan objectives. J. Michael Cole, Taipei-based senior fellow with the China Policy Institute, says Canada has allowed Beijing to dictate its engagement with Taiwan, which has stunted development of the relationship.
"It's risk aversion. Certain agencies in Canada are absolutely terrified when it comes to engaging with Taiwan," Cole said. "No reason why this would have to be so."
According to Foreign Affairs Minister Chrystia Freeland, Canada is building people-to-people ties with Taiwan within its One-China policy. She supports the Asian democracy's participation at the World Health Assembly in Geneva, despite obstruction by China.
Strategic Battle
Winston Wen-yi Chen, Taiwan's official representative to Canada, said his country is at the front line of a battle being fought for freedom and democracy.
"We are ready and I hope Canada is also ready," Chen said. "Like the theme of this event today, 'Embracing Taiwan,' Canada has more options than you realize."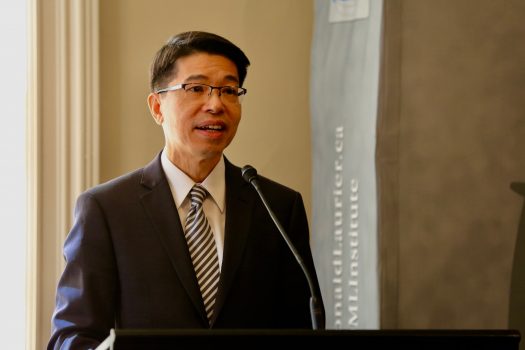 A growing number of countries—India, Australia, New Zealand, and nations within the EU—are gradually starting to engage with Taiwan on trade, cyber, and crime fighting, said Cole. He added that there is less room for China to interfere if Canada engages with Taiwan as part of a multilateral exercise than if it is done bilaterally.
China's dictating of how Canada deals with Taiwan runs deep. Jonathan Berkshire Miller, senior fellow with the Asian Forum Japan, shared an anecdote in which a Global Affairs Canada official spoke of having received an email saying they not permitted to attend a Taiwan event at the Chateau Laurier.
"I don't think that should be happening," Miller said. "We need to have some kind of legislation which permits contact at all levels."
Scott Simon, chair of Taiwan Studies at the University of Ottawa, pointed out that Taiwan has become Canada's 11th-largest trading partner—fifth-biggest in Asia—even without formal diplomatic relations. Taiwan has one of the largest Canadian expat communities in the world, numbering some 60,000.
"So far we have operated under the assumption that downgrading relations with Taiwan would bring benefits in our relations with China," Simon said. "It has not made them any kinder to Taiwan or to us."

In addition to the U.S. tack, another interesting option is to look at Japan as a model for interfacing with Taiwan. The panellists noted that countries fear engaging with Taiwan due to Beijing's wrath, but Japan has more experience dealing with China than any other country, says Simon.
"If anyone needs to be risk averse with respect to Taiwan, it's the Japanese," Simon said. China reportedly urges Japan not to move an inch closer to Taiwan in diplomatic circles. Canada can build greater ties with Taiwan, and that would also help foster a greater strategic partnership with Japan.
Cole describes Taiwanese President Tsai Ing-wen as responsible, predictable, and pragmatic in her push for independence.
"Using economic incentives, control over sources of information, and political subversion, China's objective is to divide our society, erode trust in public institutions, and make people question our traditional alliances. The U.S., together with other like-minded countries, can help," said Tsai in a speech commemorating 40 years of the TRA.
The military threat from China is very real, and Simon said Canada should remind China that it doesn't endorse its "spurious" claim to Taiwan.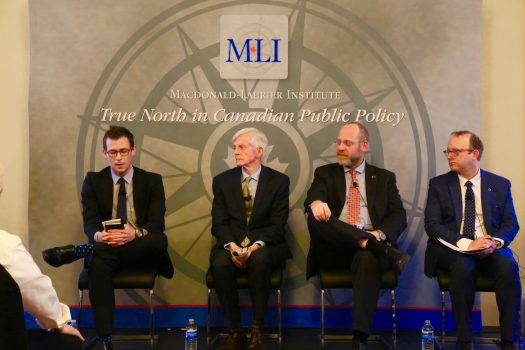 The warning to the rest of the world is that if China annexes Taiwan, it won't stop there. Cole said Taiwan's disappearance as a free sovereign state in the Asia-Pacific would embolden China's authoritarian regime.
"Taiwan is a key piece of the puzzle," he said.
Former U.S. House speaker Paul Ryan called Taiwan "a force for good in the world" during a visit to Taipei to mark the 40th anniversary of the signing of the TRA. That very day—April 15—Chinese bombers and warships conducted military drills around Taiwan.
Election Interference
The panellists at the MLI forum agreed that, if one good thing happened after China detained two Canadians after Meng's arrest, it is that more Canadians are learning the truth about how China operates though the media, which has ramped up its reporting on China.
"The reputational costs [for China] are huge here," Miller said.
Canada's federal election will be held this fall. Taiwan faces national elections next January. The threat of interference in both elections can't be dismissed.
"Canada would be wise to solicit the counsel of Taiwan on this critical issue," Miller said.
Follow Rahul on Twitter @RV_ETBiz