Canada Makes Davis Cup History With Win Over Italy
Raonic wins both singles matches, Nestor and Pospisil win epic doubles match
April 7, 2013 9:28 pm Last Updated: April 7, 2013 10:51 pm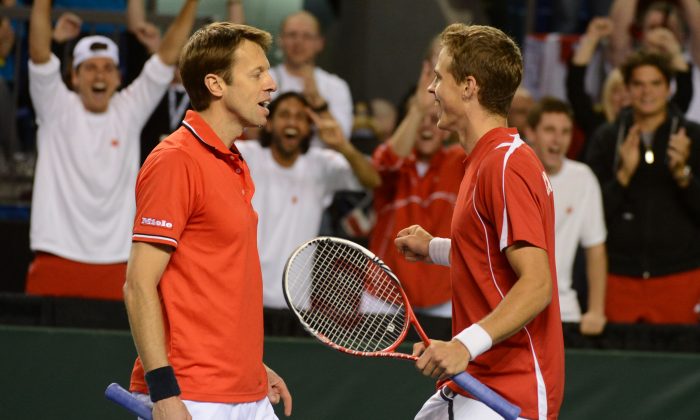 Canada made Davis Cup World Group history on Sunday by reaching the semifinals for the first time after Milos Raonic's 6–4, 6–4, 3–6, 7–5 win over Italy's top player Andreas Seppi. Canada is now one of four nations left in the running for the Davis Cup after 130 started the competition.
Canada took an insurmountable 3–1 lead over Italy with Raonic's win. It was all set up for Raonic after a thriller of a doubles victory on Saturday.
The action took place at the Doug Mitchell Thunderbird Sports Centre in Vancouver, site of Canada's victory over No. 1-ranked Spain in February. It's a fast hard court perfectly suited to Raonic's big game and the Montenegrin-born player used his big serve to great effect against Seppi.
Raonic started strongly, breaking Seppi in his first service game. He went on to win the first set as Seppi struggled to make much impression on the Raonic serve. The second set was much of the same but Raonic hit a speed bump in the third set.
Seppi took advantage of a couple of key double faults to break Raonic and despite struggling to hold his serve, he held on for the third-set win.
The fourth set was a dogfight, which seemed headed for a tiebreak. But Raonic had the psychological advantage of serving first and eventually he broke Seppi in the 12th game to take the set and the match.
Seppi had started to dominate the rallies from the baseline, but Raonic always had his mighty serve to rely on.
"It's not over. We're going to work hard and we're going to be better," Raonic told Sportsnet in an interview after the match.
Team captain Martin Laurendeau knew Canada had to take advantage of the two home ties against Spain and Italy and his players delivered.
"You still have to execute and they did that beautifully," he said.
Doubles Heroics
Davis Cup makes international stars out of sometimes relatively unknown tennis players. This past weekend was no different for Vasek Pospisil.
The 140th ranked 22-year old from Vancouver showed the world his tremendous character, stamina, and an ability to perform under pressure.
He played the first singles rubber for Canada against 18th ranked Andreas Seppi and took the first two sets 7–5, 6–4 before losing the next three sets 6–4, 6–3, 6–3. The veteran Italian took some time to adapt, but his steady play and experience in long rallies eventually took their toll on Pospisil.
Raonic wasn't at his best in defeating world No. 31 Fabio Fognini in the second match. The score was much closer than most would have expected: 6–4, 7–6, 7–5. Canada's top player did serve well, but his ground strokes caused him much irritation.
But 24 hours later, Pospisil was back on the court in the crucial doubles match with specialist Daniel Nestor. The doubles match was seen as the decisive match given Raonic being heavily favored in both his singles matches while the Italians were also heavily favored in singles matches not against Raonic.
Canada hung on to beat Italy in a thrilling doubles match 6–3, 6–4, 3–6, 3–6, 15–13. The match lasted 4 hours and 28 minutes.
"There was no way I was going to lose today after losing yesterday in five sets," Pospisil told Sportsnet after the match. "It means everything. It's just such an adrenaline rush."
Pospisil must have generated a good dose of adrenaline to get stronger as the fifth set wore on. His serving picked up after going through a rough patch in the third and fourth sets.
And about his 40-year-old partner Pospisil said, "He showed why he's such a legend." Nestor has responded for Davis Cup duty 66 times with arguably his greatest performance coming in a five-set win over then No. 1-ranked Stefan Edberg of Sweden in 1992.
"We just hung in there," Nestor said. "He [Pospisil] took over in the fifth.
"I thought we did a good job of staying positive."
There were many ups and downs for Canada in the match from being up two sets and a break in the third set to then not being able to hold serve the rest of the set and losing it. The fourth set wasn't much of a contest as the Italians both started finding their top gear.
The nerve-wracking fifth set was completely different with Canada having break chances at 6–6 and 9–9 as Italy was firmly on their heels. Pospisil's first serve percentage was a remarkable 87 percent in the final set.
Canada got the break to go up 14–13 and Pospisil served it out.
"It was great what they did," said Raonic after his win in the fourth rubber. "Everybody's so proud of them."
Earlier on Saturday, Canada's next opponent Serbia, pulled off an incredible upset in the doubles by beating the world's top-ranked tandem of Mike and Bob Bryan. That match also finished 15–13 in the fifth set with the Serbs on top. World No. 1 Novak Djokovic also won both his singles matches as the Serbs beat the United States 3–1.
The semifinal will be played Sept. 13–15 in Serbia. The other Davis Cup semifinal features Argentina versus the Czech Republic.
Follow Rahul on Twitter @RV_ETSports