Imperial Visit Celebrates 80 Years of Canada-Japan Relations
July 9, 2009 1:04 am Last Updated: July 20, 2009 9:59 am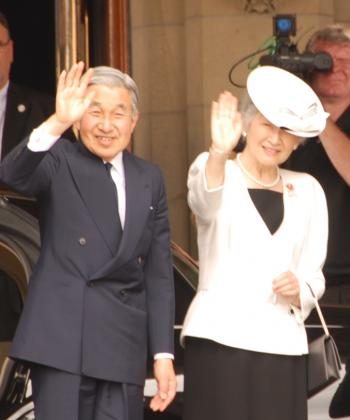 OTTAWA—Canada received its first visit by a reigning Japanese Emperor when the Imperial couple began their 11-day visit on Friday.
It was 56 years ago when Emperor Akihito first came to Canada as Japan's crown prince in 1953, just one year after the San Francisco Peace Treaty restored ties between the two countries following World War II.
On July 3 he returned and is travelling across Canada until July 14 with Empress Michiko to commemorate the 80th anniversary of Canada-Japan diplomatic relations.
Jacob Kovalio, professor of Japanese and Asian studies at Ottawa's Carleton University, says the trip commemorates formal ties but that is only part of the reason for the visit.
"The deeper reason is a mutual wish on both sides to deepen and widen our relations…even though it's already very good in economic and political terms," said Mr. Kovalio.
This year also marks the 20th anniversary of Emperor Akihito's ascension to the throne and the 50th wedding anniversary of the Emperor and Empress.
Democracy and Prosperity
The imperial visit is a good opportunity to alert both Canada and Japan to the importance of learning more about one another, Mr. Kovalio said.

Emperor Akihito said the same at Rideau Hall Monday morning for the official welcoming ceremony hosted by Governor General Michaëlle Jean.
"We hope to deepen our understanding of your country where those who have lived here for generations and those who have moved here from various countries recognize and respect their mutual cultures and strive to create, harmoniously, the Canada that is today," he said.
Japan, the world's second-largest economy, is by far Asia's largest foreign direct investor in Canada one of our most import export destinations.
Mr. Kovalio stressed that, unlike China, "Canada and Japan are very important democratic countries that are sincerely committed to human rights and peaceful international relations."
"Japan is one of the most major Asian countries where democracy goes together with economic advancement, like South Korea, like Taiwan, for example. But China is the opposite example, where capitalism goes with totalitarianism."
Democracy, he explained, is "vital for prosperity, and prosperity must be used in order to never, ever lower the importance of democracy in our national life. This is to me the most solid foundation for relations between these two advanced countries of Canada and Japan."
'People persons'

On Wednesday, after a special presentation at Foreign Affairs and International Trade Canada, the imperial couple flew to Toronto for a two-day tour. The Japanese Canadian Cultural Centre (JCCC) is on the itinerary for Thursday evening.
"It's quite an honour and privilege to have the Emperor and Empress of Japan visit the cultural centre," JCCC spokesperson Sid Kiyoshi Ikeda said Tuesday.
Mr. Ikeda, 74, is a third-generation Japanese-Canadian who received the Governor General's Caring Canadian Award in 2004. In 1990 he was one of two Canadians and one of 28 people of Japanese heritage from South America, North America, Hawaii, and Mexico invited to Japan for Emperor Akihito's enthronement.
"We got to meet him at Akasaka Palace at a private meeting and he shook our hands and thanked us for coming," Mr. Ikeda said. "They are such a nice couple. They're people persons."
Seventeen years later, the Emperor would confer on Mr. Ikeda one of Japan's highest decorations—The Order of the Rising Sun (Gold and Silver Rays)—for his service to the Japanese-Canadian community and the betterment of Japan-Canada relations.
On July 12, the Emperor and Empress will visit the Institute of Ocean Sciences in Sidney, B.C. on Vancouver Island, a centre for research on the conservation and protection of fish habitats.
Noted for his work in biological studies, the Emperor is considered a world expert on the goby fish.
"The Emperor is interested in marine biology and he's made a number of contributions to science journals over the years…Certainly the department is very pleased that they will be visiting and it's such a good opportunity to showcase the scientific work that's done at the facility," said Diane Lake, communications advisor with the Department of Fisheries and Oceans.
That afternoon, the couple will visit the Vancouver Japanese Language School (VJLS), which has been in historic Japantown in the city's Downtown Eastside for 103 years.
The school has received visits from members of the imperial family three times. They included two uncles of Emperor Akihito and his cousin's wife, Princess Takamado,—but "never the Emperor [himself]," said Rika Uto, chair of the board of directors.
"We're very happy that the royal family is acknowledging the important history of the neighbourhood as well as its importance presently," she said.