Canada Housing Outlook Brightens as Correction Not in the Cards
July 3, 2013 8:54 pm Last Updated: July 3, 2013 9:26 pm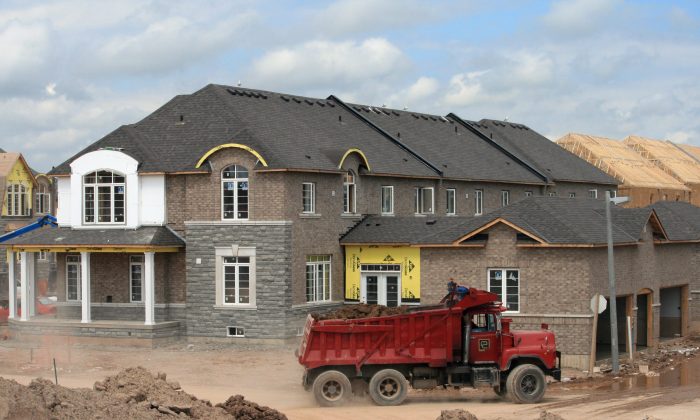 While homeowners might have started to fret over talk of a housing correction in Canada or the effects of the Harper government's axe to grind with a potential "housing bubble," a few recent data releases bode well for the next year and a half.
Back on June 17, the Canadian Real Estate Association (CREA) reported that national home sales rose 3.6 percent from April to May. This was the biggest gain in almost two and a half years. According to CREA, it's the "first noteworthy increase in the past nine months."
CREA also noted that there were 6.4 months of inventory at the end of May. This statistic represents the number of months it takes to totally liquidate current inventories at the current pace of sales activity. This 6.4 figure was a slight improvement from 6.6 months at the end of April.
More Good News
Canada Mortgage and Housing Corp. (CMHC) just put out its quarterly housing market outlook that provides a two-year forecast for housing indicators. 
CMHC expects resale prices to increase at a rate close to inflation (roughly 1 percent) both this year and next year. The national housing agency expects the average Multiple Listing Service (MLS) price to rise to $369,700 this year and to $377,300 in 2014. This is clearly a far cry from anything remotely close to a correction. 
CMHC did provide some more downbeat forecasts in terms of housing starts and sales of existing homes. Their estimate of housing starts for 2013, 182,900, is 15 percent below the 2012 level. 
The report discusses how the slowdown in economic growth in the second half of last year continued in the first quarter of this year.
"This has led to more modest housing demand and is expected to bring about a decline in total starts in 2013," CMHC's Housing Market Outlook states.
The number of starts for 2014 is expected to increase 3.3 percent from 2013 to 188,900 as "economic growth, employment and net migration will gain momentum later in 2013 and in 2014." 
But the bright news in terms of housing starts is that for May, the pace came in at 200,178, which is a strong increase from the 175,922 figure in April and well above the expectations in May of 178,100.
CMHC doesn't expect posted mortgage rates to increase until mid-2014, which is roughly when the Bank of Canada is expected to start increasing the target overnight rate, according to money market indicators.
While CMHC goes on to discuss posted mortgage rates not increasing until mid-2014, most borrowers will know that banks have already started raising their discounted mortgage rates. These discounted mortgage rates can be 2 percent lower than the typical posted rate.
For example, BMO just upped their 5-year "low-rate" fixed closed special-offer mortgage rate by 0.20 percent to 3.59 percent on June 29. 
With the margins that banks are earning on the average discounted rate being close to its historical average, one can expect discounted mortgage rates to closely follow the move higher in bond yields.
The situation facing potential homeowners now becomes one of locking in a low mortgage rate given the positive real estate momentum making houses slightly more expensive than what they might have expected.