Canada Hosts International Talks on Reconstruction in Haiti
January 24, 2010 6:29 pm Last Updated: October 1, 2015 8:54 pm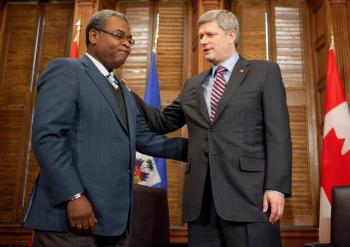 OTTAWA—Canada will host international talks on earthquake-ravaged Haiti on Monday with a focus on laying the groundwork for long-term reconstruction for the "enormous task ahead," Foreign Affairs Minister Lawrence Cannon said at a media briefing on Sunday.
Haitian Prime Minister Jean-Max Bellerive, who arrived in Ottawa on Sunday, will attend the Ministerial Preparatory Conference in Montreal along with foreign ministers and delegates from major donors and key regional and international partners engaged in Haiti.
Mr. Cannon noted that the meeting will not focus on the amount of money needed to rebuild the Western Hemisphere's most impoverished country that was struck by a catastrophic 7.0-magnitude earthquake on Jan. 12.
Rather, the aim is to arrive at a common understanding and commitment on basic principles such as responsibility, accountability, and long-term engagement.
"We need to identify with the Haitian government key priorities in order to define a roadmap for the tasks ahead," Mr. Cannon said.
"This conference is an initial—albeit critical—step on the long road to recovery. This is not a pledging conference. Proceeding along those lines while emergency relief remains the top priority would be premature."
The meeting will discuss the option of debt forgiveness, a priority being urged by many humanitarian organizations. Haiti has a $1 billion foreign debt.
Among the high-level participants will be U.S. Secretary of State Hilary Clinton, Brazil's External Relations Minister Celso Amrim, French Foreign Minister Bernard Kouchner, and European Union Head of Delegation Maria Teresa Fernandez de la Vega.
Other countries sending foreign ministers or senior representatives include Argentina, Chile, Costa Rica, Dominican Republic, Japan, Mexico, Peru, Spain, and Uruguay.
The United Nations, Organization of American States, Caribbean Community CARICOM, the World Bank, and the International Monetary Fund are among international organizations that have confirmed their attendance.
The conference will also hold an information session to allow non-governmental organizations working on the ground in Haiti to provide their views.
A larger international donor coordination conference on reconstruction in Haiti will take place in the coming months, Mr. Cannon said.
On Jan. 23 the government of Haiti officially declared the end of search and rescue efforts following the earthquake that shattered the small Caribbean nation near its capital Port-au-Prince and killed an estimated 200,000 people.
Mr. Cannon said Canada's current focus is to repatriate the remains of Canadian victims.
As of Sunday afternoon, 20 Canadians have been confirmed dead. Among them is former Liberal MP Serge Marcil who was in Haiti on business when the earthquake destroyed the hotel in which he was staying.
To date, 1,948 Canadians have been located in the affected area, 207 remain unaccounted for. Canada has evacuated 2,424 people on 27 flights.
On Sunday morning adoptive parents in Canada welcomed the arrival of 24 orphaned Haitian children. Canada has also announced special immigration measures to give priority processing to family members of Canadian citizens and permanent residents.
As Canadian humanitarian relief work continues in the earthquake-devastated region, International Cooperation Minister Beverley Oda announced on Saturday that Canada will continue to match Canadians' donations to those efforts beyond the original $50 million cap.
Canadian donations have already exceeded $67 million, she said. Canada is providing an additional $85 million in urgent humanitarian assistance.
"We've received generosity from around the world and especially from Canadian donations that have enabled most of the organizations, especially Oxfam, to really mobilize and get rapidly together and get it out," said Alexandra Lopoukhine, communications team leader at Oxfam Canada.