Outpouring of Support from Canada for Haiti Earthquake Victims
January 14, 2010 1:18 am Last Updated: October 1, 2015 8:58 pm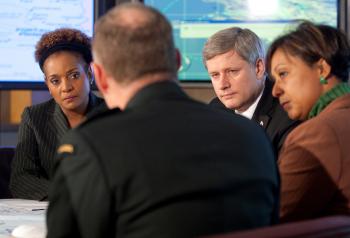 OTTAWA—The federal government and Canadians across the country are showing a heartfelt outpouring of support for the victims of a massive earthquake that struck Haiti on Jan. 12.
Canada has pledged $5 million for immediate humanitarian assistance in response to the 7.3-magnitude earthquake that devastated the Caribbean nation's densely populated capital, Port-au-Prince, and surrounding area.
The Canadian Forces deployed about 20 personnel of the 200-member Disaster Assistance Response Team (DART) to Haiti Wednesday morning for an assessment mission.
A larger deployment of a CC-177 transporter aircraft, along with frigate HMCS Halifax and destroyer HMCS Athabasca, were scheduled to depart early Thursday morning to deliver humanitarian equipment and supplies.
To date, one Canadian has been confirmed dead in the massive quake that has claimed the lives of an estimated 100,000 to half a million.
Yvonne Martin of Elmira, Ontario, a nurse with the Emmanuel Missionary Church of Canada, died in the collapse of a guesthouse shortly after arriving in Port-au-Prince on Tuesday.
The Foreign Affairs department said it expects more casualties to be reported as search and rescue operations make headway.
A Canadian trapped in the rubble managed to send a text message to the Foreign Affairs department to seek help.
Canada's mission in Port-au-Prince has confirmed that all 24 Canadian staff are accounted for, as well as 80 of the 82 Canadian police officers in Haiti as part of the United Nations Stabilization Mission to train the country's national police force.
Two RCMP officers, Superintendent Douglas Coates of Ottawa and Sergeant Mark Gallagher of Halifax, remain missing.
In addition, Canada has 7 Corrections Canada officers and 5 Canadian Forces personnel deployed with the same UN mission in Haiti, where an estimated 6,000 Canadians live.
A huge number of buildings have been destroyed including the presidential palace and U.N. headquarters.
"Our government is deeply concerned about the impact of the earthquake and we want to ensure that the immediate basic needs of the Haitian people are met quickly and effectively," said Minister of International Cooperation Bev Oda, who on Wednesday announced the initial $5-million funding.
"Haiti is a priority for this government, and Canada is committed to supporting the Haitian people in these devastating times," said Foreign Affairs Minister Lawrence Cannon at a press conference early Wednesday morning.
On Tuesday, Prime Minister Stephen Harper released a statement extending sympathies from Canada. "Canada stands ready to provide any necessary assistance to the people of Haiti during this time of need," he said.
"This natural disaster has hit a country with an extremely fragile infrastructure, where many buildings are already unstable, and where living conditions are often very difficult. I fear for its people," said Governor General Michaëlle Jean, a Haitian-Canadian born in Port-au-Prince, in a statement.
The small nation of 8.79 million people has suffered tremendous natural disasters, political upheaval, and violence in recent years.
When the earthquake struck, the country, which is the poorest in the Western Hemisphere and one of the poorest in the world, was still in the process of rebuilding following several devastating hurricanes in 2008.
"Like me, Haitian communities across Canada are heartbroken and overwhelmed by the magnitude of this catastrophe. The images and news reports are unbearable to watch. So much distress, suffering and loss," Ms. Jean said in a statement released Wednesday.
"I salute the friendship and solidarity being demonstrated all across Canada and throughout the international community," she added.
Canada's financial aid will help provide emergency shelter, medical and sanitation services, water, food, and other relief items and protection.
The quake struck at 4:53 p.m. EST Tuesday and was followed by an aftershock just before 11 p.m. EST. It was the largest earthquake in 200 years to strike the country and Haitian citizens are struggling to find survivors in the rubble amidst severe damage to infrastructure including power and communications. Many international diplomats stationed in Haiti have been reported dead.
Canada is home to some 120,000 Canadian-Haitians, with Montreal having the country's largest Canadian-Haitian community.
Canada's development program in Haiti is CIDA's largest in the Americas and second largest in the world (after Afghanistan). Haiti and Canada are both members of the United Nations, Organization of American States, and La Francophonie.
Four Canadian humanitarian organizations have coordinated efforts under the banner of the Humanitarian Coalition to bring disaster relief to Haiti. The New Democratic Party is calling on the federal government to match Canadians' contributions to the coalition.
Foreign Affairs is advising against non-essential travel to Haiti and asks Canadians to donate money to experienced humanitarian organizations—rather than clothing or food—as the best way to help.
A travel report for Haiti and more information on how Canadians can help can be found at http://www.international.gc.ca/humanitarian-humanitaire/earthquake_seisme_haiti.aspx.