Canada has restricted all Boeing Max 8 and Max 9 aircrafts from its airspace, Transportation Minister Marc Garneau announced this morning. The decision comes in the wake of the Ethiopian Airlines crash that killed all 157 people aboard, including 18 Canadians, on Sunday.
A safety notice was released that restricts passenger flights on Max 8 and Max 9 planes from flying into, out of, or through Canadian airspace and it will affect all Canadian airlines as well as foreign airlines. At a press conference this morning, Garneau said the decision to issue the notice is a precautionary measure as a result of new data received and examined earlier this morning as well as on the advice of experts.
The safety notice is effective immediately until further notice.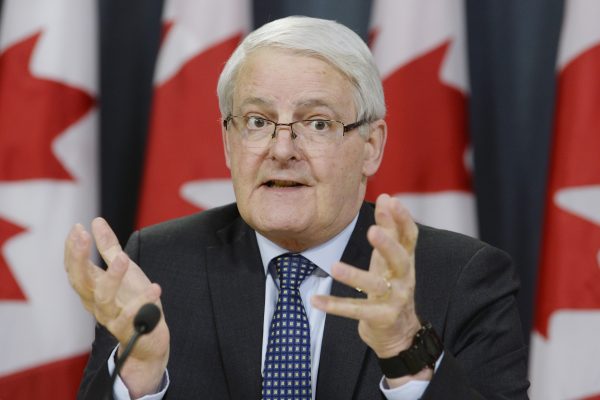 While he had previously said he saw no reason to ground the aircrafts, Garneau says the new information from this morning changed things. Satellite tracking data, which is collected when certain aircraft take-off, provides data on course, vertical profile, and fluctuations in flight. Based on that data, the Transport Ministry compared flight data from the recent crash in Ethiopia to the LionAir Flight 610 crash from October 2018, which also involved a Boeing Max 8 aircraft, and noticed some possible concerning similarities which warranted the safety notice.
"There are—and I hasten to say not conclusive—but there are similarities," Garneau said. "My departmental officials continue to monitor the situation and I will not hesitate to take swift action should we discover any additional safety issues."
The transport minister also said it was too soon to speculate about the exact cause of the accident in Addis Ababa as the investigation has just begun, and they are waiting to see the data and voice recordings.
Garneau said Canada's Transport Ministry has been in touch with Air Canada, WestJet, and Sunwing throughout the process, and he says there was no pushback from Canadian airlines when the restriction was made this morning.
Toronto-based Sunwing Airlines was Canada's first carrier to temporarily ground its Max 8 aircrafts late Tuesday but said the decision was made for commercial reasons rather than for safety issues, reports the Canadian Press. Sunwing said in a written statement that they support Transport Canada's decision and will be revising their schedule with no plans of cancelling any flights.
Air Canada released a statement saying they fully support Transport Canada's decision and are working to rebook impacted customers as soon as possible. They say that customers should expect delays as their 737 MAX operations carry nine to twelve thousand people a day. According to The Canadian Press, Air Canada was one of a handful of major airlines that initially resisted grounding the planes.
WestJet, who has 13 MAX aircraft in their fleet, also released a statement saying they will comply with the new restriction and that they are working to rebook affected customers.
Many nations around the world—including the European Union, U.K., and Australia—have already grounded the Max 8 or banned them from their airspace. Garneau says he is happy to share the data with others nations, and that he notified the United States of Canada's decision earlier this morning as well.
U.S. President Donald Trump later issued an emergency order to ground all Boeing 737 Max 8 and Max 9 aircraft as well.
"The safety of the American people, and all people, is our paramount concern," the president said during a briefing this afternoon.
Shortly after the meeting, the U.S. Federal Aviation Administration (FAA) released a statement saying they were temporarily grounding the planes. The decision is based on new evidence gathered from the site of the crash—where an FAA team is assisting the investigation there—as well as newly refined satellite data they received in the morning.
#FAA statement on the temporary grounding of @Boeing 737 MAX aircraft operated by U.S. airlines or in a U.S. territory. pic.twitter.com/tCxSakbnbH

— The FAA (@FAANews) March 13, 2019