Canada Gets Big Road Win in Puerto Rico
September 7, 2011 10:44 pm Last Updated: October 1, 2015 3:42 pm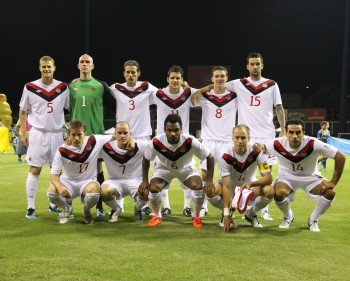 Canada has done what it needed to do thus far in its quest to qualify for the 2014 World Cup in Brazil. Winning its opening two matches 4–1 over St. Lucia last Friday and 3–0 in Puerto Rico on Tuesday, Canada is well-positioned to win its group.
Canada leads CONCACAF Round 2 Group D with six points, two better than St. Kitts & Nevis, whom they will face in October in Toronto.
In Bayamon, Puerto Rico, on Tuesday, Canada played a classic road game. The early going was dominated by Puerto Rico, but Canada absorbed the pressure and got a foothold in the match.
Then, just before halftime, Iain Hume gave Canada the lead. Simeon Jackson added a second to seal the deal with less than 10 minutes to play while Tosaint Ricketts, who came on in the 84th minute, added Canada's third in injury time for good measure.
"It's been a long time since I've scored," said Hume after the match on CanadaSoccerTV.
Canada had to battle the heat and humidity, a hard pitch, and lack of opportunities to play together. But the team came together well after an emotional victory over St. Lucia and gave a strong performance in what wasn't the prettiest soccer match.
"The weather's been horrendous," Hume said. "We've only had one chance to train. It was a lot warmer than it was yesterday. All credit to the boys." According to Canada Soccer, the temperature was approximately 30 degrees Celsius (86 degrees Fahrenheit) with 80 percent humidity.
Defender Kevin McKenna, who played the full 90 minutes, said, "Our team looked fit right to the end and [Puerto Rico] tired out more."
Goalkeeper Lars Hirschfeld wasn't really tested by Puerto Rico as Canada managed the game well, having spells of good possession. The clean sheet was Hirshfeld's second in a World Cup qualifying match. Puerto Rico's best chances came on headers that went narrowly wide.
Coach Stephen Hart spoke about Canada's ball possession being good and how their movement on the pitch had improved.
"You can't really complain about the start," he told CanadaSoccerTV. "We have not been together for three months. It's always difficult to come into somebody's backyard and come away with the points."
In addition to the goal scorers, right back David Edgar had a strong game. His free kick led to Jackson's goal. Left back Mike Klukowski also had a solid outing. His cross from the left flank wasn't cleared by the Puerto Rican defence and Hume was able to pounce on the ball and score.
Thus far, the group is progressing according to its July 27 FIFA rankings with Canada (No. 105) leading, St. Kitts and Nevis (No. 122) in second, while Puerto Rico (No. 141) and St. Lucia (No. 183) struggle.
St. Kitts and Nevis travelled to St. Lucia and won 4–2 on Tuesday. They played to a scoreless draw with Puerto Rico at home last Friday.
Canada is expected to win the group and then the going will get a lot tougher against the likes of Honduras and Cuba.
Follow Rahul on Twitter @RV_ETSports .