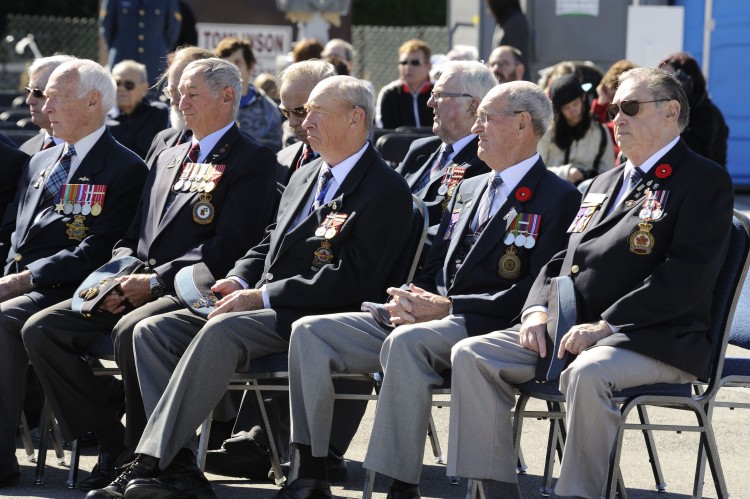 When the German Air Force failed to gain air superiority over the British in its Battle of Britain air campaign in 1940, it marked a major turning point in World War II, letting Britain rebuild its forces and strengthening the resolve of those opposing Hitler.
A decisive defeat for the German Air Force took place on Sept. 15, 1940.
On Sept.16, Ottawa commemorated the 72nd anniversary of the battle—the first major battle ever fought entirely in the air—with a memorial ceremony, parade, and fly-past of vintage and current Royal Canadian Air Force aircraft.
"As the threat of a large-scale invasion of Great Britain approached, many Canadians served within the Royal Air Force Fighter Command, which was comprised of pilots and ground crew from 13 allied nations," Defence Minister Peter MacKay said in a statement.
"They put their lives at risk to defend the ideals of society and the way of life that we so cherish today."
At the event at the Canada Aviation and Space Museum, MP Chris Alexander, MacKay's parliamentary secretary, recalled the battle and why so many Canadians joined the war effort.
"We saw it as our responsibility to protect our democracy, our way of life, our sense of justice, and the rule of law. And those were under attack," he said in an interview with New Tang Dynasty (NTD) Television.
"Many, many thousands, hundreds of thousands, of people had already died by this part of the stage of the war. And so we were determined that that kind of behaviour must not be tolerated and that in this case we would have to fight, in the air, on the seas, and then eventually on land."
Michael O'Sullivan, who represents the U.K. as the British Naval and Air Advisor in Ottawa, noted "the very close relationships we have with Canada, both historically and in the current day."
He said the battle was not only important for the British but also to Canadians and people worldwide.
"During the battle, we tend to think of it as an English war, but it certainly wasn't. It affected the whole world," O'Sullivan told NTD.
"Over 100 Canadians flew alongside those British pilots over the skies of southeast England. Of those over 100, more than 20 of them died … We are here today to remember their sacrifice and to make sure that we give them the honour that they actually deserve for the freedom they fought for all those years ago," O'Sullivan said.
"Canadians were very, very prominent in the air effort to defend Britain and to win the war, but we were even more prominent, because this is such a vast country, in training air crew," Alexander said, noting that during World War II almost 150,000 airmen and airwomen from the allied countries trained in Canada for overseas service in the war.
The Epoch Times publishes in 35 countries and in 19 languages. Subscribe to our e-newsletter.