The Canadian Consulate in Hong Kong has put a stop to all business travel outside the city for its staff after a British Consulate employee was detained in mainland China.
In a statement on Friday, a spokesperson for the consulate confirmed that employees will not be allowed to depart from the Chinese-owned region. "At present, locally engaged staff will not undertake official business travel outside of Hong Kong," she said.
The announcement follows the case of 28-year-old Simon Cheng Man-kit, a Hong Kong citizen working as a trade and investment officer for the British Consulate. Cheng was detained by authorities in Shenzhen, a border city in mainland China, on charges of breaching public order regulations. He was travelling for a business event at the time.
Cheng had been missing since Aug. 8 after crossing into China, but it wasn't until two weeks later that China's Ministry of Foreign Affairs confirmed his detention.
Deputy Director Geng Shuang said Cheng is currently being held for violating China's Security Administration Punishment Law. The law applies to a sweeping array of minor offences, and is commonly used as a preliminary course of action that allows the police to thoroughly investigate a suspect.
"I want to be clear: this employee is a Hong Kong citizen, not a U.K. citizen. So he is Chinese and this is a purely internal Chinese affair," Geng said in his statement.
The case has stirred activists in Hong Kong to hold a rally outside the British Consulate. Protesters held up posters of Cheng's image as well as placards that called for the U.K. to increase efforts to bring about his release; they were also posted on the windows and walls of the building.
The Canadian Consulate has not directly linked their employee travel suspension to the detention of Cheng.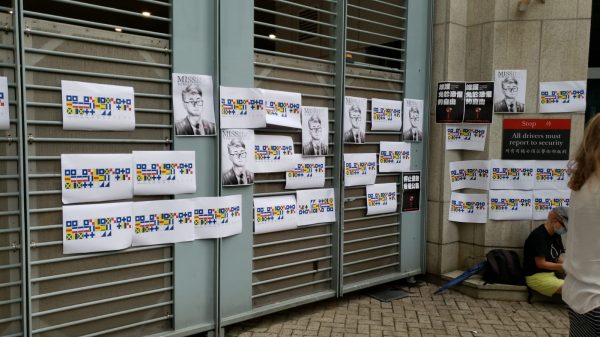 Cheng's detention comes amid recently brewing tensions between Hong Kong and mainland China. Large-scale street protests involving more than 1 million people have been regularly organized in the region since June, in response to a controversial extradition bill proposed by the government.
The bill, which would allow offending Hong Kong residents to be extradited to China, has incited widespread backlash by citizens of the semi-autonomous region, who believe that it would undermine their independent rights as well as cause them to be subject to mainland China's legal system.

This isn't the first time the Chinese regime has detained foreign citizens on what seems to be little to no basis. Canadian citizens Michael Kovrig and Michael Spavor were detained in China in December 2018 and were later charged with "endangering state security." They are being held in Beijing under constant surveillance.
The move is widely seen as retaliation for Canada's arrest nine days earlier of Huawei executive Meng Wanzhou, who was apprehended at the request of the U.S. government on charges of fraud related to the country's sanctions against Iran.
Prime Minister Justin Trudeau spoke about the situation during a recent foreign relations event on Aug. 21. He commented on the strained relationship between the two countries and emphasized that Canada will not "back down" against China.
"As a global community, we must recognize that China is a growing power and increasingly assertive towards its place in the international order," Trudeau said. "But make no mistake: we will always defend Canadians and Canadian interests."