Canada and US Strengthen Energy Ties, Help Ukraine
September 20, 2014 2:43 pm Last Updated: September 20, 2014 2:43 pm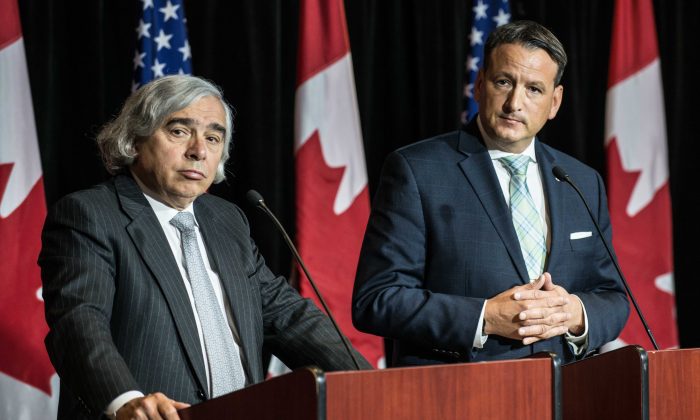 OTTAWA, Canada—Canada and the United States signed a memorandum of understanding this on Sept. 18 to tighten collaboration on energy.
The heads of both countries' energy departments met in Ottawa for two days of talks, the first time the Head of the U.S. Department of Energy has visited Canada since Obama took office.
Canadian Minister of Natural of Resources, Greg Rickford, and the U.S. Secretary of Energy, Ernest Moniz, signed a memorandum of understanding Thursday outlining 11 areas of cooperation.
Those areas include advancing a stronger North America energy grid and lessening the environmental impacts of unconventional energy sources, like Canada's coal bed methane and shale gas.
The two countries share an integrated energy grid that must continue to evolve, they said. With cooperation, Moniz said the grid can improve, not only expanding it but making it more secure from hackers.
"We will have new opportunities for greater resilience, greater cyber security, and greater ability to move renewables and clean energy over large geographical distances relevant to both of our countries," Moniz said.
Rickford noted that Canada has the third largest oil reserves in the world, and the U.S. is poised to become the largest oil producer in the world. That gives the two countries international influence in terms of energy security.
"As global leaders with exceptional energy resources and expertise, we acknowledge our responsibility to promote energy security at home, as well as abroad," said Rickford.

Canada and the U.S. just completed a joint mission to Kiev earlier this month to help Ukraine develop its own energy resources. The two countries will continue helping Ukraine manage and develop new energy sources due to the threat of Russian cutting off its oil supply to Ukraine escalates.
"Events in Ukraine underscore the importance of energy security as a cornerstone of economic and national security, as well as global stability," said Rickford. "Vulnerable and unreliable energy supplies are having a serious impact in Ukraine."
Canada and the U.S. have had some sore points in their energy trade, notably the Keystone XL pipeline from Alberta to Texas, which President Obama has delayed signing off on.
Thursday's memorandum of understanding, however, highlights how much the two countries depend on each other, with integrated energy grids and a massive energy trade, and how both benefit from that cooperation.