The California Air Resource Board imposed Dec. 9 new rules for truck and bus drivers—as well as landscapers—in an effort to reduce air pollution.
Heavy-duty trucks and buses driving on California roads will now be required to perform two smog checks a year starting in January 2023. The program will ramp up to four tests yearly after 2026.
The tests will check for nitrous oxide emissions and particulate matter.
According to the resource board, heavy-duty trucks over 14,000 pounds make up about 3 percent of vehicles on the road in California, but they contribute more than 50 percent of the state's nitrous oxide emissions.
By 2037, regulators said they expect the new rules will remove 82 tons of nitrous oxide every day and yield $73 billion in health benefits.
"By keeping polluting, dirty trucks off our freeway and roads we will take an important step forward in further cleaning the air across the state," said state Sen. Connie Leyva (D-San Bernardino), who sponsored the bill directing the state to make the change.

Inspectors will perform unannounced tests at border-crossings, California Highway Patrol weigh stations and at randomly selected roadside locations and fleet facilities, according to the resource board.
Heavy-duty diesel trucks will need to pass the inspection to operate in the state. Vehicle owners will be charged a $30 fee for each test. If the vehicle passes inspection, the resource board will issue a compliance certificate to the owner.
The state will also install emissions monitors starting in the San Joaquin Valley and South Coast regions that can read license plates to look for trucks that are out of compliance, according to Lynda Lambert, a spokesperson with the resource board.
Drivers out of compliance will face a violation fee starting at $300 and increasing to $1,800 for a second infraction.
Trucking company officials asked the state board for modifications to the program, which were granted, including a 15-day extension to update their equipment.
The California Trucking Association said it might need the extra time to make those alterations if some parts are unavailable.
"We need every truck on the road to beat our current supply chain challenges, so this change is absolutely critical," said Chris Shimoda, vice president of government affairs of the trucking association.

Additionally, Mike Tunnell of the American Trucking Associations asked the board for a "soft rollout" of the program, with fewer tests required at first, considering the current supply chain crisis.
"As we have recently experienced, the flow of interstate commerce can be fragile," Tunnell said. "Programs such as this [have] the potential to restrict the number of trucks that are eligible to service the state, either directly or indirectly."
However, the board denied his request.
The new rules will affect trucks in Los Angeles, San Bernardino, Riverside and the San Joaquin Valley starting in 2023, then expand statewide the following year.
The heavy-duty truck inspection program "is the biggest step that California has taken to reduce air pollution since 2008 and it will have huge benefits for Californians who are exposed to too much diesel exhaust," Bill Magavern, policy director for the Sacramento and Los Angeles-based Coalition for Clean Air, told The Epoch Times.
Ban on Lawn Equipment Approved
The resource board also approved a ban on the sale of gas-powered landscaping equipment—such as leaf blowers—and other small gas-powered engines by 2024.
While diesel trucks and passenger cars have made progress, officials said lawn equipment creates more pollution, with one hour of operating a gas-powered leaf blower creating as much pollution as driving over 1,000 miles.
"These engines cause asthma, cardiorespiratory disease and increased cancer risk and premature death," legislation co-sponsor California Assemblymember Marc Berman (D-Menlo Park) told the resource board. "These are the decisions we have to make if we are serious about reducing our reliance on fossil fuels and leaving future generations with healthier communities."

The regulations drew opposition from some in the landscaping industry and a few small-business owners in the Los Angeles area.
"It's no good for the businesses," said Kazu Yokoyama, who has owned Sun Garden Supplies in the San Fernando Valley for 40 years. "I'm lucky I'm retiring."
Others said the timeframe to change over their equipment was not long enough.
Leaf blowers will now have to be electric, which some say will hinder professional landscaping work.
"To me, it's just a pyramid that's impossible to climb—that California is trying to do with businesses," said Sandy Hansen, vice president of the California Landscape Contractors Association.
The Legislature set aside $30 million to incentivize landscaping businesses to make changes to their equipment.
Los Angeles passed a law in 1998 banning the use of gas-powered leaf blowers but the ban was not enforced.
The initial ordinance called for a $1,000 fine and up to six months in jail for violators, which sparked an uprising by Latino immigrant gardeners and a group of activists. The Association of Latin American Gardeners of Los Angeles was formed to fight the ban.
During the protest, a group of gardeners launched a peaceful seven-day hunger strike on the lawn of City Hall.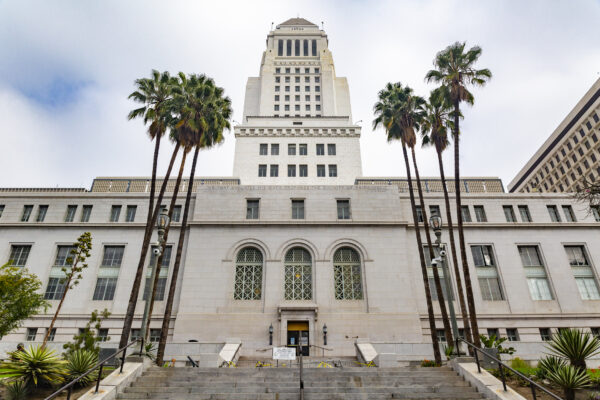 City officials responded by lowering the fines. Now, gas-powered leaf blower users and their employers, including homeowners, face a fine starting at $300 for each use of leaf blower if they use the machines within 500 feet of a home.
A request to the Los Angeles Police Department asking whether any citations have been issued under the ordinance was not answered by press time.
In another action Dec. 9, the resource board approved a ban on new gas-powered generators that will start in 2028.
An owner of a recreational vehicle business told the board that that ban would hurt more than it helps and could jeopardize the health of some RV owners who need such generators to power medical devices while traveling.
"This will severely impact employment and business and will not help the environment even a little bit," said David Tenny of Manteca Trailer and Motorhome, of Manteca, Calif.
The American Lung Association and Sierra Club urged the board to pass the regulations.
Next year, the state is slated to tighten emission standards for barges, ferries, fishing boats, and tugboats. They are also considering banning the sale of all-new gas-powered cars by 2035.