Proposed legislation would require more than 1,500 private insurance companies operating in California to disclose their investments in and dealings with oil and gas companies.
Assemblymember Marc Levine (D-Marin County) introduced Assembly Bill 1694 on Jan. 25.
The bill would take effect Jan. 1, 2024, and would require insurers to disclose annually their "investments in fossil fuel-related entities and the fossil fuel-related companies and projects it underwrites or otherwise insures."
The legislation would also require the California Department of Insurance, headed by the state's insurance commissioner, to publish this information on its website before April 1 each year beginning in 2024. The bill would authorize the commissioner to take regulatory action to prohibit or restrict fossil fuel-related investments and underwriting.
Insurance companies "are facing unprecedented threats to their solvency and ability to write insurance policies throughout California due to the increase in frequency and severity of wildfires, exacerbated by climate change," Levine said in press release.
However, transparency from insurance companies is needed "if we are serious about fighting the climate crisis," he said.
"We can be aggressive in the face of the climate crisis if we show courage. Insurance companies want to raise rates due to climate risk, yet are investing and underwriting the fossil fuel industry—the very industry that exacerbates climate change," the release states.
The day after he introduced the bill, Levine announced that the California Nurses Association endorsed him for insurance commissioner.
He wrote on Twitter: "A major shake up in the race for Insurance Commissioner! I'm honored to announce that the California Nurses Association … has endorsed our campaign for Insurance Commissioner."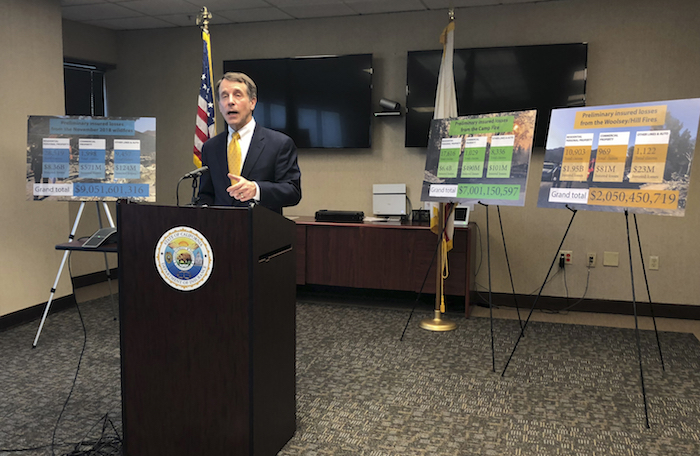 AB 1694 would expand on disclosures that former insurance commissioner Dave Jones requested in 2016, Levine's release states.
According to the Insurance Journal, in 2016 Jones called on insurance companies "to voluntarily divest from thermal coal investments and required insurers with more than $100 million in annual premium to disclose publicly their investments in fossil fuels."
Jones, a former Democratic assemblymember, was a member of the panel that produced the report (pdf) "Managing Climate Risk in the U.S. Financial System," released by the U.S. Commodity Futures Trading Commission, which calls for urgent action from financial regulators to address climate change.
"Climate change is already impacting or is anticipated to impact nearly every facet of the economy, including infrastructure, agriculture, residential and commercial property, as well as human health and labor productivity," the report states.
The document claims that fighting climate change, "which demands a large-scale transition to a net-zero emissions economy," could wreak havoc on the financial system if the markets and market participants fail to adapt to rapid changes in "policy, technology and consumer preferences."
"Financial system stress, in turn, may further exacerbate disruptions in economic activity, for example, by limiting the availability of credit or reducing access to certain financial products, such as hedging instruments and insurance," the report states.
Jones currently represents the Nature Conservancy, is a distinguished fellow at the ClimateWorks Foundation, and is director of the Climate Risk Initiative at the Center for Law, Energy, and the Environment at Berkeley Law.
According to the Insurance Journal, in 2019, then-California Insurance Commissioner Ricardo Lara rejected demands from more than 60 environmental, consumer, and social justice organizations to force insurers to disclose what projects in the fossil fuel industry they underwrite.
Steve Poizner, who sought the Republican nomination for governor in 2010 and served as insurance commissioner from 2007 to 2011, could not be reached for comment on Jan. 26.
Poizner ran unsuccessfully as an independent candidate for insurance commissioner in 2018.
The legislation will be considered by the State Assembly this spring.