California Governor Pushes for More Clean-Air Vehicles
September 22, 2014 10:05 pm Last Updated: September 22, 2014 10:07 pm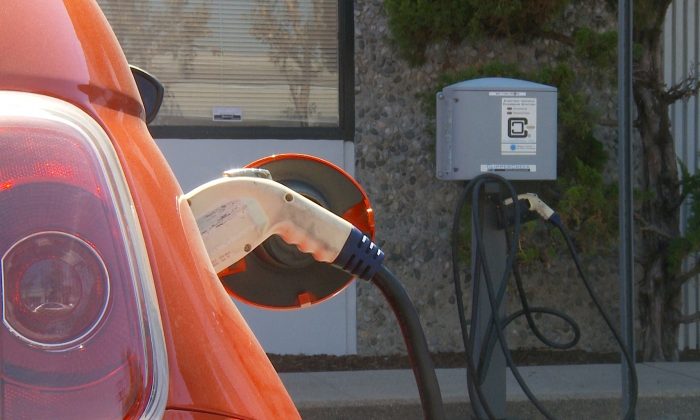 LOS ANGELES—California Governor Jerry Brown signed three bills into law on Sunday, which aim to support the growth of electric vehicles in the state and reduce air pollution. 
The state's Air Resources Board, which has been pushing to get more zero-emission vehicles on the road since the early 1990s, is tasked with developing a rebate plan that targets low-income electric car buyers.
"It takes a number of measures to try and make the way for zero-emission vehicles' introduction into California's economy," said John Swanton, Air Pollution Specialist at the California Air Resources Board. 
California already has over 100,000 electric vehicles, the highest number of electric vehicles of any US state. The new legislation sets a goal of 1 million non-emitting or very fuel-efficient vehicles on the road by 2023.
"We are looking at, over the next few years, a target of 15 percent of all new vehicle sales being zero-emission vehicles," Swanton said.
In some areas, competition for parking spots at public charging stations are quite high, and each charge can take hours. To make it easier for people to own electric cars, one bill requires property owners to allow renters to install a charging station on the rented property, if the renter meets certain criteria.
"With this rapid increase in plug-in vehicles, a lot of infrastructure activity needs to increase as well," said Swanton.
Other legislation signed on Sunday allows 15,000 more solo-driven hybrid vehicles to use car pool lanes, bringing the total to 70,000 vehicles. 
On Tuesday, Gov. Brown is expected to speak at the 2014 UN Climate Summit in New York City. 
In a video released Friday, Brown said, "We know in California that carbon pollution kills, it undermines our environment, and, long-term, it's an economic loser," he said.
"We're not finished, but we sure are setting the pace."