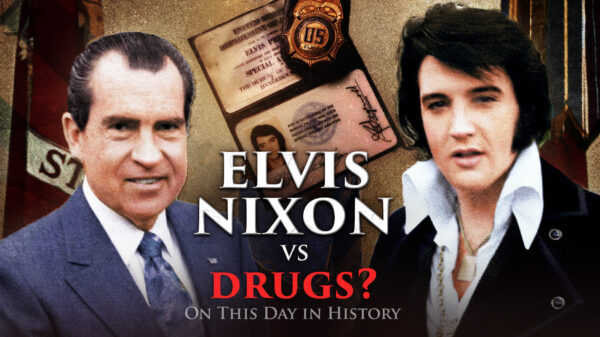 They came from polar opposite ends of society–"one was the 'King of cool;' the other the 'Duke of dork!'" Perhaps, that's why their iconic meeting so resonates with that unpredictable and dynamic late 60/early 70s era. What quirky ambition brought Elvis Presley to the Oval Office to meet President Richard Nixon in 1970? And what went down between these polar opposite personalities? On August 16, 1977, Elvis Presley passed away at his Graceland Estate. His impact on history and culture is surely far beyond what he imagined–even possibly influencing the building of the Berlin Wall. On This Day in History, we remember Elvis Presley. -- * Click the "Save" button below the video to access it later on "My List." Follow EpochTV on social media: Twitter: https://twitter.com/EpochTVus Rumble: https://rumble.com/c/EpochTV Truth Social: https://truthsocial.com/@EpochTV Gettr: https://gettr.com/user/epochtv Facebook: https://www.facebook.com/EpochTVus Gab: https://gab.com/EpochTV Telegram: https://t.me/EpochTVv
About the show
The Wide Angle is a current affairs show focused on bringing hope to Americans. It highlights how it's still possible to steer our families' lives and our country in a positive direction. It brings you the 'big-picture' on key events, as interpreted by our featured experts. It breaks the critical issues down—from the border crisis to Big Tech censorship—for everyday Americans; so they can see what lies ahead, and what's needed to keep America intact.
About Brendon Fallon
From studying the science of human behavior to assisting survivors of psychological trauma; from military service to crime and breaking news reporting in NYC, and then co-producing a U.S. politics TV show—Brendon Fallon has seen a 'wide angle' of the human experience.