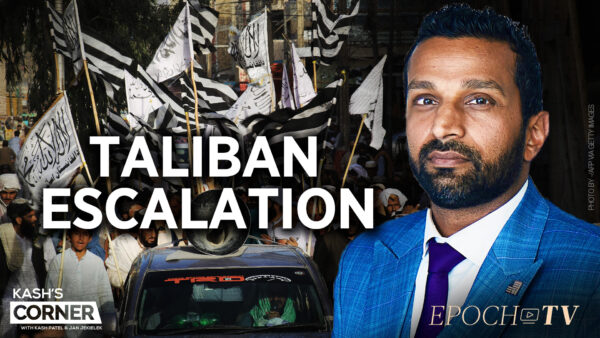 "I am of the opinion that we will find our conventional military back in Afghanistan [within] 18 months." In this episode of Kash's Corner, Kash Patel and Jan Jekielek turn to national security and dive into the mounting debacle in Afghanistan, the push for a new Iran deal amid sanctions and death threats from Iran, and Russia's recent maneuverings around Ukraine and Kazakhstan. Below is a rush transcript of this Kash's Corner episode from Jan 14, 2022. This transcript may not be in its final form and may be updated.  Kash Patel: Hey everybody. And welcome back to Kash's Korner. Jan Jekielek: Kash, I think we need to go back to talking a little bit about some important national security issues that basically are not being talked about much now because of omicron, and because of a lot of things that are taking, I guess, the forefront in the news cycle. We've talked about this before. We've talked about the withdrawal from Afghanistan, the Taliban taking over. Now, we've been hearing about the Taliban's intent to put, what was it, 2000 suicide bombers at the Afghani embassy in Washington, D.C. in response to a contingent of 2000 soldiers. We also have the Iran talks, which they have been ongoing. Iran doesn't seem to have been holding fast to the terms of the deal, so to speak. Let's jump into this. What are things looking like in this? Mr. Patel: Yeah. I think generally speaking, I'm glad we're back on foreign policy. It's probably more of my bread and butter than the norm. But a year into the Biden Administration, basically, we're almost exactly at a year. And you have to look back and evaluate, has America gotten stronger, gotten weaker in its diplomatic relationships with Russia, China, Iran, Afghanistan, the Taliban, and things like that? Those are the big relationships that you monitor and spend time and energy in. At least we did when I was in the administration under President Trump. And I think, unfortunately the answer for us is that, across the board, from a national security perspective, our relationships with those countries are weaker. They are taking more advantage of us as Americans generally speaking. And when we do engage in these "diplomatic" negotiations, or talks, or what have you, it's almost just theater and there's no substance to it. And that doesn't... And I understand in foreign diplomacy you have to have a certain stage of theater, but you also have to have a certain stage of action. And I haven't seen the action. So think we're going to talk about Iran. I think Russia's another good example. And I think with the Taliban and it just recently came out with is a third example. So, we can hop around the world and talk about our relationships, because the Biden Administration has recently directly engaged Iran, directly engaged Russia, directly or indirectly engaging the Taliban in Afghanistan. Mr. Jekielek: Well, why don't we start ...
About the show
To many, the name Kash Patel has become legendary. He was the investigator who uncovered key parts of what would become one of the biggest scandals in American history—surveillance of a presidential campaign and then sitting president on the basis of unverified and highly suspect research by the opposing campaign. After two decades of work in the U.S. government, Kash Patel has singular insights into the inner workings of much of America's national security apparatus, from the Department of Justice to America's counterterrorism efforts. Now, in this new exclusive Epoch Times production, Epoch Times senior editor Jan Jekielek will sit down every week with Kash Patel, who will give us his insider take of the big events of our day, from the evolving Israel-Hamas conflict to the intelligence community's investigations into the origins of COVID-19, or CCP virus.
About Kash Patel And Jan Jekielek
Kash Patel is most well-known for his work on the House Intelligence Committee, leading Congressman Devin Nunes' investigation into allegations of Trump-Russia collusion. A former DOJ terrorism prosecutor, he was personally recruited by Congressman Nunes, and he would play a critical role uncovering the FBI's abuses and beyond, a major scandal later dubbed "Spygate." But beyond that, Kash Patel has held key roles across a large swath of America's national security apparatus. He led counterrorism at the National Security Council—where he oversaw the elimination of ISIS and Al-Qaeda leadership like al-Baghdadi and Qasem al-Rimi. He also served as the right-hand man to the Acting Director of National Intelligence Ric Grenell, Chief of Staff to Acting Secretary of Defense Christopher Miller, and was at one point the presidential aide responsible for the nuclear football.