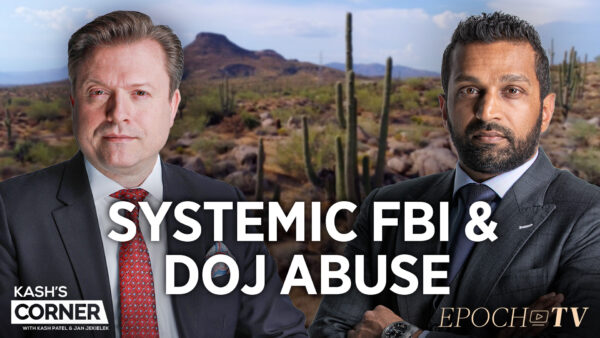 In this livestream episode, we'll discuss FBI whistleblower Steve Friend's allegations of FBI abuse in the handling of probes into the events of Jan. 6, 2021, the recent Nord Stream pipeline explosions, the Igor Danchenko case, and what Kash Patel calls the "confidential human source corruption cover-up network." We also touch on the situation at the border, and the significance of the White House walking back so many of President Joe Biden's statements. We'll be streaming at you from Phoenix, Arizona. Join us on Friday, Sep. 30 at 10 p.m. ET/7 p.m. PT. * Click the "Save" button below the video to access it later on "My List". Below is a rush transcript of this Kash's Corner episode from Sep 30, 2022. This transcript may not be in its final form and may be updated. Kash Patel: Hey, everybody and welcome to Kash's Corner, West Coast Edition. Jan, where are we? Jan Jekielek: Well, we're here in Phoenix, Arizona and we've got a lot to cover today. We've got this amazing Nord Stream 2 development. It looks like the pipeline is totally cut off. We've got the whistleblower, Steve Friend, having given out his entire statement. We're going to look into that. We're going to look at whistleblowers in general. It looks like there's some kind of a retribution potentially happening against them. I was speaking on Alan Dershowitz recently, and he talked about the shoe is on the other foot test, so we definitely want to talk about that today. This confidential human source corruption network, this term that you coined, and finally the border, given where we are, and a bit about fentanyl. Mr. Patel: Wow. We'd better get started. But we got to remind our audience, we're coming at you live with a special edition of Kash's Corner, so thanks everybody for tuning in and thank you to the Epoch team and our guest host here out in Arizona. We're thrilled to be here. Mr. Jekielek: And just a little bit of information for everybody out there. What we're going to do, we're going to do our regular Kash's Corner. We're going to do a couple of Q and As basically from the live chat, so if you're on there, please put your questions in. We're going to pick two of those. And finally we're going to go quiet and we're going to do a little bit of a private Q and A for the people here in the livestream audience. Mr. Patel: Sorry, you have to be here to see it. Mr. Jekielek: Yeah. Well, let's start with Nord Stream 2 now. And so this is kind of massive development. It staggers me to think about the geopolitical implications of these pipelines being interrupted, possibly in a semi-permanent way, so why don't we start there. What is the deal here? Mr. Patel: Yeah, so a quick primer on Nord Stream 2. If you remember, in the Trump administration it wasn't the sexy thing to ...
About the show
Kash Patel and Epoch Times senior editor Jan Jekielek break down the biggest issues of our day, from the origins of COVID-19 to the politicization of the intelligence community. Kash Patel is known for leading former House Intelligence Committee Chairman Devin Nunes's watershed investigation into surveillance abuses against a presidential campaign. He's also held key roles across a large swath of America's national security apparatus. He led counterterrorism at the National Security Council—where he oversaw the elimination of ISIS and Al-Qaeda leadership like al-Baghdadi and Qasem al-Rimi. And he served as the Pentagon's chief of staff to Acting Defense Secretary Christopher Miller. Now, Kash Patel brings his singular insights to bear on terrorism threats, courtroom stratagems, and corruption in the highest seats of power.
About Kash Patel And Jan Jekielek
Kash Patel is most well-known for his work on the House Intelligence Committee, leading Congressman Devin Nunes's investigation into allegations of Trump–Russia collusion. A former Justice Department terrorism prosecutor, he was personally recruited by Nunes, and he would play a critical role uncovering the FBI's abuses and beyond, a major scandal later dubbed "Spygate." But beyond that, Kash Patel has held key roles across a large swath of America's national security apparatus. He led counterterrorism at the National Security Council—where he oversaw the elimination of ISIS and Al-Qaeda leadership like al-Baghdadi and Qasem al-Rimi. He also served as the right-hand man to the Acting Director of National Intelligence Ric Grenell, chief of staff to Acting Secretary of Defense Christopher Miller, and was at one point the presidential aide responsible for the nuclear football. Jan Jekielek is a senior editor with The Epoch Times and host of the show "American Thought Leaders." Jan's career has spanned academia, media, and international human rights work. In 2009, he joined The Epoch Times full time and has served in a variety of roles, including as website chief editor. He is the producer of the award-winning Holocaust documentary film "Finding Manny."