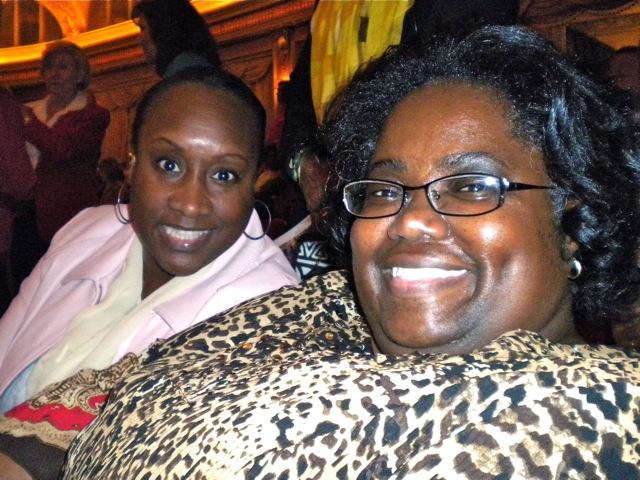 CHATTANOOGA, Tenn.—Donna Kristine "Kris" Manley traveled from Atlanta to see the Shen Yun International Company, after regretting that she missed the Atlanta and Augusta performances in January. Ms. Manley said she and her and her friend Annette Stevens had some business in the city, so they had dinner here and enjoyed classical Chinese dance. They sat in the orchestra section of the ornate Tivoli Theatre, and enthusiastically joined the final standing ovation.
Ms. Stevens had asked for tickets to see Shen Yun for her birthday. She said she really liked it: "I did, I really did, the precision, dancing the costumes, everything beautiful."
Ms. Manley, who does public speaking and conducts workshops in schools, said she had never seen classical Chinese dance before, and "I was very impressed actually." She said she had not expected the bilingual emcees who introduce each dance or song in both Mandarin and English. "I was very, very pleased."
The two friends are both quality assurance managers and Ms. Manley has an additional professional interest. She wrote Resumes for Children which was given a "Mom's Choice" award. The book is used in the Georgia Department of Labor and in the Atlanta school system, and has been well reviewed. Ms. Manley said it was named on a 50 best children's books list and was an Eric Carle Award finalist.
Meanwhile, Ms. Manley said she was loving Shen Yun's digital projection, especially in its first surprise in How the Monkey King Came to Be. She said she had assumed the character would remain an animated figure on the backdrop. "I just thought he was going to stay animated on the screen but when he came down and that person popped up [on stage], that was fun, that was so unexpected! So I liked the interaction of the background and the dancers, that was so unexpected and so very exciting."
According to its website, "With state-of-the-art graphics technology, Shen Yun's digital-backdrop team creates vividly animated settings, extending the stage and transporting the audience to a world where heaven and earth are one."
Shen Yun Performing Arts, based in New York, tours the world on a mission to revive traditional Chinese culture.
For more information visit ShenYunPerformingArts.org