Mr. Lin and his family were hoping for a nice family holiday together but are now stuck in the Chinese regime's lockdown in what has been a confronting trip.
Travelling from Chengdu, a city in China's southwestern Sichuan Province, Lin (a pseudonym) traveled to Hainan, China's most southern province, for business, while his wife and his child chose to accompany him at their own expense.
But after visiting Sanya, Hainan's main tourist hub, on Aug. 3, Lin and his family have been stuck locked down in a guesthouse in Liji Town of Wanning County, about 80 miles north of Sanya City, together with 17 or 18 guests, Lin told the Chinese language edition of The Epoch Times in an interview on Aug. 15.
"No one from the local governments informed us where we can get PCR tests, and no one contacts us to ask if we need any help," Lin said, adding that the city's governance is "very poor."
They returned to the guesthouse after staying in Sanya for only one day, after learning from the local news that Sanya had recorded positive COVID-19 cases on Aug. 4.
Over 150,000 travelers have been stranded in Hainan since Aug. 1 under the Chinese regime's zero-COVID policies.
The tropical island is well-known for its white sandy beaches and year-round warm weather, and is a favorite tourist resort in China.
From Aug. 1 to Aug. 16, a total of 5,298 confirmed cases and 6,457 asymptomatic infections were officially reported by the top provincial health body.
Sanya, the island's main tourist hub, imposed a stringent lockdown on Aug. 6, "restricting the movement of people city-wide and suspending urban public transport," said Du Jianwei, a deputy team leader of the provincial pandemic control and prevention body.
Trains departing Sanya were also suspended on Aug. 6, according to the financial channel of one of China's news portals Sina. Over 80 percent of flights to and from Sanya had been canceled and some 80,000 visitors were stuck in the city, Reuters reported on Aug. 8.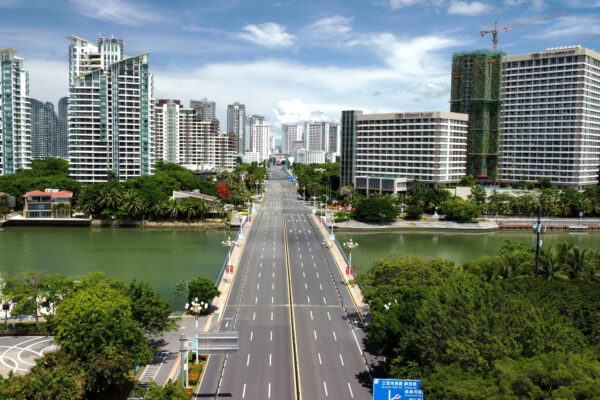 Stranded
"For those of us stranded in Sanya, no one took the initiative to contact us. We don't know where we can get PCR tests, we have nowhere to buy food, and there is no food delivery service, either," Lin said.
Starting Aug. 5, Lin said his family were required to take PCR tests almost every day, until they couldn't find anywhere that would test them.
If visitors want to leave Hainan, they must return negative PCR tests daily for three days and then later on the fifth and seventh days before their departure, according to a report on Aug. 6 by Netease, a Chinese online news outlet.
"Wanning was under lockdown restrictions on Aug. 7, and neighborhood clinics where we used to go for PCR tests were all closed," Lin said.
Testing venues change all the time, and people have to walk long hours to look for testing venues, as there are no local transport means available. Lin and his family walked for over 40 minutes on one occasion to find a testing venue in a nearby village.
But on Aug. 12, villagers, afraid of infection risks, didn't allow tourists to enter the village for the PCR tests.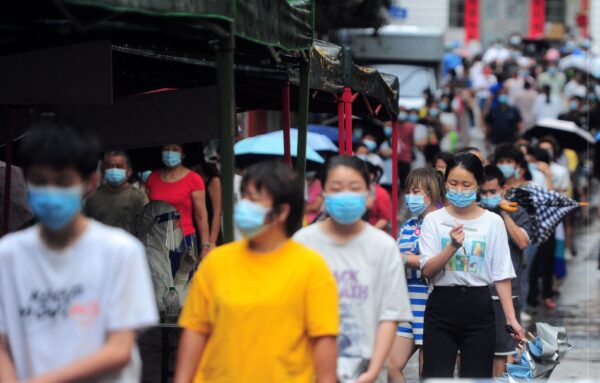 "We made numerous calls to the village committee, the local tourist bureau, and the city's hotline, but no one came to our help," Lin said.
The family has to spend about half a day every day looking for testing venues open to visitors. They take a PCR test on a daily basis, as they don't know when they can leave and policies keep changing, according to Lin in the interview.
"Those man-made barriers are scarier than the COVID-19 viruses," Lin said, adding that he didn't expect to feel so frustrated by government negligence.
Reuters reported on Aug. 7 that some tourists complained of the negligence of the local government, quoting a woman surnamed Zhou saying that "no official body has contacted us or taken any interest in us." She was among a group of tourists staying in a hotel that refused to apply the half-price policy of Sanya's government for tourists whose flights were canceled.
Shortage of Food and Necessities
Lin said that he and his family had to rely on food provided by the guesthouse for a meal at about $8 per person, but now, even the boss of the guesthouse is running out of food. They have to rely on some bread they managed to buy when it was still available.
"Wanning is now totally locked down. We can't find any shops that are open. There are people who trade food and necessities in a stealthy way. We have bought some food and my wife's tampon in such a way that makes us feel we were thieves," Lin said with frustration.
Online Posts Censored
Lin said that he wrote a post of about 2,500 words, telling readers about what he and his family had experienced in Hainan in the past two weeks, but his post was removed in less than five minutes by the regime's online censors.
"I uploaded some pictures after that, but only my friends can see them," Lin said. "The truth-telling voice can't be heard!"
He hopes that he and his family can return to Chengdu, their hometown, as soon as possible. But the information he received from the Chengdu municipal government and his company has left him concerned.
"I called Chengdu's hotline on Aug. 13, and they said they didn't reject Hainan flights, but my company's human resources department sent me a message on Aug. 15 that Chengdu doesn't accept Hainan flights," Lin said.
The Epoch Times reached out to Chengdu's hotline on Aug. 17, and a government hotline staffer answering the phone told the publication that visitors to Hainan can return to Chengdu.
"Visitors to Hainan must report to their local neighborhood community in Chengdu when they arrive at Hainan airport. Then they need to be transferred home directly from Chengdu airport. They must be home isolated for three days and under health inspection at home for two more days," the staffer said.
Gu Xiaohua contributed to the article.