Business Owner's Soul Touched by Shen Yun
'It's just so so special, I cried'
April 12, 2014 7:50 pm Last Updated: April 13, 2014 7:58 pm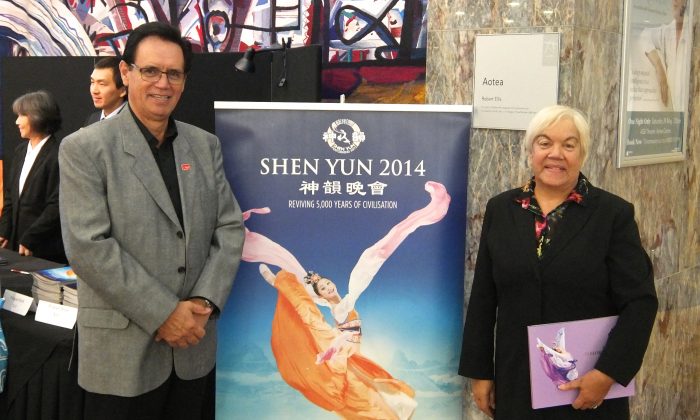 AUCKLAND, New Zealand—"It's just so so special, I cried. It was so beautiful, it touched my soul," said Delma Heyder's after experiencing final appearance of Shen Yun Performing Arts at the Aotea Centre's ASB Theatre, on April 12.
"If I was to pass away tomorrow, I have seen something so spectacular that has touched my soul that I would be happy to go. That is how special that show was for me," she said.
Mrs. Heyder attended Shen Yun with her husband Jim. They are business owners in the What's Your TruAge company selling health products.
The Shen Yun website explains, "China was once known as Shen Zhou—The Divine Land. This profound name describes a land where deities and mortals co-existed and a belief that the divine transmitted a rich culture to the people of the earth. For thousands of years, Buddhist, Taoist and other disciplines were at the heart of society. Calligraphy, music, medicine, attire and much more were said to have been passed down from the heavens."
Shen Yun's stories resonated with Mrs. Heyder.
"Traditional value of belief, in a higher power [or] creator, and that good overcomes evil. And, if you practice just gentleness from your soul, from your heart, things will happen, magic will happen," she said.
Shen Yun's mission and origins. "In 2006, a group of leading classical Chinese artists came together in New York with one wish: to revive the true, divinely inspired culture of China and share it with the world," explains the company's website.
Mrs. Heyder admitted she knew nothing about Chinese culture before watching Shen Yun but added, "I do now."
Mr. Heyder agreed saying it is "centuries and centuries old."
Mrs. Heyder was very moved by the dance The Steadfast Lotus. A mother gives her daughter a banner with the tenets of their faith, 'Truthfulness, Compassion, Forbearance' written on it. They practice Falun Dafa a peaceful spiritual, meditation discipline. It is practiced all over the world but practitioners in China have been persecuted for over a decade.
Mrs. Heyder said, "The police coming, it was so sad. The oppression, the part where they were not allowed to practice what they believed."
The story however, offers hope. Mrs. Heyder continued, "The spirituality, the belief, the soul and the journey. Everything [about this] was just very special. I'm so glad I came."
For Mr. Heyder the Shen Yun performance was "An explosion of colour, dance and freedom of thought."
He added "I love the dancers; so professional. Everything, very precise! Very beautiful colour! Loved it very much!"
The Heyders loved Shen Yun so much they declared they will return each year and bring friends with them.
"I'm coming every year until I die. I will sit there and watch the show and I will bring my friends because it was so touching," she said.
And the last word from Mr. Heyder "Oh yes, we wish we'd brought our friends with us."
Reporting by Susan Wang and Judy Shakespear
New York-based Shen Yun Performing Arts has four touring companies that perform simultaneously around the world. For more information, visit Shen Yun Performing Arts.
The Epoch Times considers Shen Yun Performing Arts the significant cultural event of our time. We have proudly covered audience reactions since Shen Yun's inception in 2006.