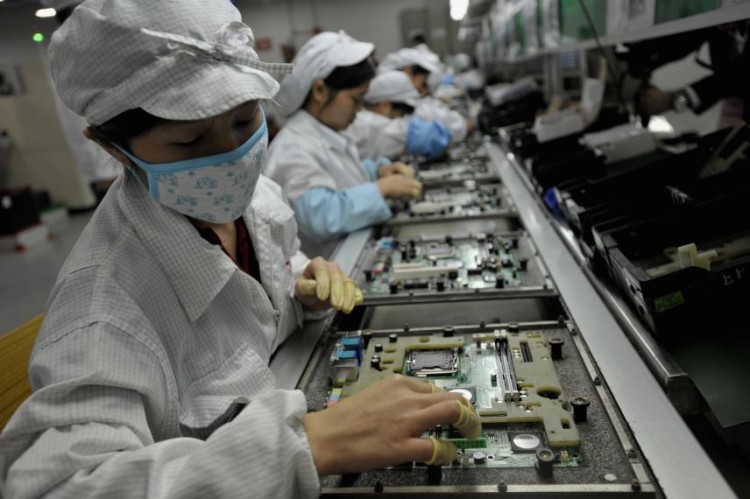 Financial Services
Deutsche Bank Settles Mortgage Suit
Deutsche Bank AG (DB) and the U.S. government have settled a civil lawsuit, which alleged that DB subsidiary MortgageIT misrepresented its status as a lender of federal government-back mortgages, and failed to institute certain control processes on loans made early last year. MortgageIT was acquired by the German banking giant in 2007, and withdrew from the government mortgage insurance program in late 2009. "We are very pleased to have reached this settlement, for which we have already fully reserved, and to put this issue behind us. This marks a significant step in resolving our mortgage-related exposures," Deutsche Bank said in a statement. As part of the settlement, MortgageIT will stop accepting mortgage applications.
Manufacturing
Apple, Foxconn to Share Costs on Factory Improvements
In an effort to improve labor conditions in Foxconn factories in Southern China, where Apple Inc. contracts the manufacturing of its iPhone and iPad devices, the Taiwanese electronics giant and Apple have decided to share the cost of implementing improvements. Foxconn and Apple have been widely criticized over working conditions at Foxconn's Chinese factories, where sweatshop-like conditions and numerous suicides were reported in recent years. Several incidents prompted internal Apple investigations, and along with such audits, the companies have a plan to improve conditions at the factories. Terry Gou, Foxconn president, described the factory improvements not as a cost, but "a competitive strength," according to a Reuters report.
Consumer Products
Procter & Gamble Moves Cosmetics Business to Asia
In an effort to boost its sales among expanding markets in Asia, Proctor & Gamble Co. (P&G) on Thursday announced that it would move the headquarters of its cosmetics company from Cincinnati—where P&G is based—to Singapore. In addition, the head of the beauty division, Virginia Drosos, will leave the company, electing not to move herself to Singapore, citing family reasons. The corporate functions of the cosmetics arm will keep all of its 20 employees and no jobs will be cut. Like other consumer products companies, P&G is attempting to grow its presence in emerging markets in Asia, where it expects sales to grow dramatically in the coming years. P&G's cosmetics arm is responsible for marketing the popular Olay line of beauty creams.
Transportation
FedEx Buys French Shipper to Expand European Presence
FedEx Corp. on Thursday announced that it has come to terms with French express shipping firm Tat Express (Tatex) in an effort to grow its European presence. Financial details of the deal were not disclosed. Tatex carries around 19 million parcels per year and has annual revenues of around 150 million euros ($190 million), according to FedEx. The acquisition "complements FedEx existing operations in the French market, and will enable the company to provide additional local services in one of Europe's largest geographies," said FedEx CEO Frederick Smith in a statement on Thursday announcing the deal. FedEx, and its chief rival United Parcel Service (UPS), have recently tried to expand their market share further into Europe. UPS in March agreed to purchase Dutch shipper TNT Express for $6.8 billion.
The Epoch Times publishes in 35 countries and in 19 languages. Subscribe to our e-newsletter.