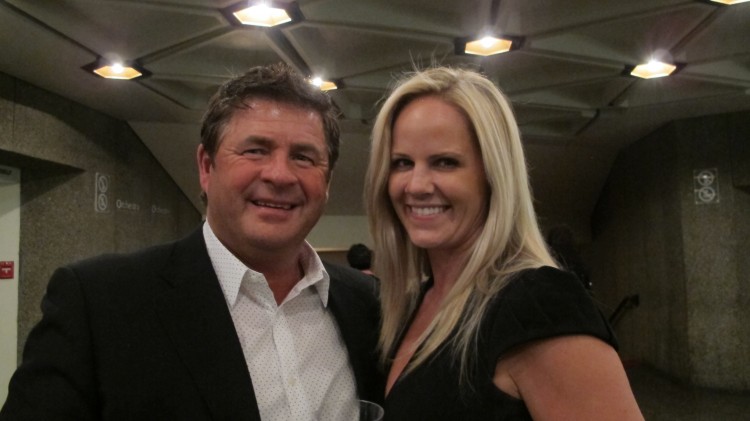 OTTAWA, Canada—Business leaders braved winter's wrath to attend the Shen Yun Performing Arts on Saturday evening at the National Arts Centre.
Award-winning broker of record and real estate company owner Dave Norcott attended the Dec. 29 performance with friend Lisa Miall and said he appreciated Shen Yun's orchestra.
"We were right in front of the orchestra, so we saw it first-hand—It was quite nice," he said.
Shen Yun's original orchestra blends traditional Chinese instruments into a philharmonic orchestra, which accompanies each dance in the performance.
"The ensemble at once expresses both the grandeur of a Western orchestra and the distinct sensibilities of China's 5,000-year-old civilization," according to the Shen Yun website.
Ms. Miall, an account executive at Maplesoft Group, a technology consultancy firm, said she loved the show.
"It's fabulous, the colours are incredible. There are a lot of talented people on stage, I'm really glad we came to see it," she said.
New York-based Shen Yun is a world-renowned classical Chinese dance and music company.
Three Shen Yun companies are currently touring the globe with the mission of reviving 5,000 years of divinely-inspired Chinese culture through the performing arts.
Ms. Miall said she liked the story-based dances, especially a piece entitled When Shaolin Monks Protected the Emperor. The story, set in a secluded Buddhist monastery, tells how monks fended off assailants to rescue the founder of the Tang Dynasty, Tang Taizong.
According to the Shen Yun website, each story is drawn from China's 5,000-year history all the way up to the modern day.
"Whether set in the past or in contemporary China, every dance embodies traditional Chinese values," according to the Shen Yun website.
Love thy neighbour
Former director of development and pioneer of computer systems, Bernard Savard also appreciated the varied history displayed in Shen Yun with his daughter Melissa on Saturday evening.
"It's an old culture and with any culture, there's something to learn about and when you look at the history, I think [China] was a very peaceful culture," Mr. Savard said.
Mr. Savard enjoyed many aspects of the performance ranging from the music to the dance saying, "I enjoyed the dance, it was a pleasure and the music is good too."
In contrast to the current China under communist rule, New York-based Shen Yun portrays the China of yesteryear, a culture based on a foundation of benevolence, justice, propriety and wisdom, respect for the heavens, and divine retribution
"In a sense, how could you say it, love thy neighbour," Mr. Savard said summarizing his understanding of the show's message.
Bashir Hassanali, Executive Vice President of the Canadian Bureau for International Education (CBIE), was also at the Dec.29 performance.
It was his first time to experience Shen Yun and he said it was very entertaining, while offering a deeper understanding of traditional Chinese culture.
"The backdrops, the dancing, the music, the costumes…it's fantastic," he said.
Reporting by SOH Radio Network, Donna He, Justina Wheale and Ryan Moffatt
New York-based Shen Yun Performing Arts has three touring companies that perform simultaneously around the world. Shen Yun's New York Company will be in Ottawa until Dec. 30 before going on to Montreal, Toronto, and other cities in eastern Canada.
For more information, visit ShenYunPerformingArts.org
The Epoch Times publishes in 35 countries and in 20 languages. Subscribe to our e-newsletter.