The wildfires in 2018 were the deadliest and most destructive in California's history. While the sight of the fires raging all around can shake even the bravest of men, imagine how  terrifying it would have been for a helpless animal. We, humans, are at least better equipped to cope with disaster, but other creatures are defenseless.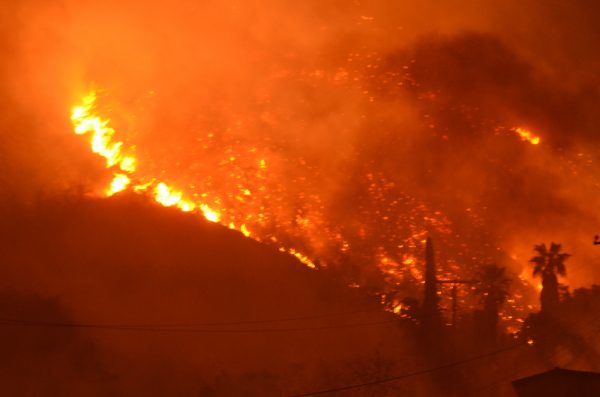 The wildfires put firefighters in the limelight once again as stories of how they risked their own lives to save other people and animals came to light.
To help fight the blaze that ravaged Butte County, Northern California, the firefighters from the Foster City Fire Department jumped straight into action.
Geoff Downing, a firefighter who was patrolling the area, heard the sound of a cat whining in the shrubs nearby.
After getting down on his knees, Geoff saw a terrified cat holed up under a bush. As Geoff began persuading the cat to come out of its hiding spot, the nervous critter hesitated.
Finally, Geoff was able to convince the cat to come to him. His whiskers were seared and the feline's paws were burnt, indicating what he had been through.
Once in his arms, the cat most likely would have realized that the worst was over. Very soon, the cat and his rescuer bonded as he began to show signs of affection.
Firefighters dubbed the cat "Foster" and provided him with food and water to regain his strength.
The animal was taken to the North Valley Animal Disaster Group to undergo treatment in the hopes that he could be reunited with his family.
The fire department wrote on Facebook, "Scenarios like this will often boost the spirits of Firefighters who have, for days, witnessed nothing but tragedy and destruction."
The post further read: "We are proud of the compassion and dedication our Firefighters show to not only their own community, but to other communities in need. We look forward to their safe return after the mission has been completed."
Social media users went on to praise the efforts of the firefighter.
One user wrote, "Good job…!! love this story. Also..STAY SAFE to all the firefighters…and thanks for all you do."
"God bless all that are there to do such a dangerous job and it always is so touching to see such sweet tender moments in such a tragic situation. Stay safe and thank you," another user commented.
While one proud user enthused, "Amazing compassion! Love the women and men on the front lines for us!"
"Thank you FCFD for taking the time to rescue Foster!!! We need happy stories given the number of sad ones. Please know how much your efforts are appreciated!!! Stay safe!!!," a fourth one commented.
According to The Dodo, Foster was taken to the North Valley Animal Disaster Group for treatment.
No matter how dreadful the fires or other forms of natural disasters may be, this story proves that they're no match for the compassion and love that we humans are capable of demonstrating.