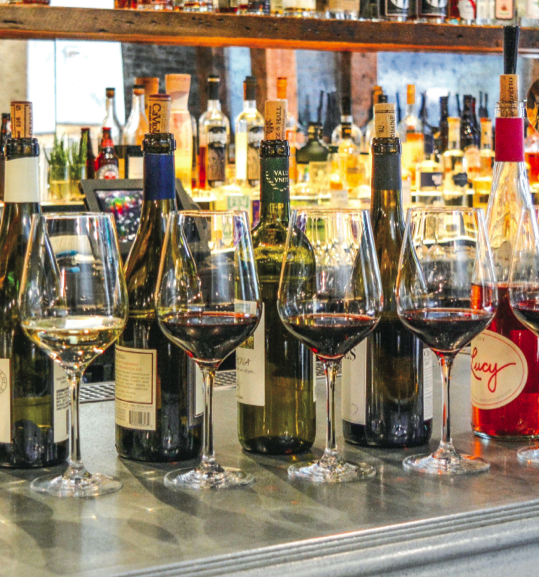 Organic and Biodynamic Wine Tasting at Wine Disciples
In honor of Earth Day, Wine Disciples is hosting a tasting consisting entirely of wines from organic and biodynamically farmed vineyards. Up to 50 wines will be available to taste while guests enjoy a selection of artisanal breads, cheese, cured meats, olives, and pickles.
Wine representatives will be available to discuss the wines being poured. 
Saturday, April 23, 1 p.m.–4 p.m.
Wine Disciples 
129 W. 29th St.
winedisciplesenoteca.com/earthdaytasting

Treadwell Park Beer-Hoisting Competition 
Craft beer hall Treadwell Park will be celebrating the 500th anniversary of Reinheitsgebot, the beer purity law passed in Germany, with German eats, tastings of the rare Radeberger Zwickel Pilsner, and a stein-hoisting competition with brewmaster Udo Schiedermair. The winner who defeats Schiedermair will have the honor of tapping the ceremonial keg of Radeberger Zwickel Bier and receive a Radeberger one-liter mug signed by Schiedermair himself.
Saturday, April 23
Treadwell Park
1125 First Ave.
treadwellpark.com

Anzac Day at the Musket Room
Anzac Day honors the Australians and New Zealanders who fought in World War I. As a native Kiwi himself, Chef Matt Lambert is offering specials at his restaurant, The Musket Room, including classic New Zealand-style meat pies. During happy hour, Kiwi beers will be half-price.
Monday, April 25
5 p.m.–7 p.m.
The Musket Room
265 Elizabeth St. 
themusketroom.com
New Spring Menu at Beauty & Essex, Stanton Social
Chef Chris Santos has created new dishes for his New York restaurants. At Beauty and Essex, there's Maine Lobster Salad with cherry heirloom tomato, grilled watermelon, burrata, avocado vinaigrette, and balsamic; Braised Short Ribs with morel mushroom risotto, grilled asparagus, and pickled pearl onion gastrique; and Strawberry Cobbler with pistachio ice cream and pistachio tuille.
At Stanton Social, try cheerful spring dishes like Lamb Osso Buco Arancini with Sicilian mint and parsley pesto; and the Stanton Wedge Salad with baby iceburg, spring asparagus, snap peas, micro radish, toasted hazelnuts, and buttermilk blue cheese.
Beauty & Essex
146 Essex St.
beautyandessex.com
Stanton Social
99 Stanton St.
stantonsocial.com
Casual Wine Night at Upholstery Store: Food and Wine
The West Village restaurant Upholstery Store: Food and Wine is hosting a wine tasting featuring Solminer Wine, a winery in Santa Barbara, California. Attendees will get to sample wines, while Solminer Wine owners Anna and David Delaski discuss their organic farming and production processes. Restaurant staff will offer recommendations for food pairings. $40 for a flight, or $12 per glass.
Monday, April 25
7 p.m.–11:30 p.m.
Upholstery Store: Food and Wine
713 Washington St.
eventbrite.com
Meatless Monday Class at Once Upon a Tart 
The SoHo bakery Once Upon A Tart is celebrating Meatless Monday with a hands-on cooking class. Chef and co-owner Alicia Walter will teach attendees how to make savory vegetable tarts: one with a flaky, all-butter crust and another with an herb-and-cheese crust, with your choice of vegetables for the fillings. $125 per person.

SPAM at Tribeca Family Festival
SPAM will make its first stop in Tribeca this Saturday as part of its SPAMERICAN! Tour. The SPAM brand is visiting 16 cities across America to thank fans, chefs, and military for 79 years of support. The Tribeca Family Festival Street Fair will feature live chef demonstrations, arts and crafts pavilions, live music, and free screenings. Attendees can look forward to free samples of SPAM fries and SPAM Musubi.
Saturday, April 23
10 a.m.–6 p.m.
Greenwich Street in Tribeca
(North Moore to Chambers streets)
tribecafilm.com/family
Sakura Matsuri at Kosaka
Kosaka will celebrate Japan's Cherry Blossom Festival, or Sakura Matsuri, with a Japanese picnic. Chef Yoshihiko Kousaka will teach attendees how to make chirashi sushi (rice bowl with mixed fish and vegetables) to bring to their next outing. Chirashi is typically eaten during festivals and special occasions.
Sunday, May 1
1 p.m.–2:15 p.m.
Kosaka
220 W. 13th St. 
kosakanyc.com 

Food Book Fair
Lovers of food literature can expect panel discussions, cooking demos, workshops, film screenings, and literary-themed dinners at this two-day extravaganza. Discussion topics will include the intersection of food and fashion, how recipe development works, and the world of indie food magazines. Ticket prices vary by event.
Sunday, May 1–Monday, May 2
Wythe Hotel
80 Wythe Ave., Brooklyn
foodbookfair.com
Mimouna, a Jewish–Moroccan Passover
Enjoy an unconventional Passover dinner prepared in the Jewish–Moroccan tradition, hosted by chef Einat Admony (co-owner of  Balaboosta, Bar Bolonat, Taïm, and Combina). Held on the last day of Passover, the dinner will feature savory Moroccan pastries and savory bites from the Taim kitchen, along with drinks and ethnic music. $60 to $90 per person.
Sunday, May 1
6 p.m.–10 p.m.
Katra Lounge 
217 Bowery
For tickets, visit lbnyproductions.com

Burger Week 
In honor of National Burger Month, ground beef purveyor Schweid & Sons will host a weeklong burger celebration across popular New York restaurants, complete with a burger competition, beer and burger pairings, and a Marvel-themed burger party. Ticket prices vary by event.
Sunday, May 1–Saturday, May 7
Various locations
nycburgerweek.com

Queens Taste
Sample the best of Queens's diverse and delicious eateries, all in one evening. Sixty restaurants will be participating at the event at the New York Hall of Science, including Joe's Crab Shack, Redwood Deli, Karu Café, Bittersweet NYC, Mulan Restaurant, and more. Proceeds will benefit the Queens Economic Development Corporation. $125 per person.
Tuesday, May 3
New York Hall of Science
47-01 111th St., Corona, Queens
thequeenstaste.com

Pampano Serves Mexican Breakfast
Pampano, the taqueria owned by tenor singer Plácido Domingo, is now serving breakfast Monday to Friday. Enjoy breakfast tacos like Nopal (cactus) with scrambled eggs, pico de gallo, and cotija cheese; Molletes, a Mexican baguette with refried pinto beans, Monterey Jack cheese, pico de gallo, and chorizo; or freshly baked Mexican pastries like polvorones, or shortbread cookies.
Pampano Taqueria
Crystal Pavilion Food Court
805 Third Ave.
richardsandoval.com/pampano
Sushi Samba New Dessert Menu
Sushi Samba's executive pastry chef, Michael Outlaw, has designed a new dessert menu, with creations like Matcha and Raspberry, with white chocolate mousse, matcha sponge cake, raspberry sorbet, and fresh raspberries; Pineapple-Coconut Tres Leches with tres leches cake, toasted almonds cream, pineapple confit, and pineapple-coconut sorbet; and S'mores with lucuma ice cream, Peruvian chocolate, shichimi-graham cracker (featuring a Japanese spice mix), and marshmallows.
Sushi Samba
87 Seventh Ave. South (corner of Barrow Street)
sushisamba.com