Bucket List for Europe: 10 Must-See Structures
September 30, 2013 8:05 pm Last Updated: September 30, 2013 8:06 pm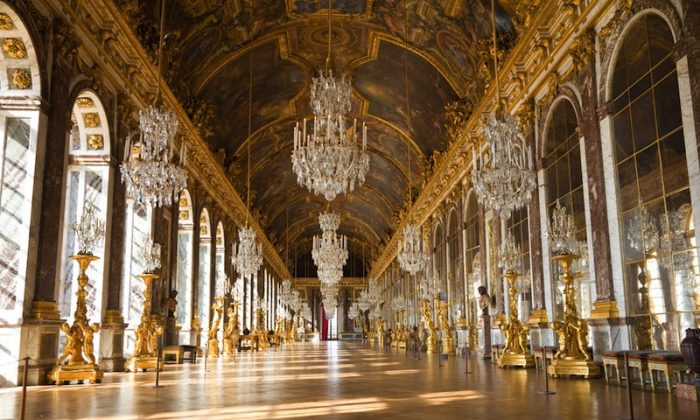 1. France: The Palace of Versailles

via Shutterstock
The Palace of Versailles site is larger than the whole island of Manhattan. It is hard to determine the cost of building Versailles, as currency values are uncertain, but historians have placed the price tag at anywhere from $2 billion to $300 billion, according to PBS.
Within the Palace of Versailles is the famous Hall of Mirrors. The Treaty of Versailles was signed in the Hall of Mirrors, ending World War I. This magnificent palace, or, Château, is a very popular tourist destination due to its perfection of design, both inside and outside. Within, one can find splendid artwork, ceiling paintings, extravagant silver chandeliers that can hold up to 1,000 candles, fancy staircases—about 67 of them—and an enfilade of rooms. The rooms are named after a variety of gods and goddesses.
The gardens of Versailles are deemed one of the finest examples of French garden design.
2. France: Notre Dame

via Shutterstock
Located in Paris, France, Notre Dame is considered to be one of the very best examples of French Gothic architecture in Europe. It's been around for about 665 years. An interesting fact about Notre Dame is that it is home to one of the largest organs in the world—an organ with more than 7,800 pipes. Notre Dame's largest bell is named Emmanuel, and it weighs over 28,000 pounds (12,700 kilograms). The site receives around 13 million tourists per year.
3. England: Westminster Abbey

Prince William and Kate Middleton got married at Westminster Abbey on April 29, 2011, as so many royal couples before them. Completed in 1065, Westminster Abbey is the site where almost every British monarch has been crowned for nearly a millennium. The oldest garden in England is said to be here, a garden where monks would originally grow food and medicinal herbs. Not only is the oldest garden in England said to be here, but also the oldest door in England. The door, by the Chapter House, is made of oak and dates back to 1050.
RECOMMENDED: 10 Magnificent Ancient Structures of Asia 
4. Russia: Saint Basil's Cathedral

via Shutterstock
Legend has it that the French ruler Napoleon was in such awe of Saint Basil's Cathedral that he wanted to take it back with him to France. Since doing so was impossible, and because he didn't want anyone else to occupy it, Napoleon ordered his army to destroy it.
When the gunpowder was lit, a mysterious rain suddenly started to shower down and prevented any explosions from occurring.
One of Russia's most iconic landmarks, Saint Basil's Cathedral was once Moscow's tallest structure. Ivan the Great Bell Tower became the tallest structure when it was built in 1600.
It may have escaped Napoleon's torch, but Saint Basil's has suffered blazes.
It has gone through tremendous restorations throughout history. It burned down in 1583. Again in 1737, it was badly damaged by a massive fire. Fortunately, it wasn't damaged by the great Fire of Moscow in 1812.
5. France: Reims Cathedral 

via Shutterstock
Throughout history, this Gothic style cathedral was the site where French kings were officially crowned. Construction commenced in 1211 and was completed roughly 100 years later in 1311. Aside from the building's façade, which is claimed as one of the most perfect masterpieces of the Middle Ages, within, detailed sculptures, stained glass, rose windows, and intricate tapestries are among some of the many interesting features of the building. An estimated one million tourists visit annually.
6. England: Windsor Castle

via Shutterstock
It is rumored that Hitler wanted to make Windsor Castle his home if he succeeded in invading England, and so he made sure it was not to be bombed. Of course the castle residents didn't know this and blackened the windows and removed much of the valuable art as a precaution. During the War, the royal family spent their nights in the castle but in secret—the outside world believed they slept Buckingham Palace.
Windsor Castle has been home to British royals for nearly 1,000 years and is the oldest and largest inhabited castle in the world. Built in the 11th century, it is located in a scenic area overlooking the River Thames and the Windsor Forest.
In 1992, a massive fire damaged almost 100 rooms, or 20 percent of the castle. It took 15 hours and 1.5 million gallons of water to finally extinguish the fire. It took 5 years to repair, the funds for which, 37 million pounds, was raised by opening the castle precinct and Buckingham Palace to the public for the first time.
7. Italy: Santa Maria del Fiore

via Shutterstock
Santa Maria del Fiore is the symbol of Florence. Construction began in 1296 and was completed in 1436. A major attraction of this site is the dome. At one stage, the dome was the largest in the world, and in fact, still remains as the largest brick dome ever constructed. The interior of the dome of a rare magnificence with colorful and intricately designed ceiling frescoes. As one of Italy's largest churches, and also owing to the artwork found within, it is now listed as a UNESCO (United Nations Educational, Scientific and Cultural Organization) World Heritage Site.
8. France: Château de Chenonceau

via Shutterstock
This Renaissance-style building is situated upon the River Cher. It is one of the most visited and photographed Châteaus in France. Aside from the beautiful gardens outside, the Château holds an enormous library, several huge halls that can entertain hundreds, and a variety of rooms. The rooms are decorated with statues and paintings.
9. Vatican City: St. Peter's Basilica

via Shutterstock
A renowned example of Renaissance architecture is St. Peter's, one of the largest churches in the world. Art lovers will be left in awe by the extraordinary works of art found within. The dome of the Basilica was designed by Michelangelo, and one of the most important pieces found inside is Michelangelo's Pietà. Another renowned artist, Raphael, has one of his splendid paintings featured inside, "The Transfiguration."
The Basilica can accommodate up to 60,000 visitors. Entry is free; if you plan to visit, dress properly, because it has a very strict dress code.
10. Denmark: Frederiksborg Palace

via Shutterstock
Previously built as a royal residence, Frederiksborg Palace is the largest Renaissance palace in Scandinavia. Built in the 17th century, it is situated on three islands in the middle of a pristine lake. Today the palace houses The Museum of National History, and within, one can find beautiful artwork and furniture, while learning about the history of Denmark. Visitors walk the same hallways as Danish kings and queens of yore.