For the past 19 years, the Isacs family has hosted Thanksgiving dinner at their home in the Litchfield Hills of Connecticut. Each year, anywhere from 8 to 20 extended family and friends swelled the ranks of the family of four: Peter and Nadine, the consummate host and hostess, and their sons PK, 27, and Christopher, 25.
"It has always been our favorite holiday," said Christopher, because "it's really just focused on family, along with the concept of gratitude, which has always been very important to us."
Last year, however, they were bracing for a very different holiday.
Peter had suddenly passed away in his sleep in late August.
"We not only had Peter's empty seat," Nadine said, "but other family members who had been celebrating with us for years could not come because of the pandemic—and we were very aware that that was the case for so many other Americans.
"We knew it was going to be a tough one."
As the three of them sat at the dinner table one October night, mulling over Thanksgiving over glasses of wine, inspiration struck.
"We all tend to claim the idea as our own," Nadine said, "but I think Christopher might have said: 'You know what? I could write a book on Thanksgiving.' And I said, 'Why don't we?' And off we went."
All Things Considered
Divvying up the chapters was easy; each family member presides over a different domain.

Peter did the cooking when the boys were young, but after Christopher developed a keen interest in all things culinary, he took over preparing the feast while still in high school.

He first learned to cook from his father. "My earliest cooking memory actually is on Thanksgiving, chopping up the garlic, the onions, and the carrots and celery for my dad when he was making the stuffing," he said.

PK, meanwhile, is the resident sommelier and mixologist. He developed an interest in wine early on, poring over books on regions and varietals, and earned extra money during his college years in New Orleans by working as a bartender.

Finally, Nadine, the ever-gracious hostess, brings her expertise and warmth to everything from the table settings—her love of which came from Peter's Grandma Glad, and the fairytale-like settings she created in her own home—to the little details that make everyone feel welcome.

A year later, "

Gobble: The Quintessential Thanksgiving Playbook

," was released into the world. Published this October, it's a warmly written tribute to Peter, a record of their family traditions, and an invitation for others to borrow some of them to fit their own.
It lives up to its title, too. Generously shared guidance and tips cover everything from pre- and post-dinner family activities, to festive decor and playlists, to, of course, the food and drinks—including a 19-page manifesto on Christopher's favorite way to cook the turkey (28-page if you include making the accompanying turkey stock, which he calls "the single most impactful thing you can do to improve your Thanksgiving"—more on that later). The Isacs take Thanksgiving very seriously.
Heart of the Holiday
In 2020, their Thanksgiving dinner ended up being a smaller gathering, as expected—but no less festive. In the lead-up to the holiday, documenting and photographing everything for the book kept the family busy, and their spirits and motivation up.

"[I'm] not sure we would have gone all out if it wasn't for the book," Nadine said. "It's been a great project for us to [pay] tribute to my husband, but also channel our grief and do something positive."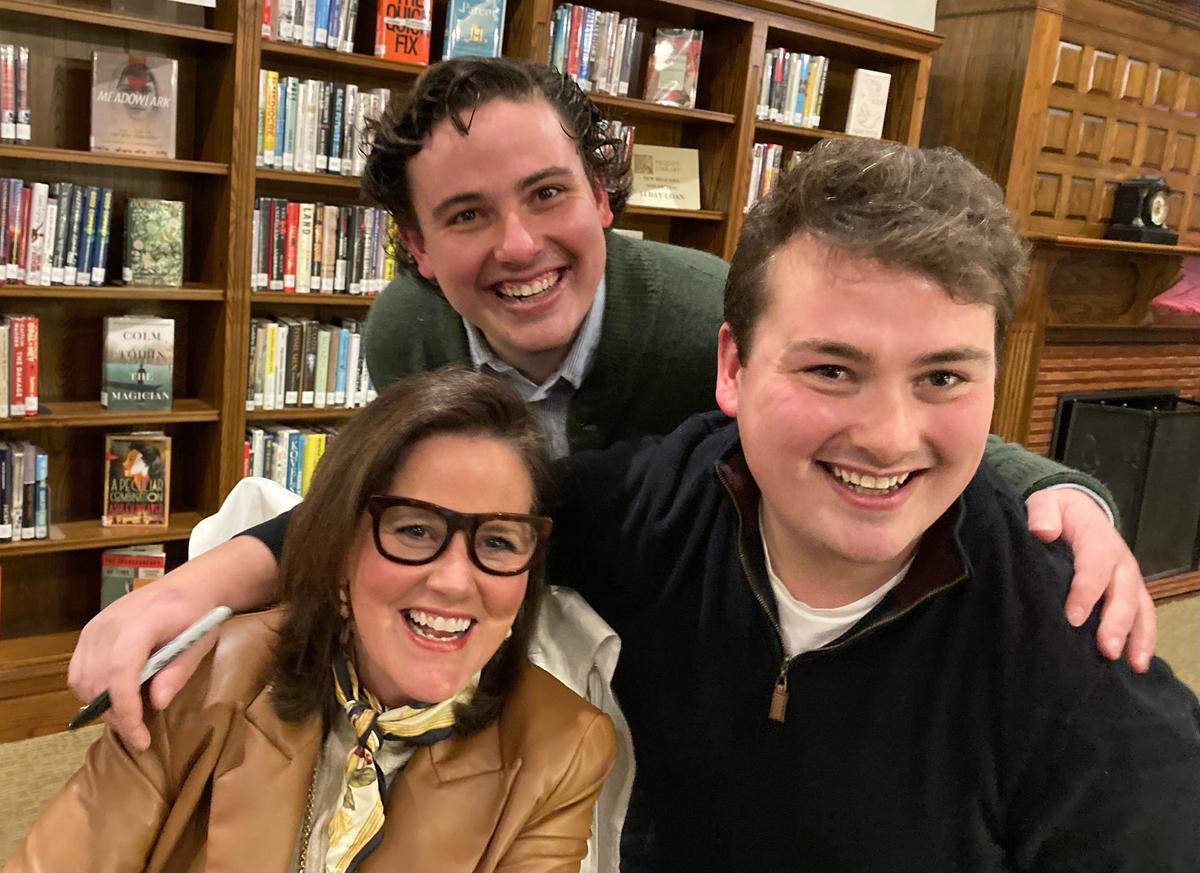 This year, she hopes her family's experience can help others facing difficult holiday seasons ahead.
"For those who are grieving—and God knows, there are millions of Americans who are in the same place as we are, with an empty seat at the table, many more so than previous years because of COVID—maybe they will be inspired to take that grief and do something positive with it," she said. "Writing a book is a big thing, but it could be just being inspired to call someone that they haven't called, or to invite someone to their Thanksgiving who they hadn't included before, or who has maybe been going through a difficult time.
"I do think that [we were inspired to write] this book, and we all think that it was much bigger than ourselves. ... I think for people going through the grieving process, we're all inspired to do something if we listen close enough."
With each passing Thanksgiving, "the gratitude element becomes more and more important," Nadine added. She emphasized the importance of "being present, and just recognizing how precious this all is."
"We never took it for granted, which helps us now, in our grieving process with Peter. I feel like we practiced gratitude and thanksgiving and celebration of family 100 percent, so we have no regrets on that whatsoever," she said.
Thanksgiving Tips From the Isacs
With each year of hosting, "we raised our game," Nadine said. Here, she, PK, and Christopher share some of their best advice—the culmination of 20 years of feasting, drinking, and memory-making.
Talking Turkey With Christopher
Start with good ingredients. "If you can, invest in a high-quality turkey, especially if you can support a local farm." Christopher uses the three little pigs as a metaphor: "It's the one who used bricks that the wolf couldn't get to. It's not that he was better at building a house, it's that he invested in good materials."

Butcher the turkey before roasting. "The white meat and the dark meat are very different in terms of their makeup, so the best way to cook each of them is very different." Christopher roasts the dark meat first, low and slow at 275 degrees F for 4 to 6 hours; the white meat goes in for only the final hour, then is finished at 500 degrees for 10 minutes to get perfectly browned.
Breaking down the bird also lets you play "turkey Tetris," to more easily fit everything in the pan and the oven, and sets you up to make stock with the carcass now, instead of waiting until the day after Thanksgiving—"which is 364 days away from when you really want turkey stock." Which leads to ...
Make your own turkey stock. This is "probably the single most impactful thing you can do to improve your Thanksgiving. It's absolutely crucial for the stuffing and the gravy, ... and it can add that Thanksgiving flavor to anything else that needs a little bit of liquid." Christopher makes a dark brown stock by first roasting the bones from the turkey carcass (and any other bones he's stocked up in the freezer) along with some turkey, chicken, or other meat; then simmering them with mirepoix and other aromatics for at least 3 hours.
Raising the Bar With PK
Set up a bloody mary bar—with one important step. "The night before Thanksgiving is the biggest bar night in America, so a lot of guests end up really wanting a bloody mary the next day. Our big problem with it was, a bloody mary's going to make you very, very full, and you want to be as hungry as possible for the biggest meal of the year." The solution: Make clarified tomato juice, by hanging the seasoned juice overnight in cheesecloth. "The result is you get all that tomato flavor, but none of the extra fullness."
Pre-batch your cocktails. "For a lot of classic cocktails that have a higher percentage of alcohol, you can batch them ahead of time and you put the entire bottle in the freezer." (While you're at it, put the glasses and shaker in, too; you want to keep everything, from the servingware to the garnishes, as cold as possible.) Aside from saving you work on the day of, this strategy makes for better drinks: It gives you control over the dilution, and when it comes out of the freezer, "it has this really nice viscosity, and it's ice, ice cold."
Try a Manhattan as a post-feast digestif, an Isacs family tradition: Sterilize an empty wine bottle with hot water and let it cool; funnel in 10 ounces rye, 10 ounces sweet vermouth, 10 dashes angostura bitters, and 4 ounces water; and cork and freeze for at least 12 hours.
Break out the bubbly. Bubbles are a great choice for the myriad dishes and flavors of the Thanksgiving meal, because "every time you take a different bite and you have a sip, the bubbles kind of cleanse your palate and get you ready for the next bite." PK's picks: Champagne or a lambrusco secco.
Setting the Mood With Nadine
Look around you for decor. "You can set a beautiful table by just going for a hike, or in your backyard, or to the produce section of the grocery store." From the outdoors, look for bittersweet vine, winter berries, pine cones, and acorns. From the grocery store, you might pick up pumpkins, artichokes, eggplants, and citrus. Bonus: "Then you can incorporate much of it into your leftovers."
Mind the seating arrangements. "I love to use place cards, because I think that they not only help people be seated, but are an extra beautiful element on the table." There are endless ways to get creative; some of Nadine's are: paper tags tied to baby pumpkins, pears, or wreaths made of rosemary sprigs; tiny mason jars filled with cranberry sauce on each plate, labeled with guests' names; and small chalkboards hung on the backs of the chairs that read 'I am thankful for [name]'.
Mentally plan ahead for challenging family dynamics. If necessary, "make sure that everybody is in agreement that we're just not going to bring politics into our conversation." If you have an especially challenging relationship with a particular guest, "think through some questions that you might ask them to open it up a little bit. Grace is so important. Remind yourself what the holiday is all about: being grateful, and trying to find the best in everyone."