If you went on a trip last winter to ski or enjoy another snow sport in the United States, you were in good company. According to the National Ski Areas Association, Americans made more than 65 million journeys to play in the snow, and some were to unexpected places.
For example, more than 6 million snow visits were to the Midwest, and over 4 million to the Southeast. Along with these geographical surprises, some destinations, resorts, and snow-capped mountains offer attractions that extend beyond the familiar activities.
Blowing Rock, North Carolina, for example, is a family-oriented resort in operation since 1962 that offers several lift alternatives, including a hand-pull contraption. There are three terrain parks perfect for children and a large outdoor ice-skating rink.
Snow-tubing at Ober Mountain in Tennessee begins before Thanksgiving and lasts through March, and the ski and snowboard season usually stretches from December to mid-March. Ice-skating and a Family Snow Zone are favorites with youngsters, and an aerial tramway connects downtown Gatlinburg with the mountain.
Think "skiing" and New Mexico may not come to mind, but that Southwestern state also has its alpine appeals. Ski Sante Fe, a 30-minute drive from the city, has 86 trails along with onsite horseback riding and wellness activities. It developed after a rope tow powered by an automobile engine was installed at the site in 1936.
Taos Ski Valley is even more below-the-radar, and that tiny town often gets overlooked for its larger neighbor. It has an abundance of steep, challenging terrain, and the town's attractions include a collection of Southwestern-style galleries. The village originally was settled by miners in the 1800s.
Other ski mountains also are linked to chapters of history. Ketchum, Idaho, was founded as a mining district, too, and after the quarrying boom subsided in the 1890s became a sheep-grazing area. Reminders of its pioneer and mining heritage occupy the historic neighborhood. Winter fun takes place on the portion of the Rocky Mountains that runs through Idaho, providing thrills equal to those in the Colorado Rockies without the larger crowds.
Much earlier remnants of the past await discovery by visitors to the compact Antelope Butte Ski Area near Shell, Wyoming. When they're not speeding down Bighorn Mountain along one of the 23 runs, guests can check out a rich geological treasure. The abundant scattering of fossil shells that gave the community its name includes rare Jurassic dinosaur tracks and other geologic formations that date back more than 2 billion years.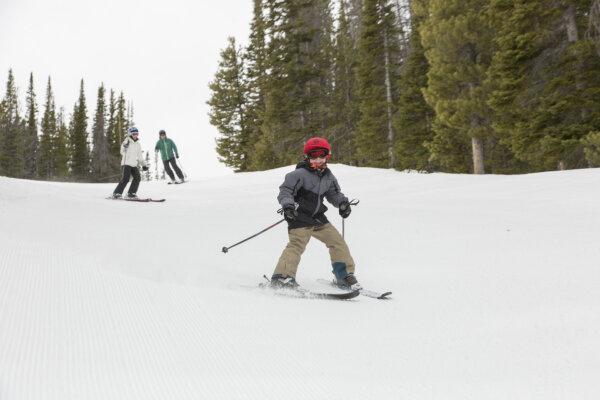 At the other end of the size spectrum is Park City, Utah, rated the largest ski resort in the United States. With a summit elevation of more than 10,000 feet, it sprawls over 7,300 acres of diverse terrain that includes 3,200 feet of vertical drop favored by advanced and expert skiers and offers more than 330 trails and 40 lifts. No wonder it has hosted the winter Olympics.
Another incomparable claim to fame is at Mount Baker in Washington state, rated the snowiest ski resort in the world. It consistently receives the highest volume of winter white on the planet and claims the record for the greatest snowfall in one season, an astounding 95 feet. Perched just south of the Canadian border, it is known for having isolated slopes.
Some ski destinations are popular as much for who frequents them as for their physical facilities and amenities. That's certainly true for Aspen, Colorado, which lives up to its reputation as a playground for the rich and famous. Hollywood and other celebrities frequent the four mountains, luxurious hotels and resorts provide upscale lodgings, and the town is packed with high-end boutiques and gourmet restaurants.
The Lodge at Blue Sky, a 3,500-acre private ranch, provides easy access to nearby Park City's runs, where it has a private slope-side lounge. A member of the prestigious Auberge Resorts Collection, it has been recognized by "The World's 50 Best Hotels" listing. The spa features locally inspired treatments and products, and warm-weather activities include a horseback ride to an 1800s tavern and hiking with a biologist to spot deer, elk, and birdlife.
A much more basic experience awaits on the summit of Mauna Kea in Hawaii. It's the highest of five volcanoes in the state, and like the others, it is revered as sacred. Its name means "white mountain," a reference to its seasonally snow-capped peak. Skiers and snowboarders who reach the top by off-road vehicle don't find the amenities of a typical ski resort. What they do discover is a setting that's one of the best sites anywhere for astronomical observations. Telescopes installed by 11 countries, that comprise the largest such facility in the world, conduct research into space. Snowfall usually occurs between December and February, and those who venture to this unique winter wonderland are in for a memorable experience.
When You Go
BlowingRock.com
OberGatlinburg.com
SkiSantaFe.com
TaosSkiValley.com
KetchumIdaho.org
TravelWyoming.com
ParkCityMountain.com
MtBaker.us
Colorado.com
AubergeResorts.com
Hawaii.com/mauna-kea
Dear Readers: We would love to hear from you. What topics would you like to read about? Please send your feedback and tips to [email protected].