Bribery: Business as Usual in China's Village Elections
October 13, 2006 12:00 am Last Updated: October 13, 2006 12:00 am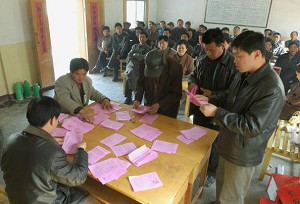 Bribery is prevalent in ongoing village committee elections all over China. Observers point out that if reform does not begin with the oversight system, that is, to establish independent supervision and a reliable judicial mechanism, the problem will persist.
According to recent mainland media reports, during the current village committee elections around the country, which have been viewed as the communist regime's movement toward democracy, problems such as open bribery of voters have emerged. The election bribery is vulgar and shocking, yet these open elections have been viewed as the communist regime's movement toward democracy.
Big Money in Small Villages
Some villages are blatantly engaged in a "ballot price war." The price for one ballot can be as high as 1,000 yuan (US$126). In order to please their voters, some candidates provide free food and drinks for days. A villager living close to Huhhot City said that voters "may eat at restaurants free every day."
A candidate surnamed Qiao boldly claimed that she had prepared to spend 260,000 yuan (US$33,000) for meals or cash gifts for her election campaign. If she is elected as village committee chief, she will give another 200,000 yuan (US$25,000) to her supporters.
Like the old Chinese saying, "What you lose in the morning, you will get back in the evening." There are numerous ways to get the money back; at the very least, there is land in the village that could be sold!
Power Is Money
Political commentator Zeng Ning said that the "benefits" and "privileges" for elected village officials are the driving force behind the bribery.
Zeng Ning explained, "The power of a village head may not seem significant, because he only manages a few hundred people. But there are many matters where a village head can exercise his authority. Therefore, his authority and power are very real.
"For instance, there is the birth control decision, livestock butchery, and some taxation and fee issues. Every year, there are activities like collecting village taxes on dried tobacco, food provisions, etc. These powers are all given to the village head. Driven by this kind of benefit, bribery in the elections of village heads is prevalent throughout the vast countryside in China.
"Once elected as village head, he will benefit from future national land requisitions, water and electricity development, construction projects, compensation for the requisition of villagers' land, etc."
No Independent Police, Judges, or Media
Zeng said that the National People's Congress should establish laws to stop election bribery. But he also said that even with appropriate laws, he was not optimistic about the elimination of this practice. After a law is enacted, who will enforce it? How will it be regulated? These are all challenging questions.
Seton Hall University Professor Yang Liyu, indicated that no matter whether it is voter bribery or other corruption situations, it is all related to the lack of supervision, and independent judicature and a free media. The problem cannot be solved without working on the root of the problem—the system.
Yang said, "The question is whether the communist regime just has a set of regulations and systems, or a set of systematic, enforceable regulations and laws. Take the Shanghai Party Chief Chen Liangyu as an example. Chen has just been sacked for corruption, and his case involved many other high-ranking officials in Shanghai, involving the embezzlement of over several hundred billion yuan.
"Why could this happen? It is because there is no supervision structure in China. Currently, it is the Central Disciplinary Committee that is responsible for the investigations of these corruption cases. The Central Disciplinary Committee is a party organization, so how can it work when one supervises oneself? The Chinese judicature has never been independent.
"People complain that the CCP investigation system is more corrupt than everything else.
"The most important tool in the supervision system of a democratic country is an independent media. Are the Chinese "People's Daily" or the China Central Television Network independent? No, the party controls them."