Spending a lazy morning at Café Sabarsky feels like you're lounging at a Viennese coffeehouse. The café located inside the Neue Galerie is decked out in dark wooden panels, patterned banquettes, and marble-top tables that evoke European sophistication. The waitstaff are even dressed in formal, black-and-white uniforms.

Its extensive menu of classic Austrian breakfast dishes and pastries introduces diners to the country's culinary traditions. The scrambled eggs dish with roasted potatoes and bacon, for example, is drizzled with pumpkin seed oil from Styria, a specialty product of the southern Austrian state ($14). The oil, with its nutty notes, along with the rainbow radish sprouts sprinkled on top, elevate the dish of common breakfast ingredients to something uniquely Austrian.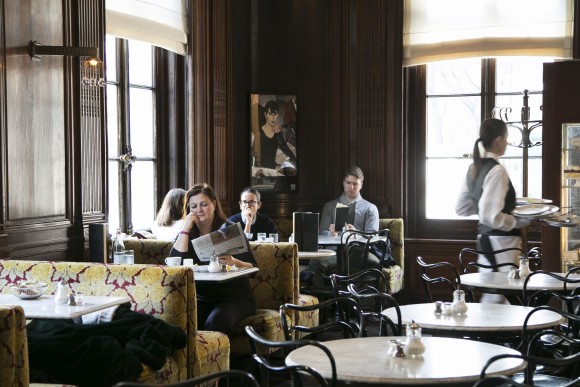 Another traditional dish, a thin crepe called palatschinken rolled into a cigar-like tube, is filled with apricot confiture, delightfully bright and sunny ($10). The apricot preserves are made in-house when the fruit is in season (and when it's not, the restaurant uses Staud's, a brand from Vienna).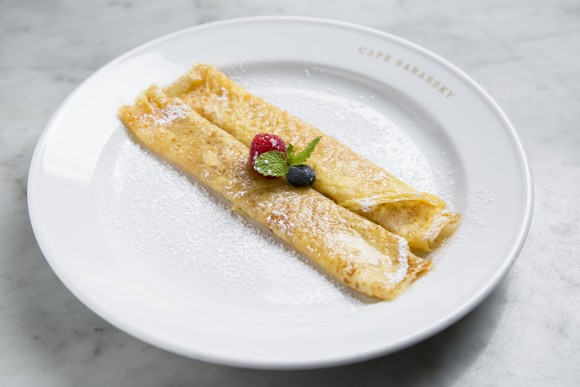 On one side of the café, cake stands lined up on a table entice diners to linger for a round of dessert. The sachertorte, Vienna's most well-known pastry, is a crumbly chocolate cake layered with apricot preserves and iced with chocolate ganache ($9.50).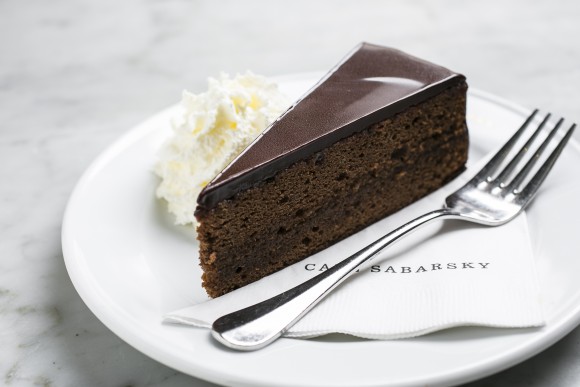 The drinks menu features Viennese café staples, like the Wiener Mélange coffee, with espresso, steamed milk, and milk foam ($7) and Viennese style hot chocolate, silky and topped with a tall mound of whipped cream ($8). For something cold and refreshing, try one of the sparkling sodas, such as cucumber juice with lemonade ($7).
Café Sabarsky
Inside Neue Galerie
1048 Fifth Ave. (at 86th Street)
212-288-0665
NeueGalerie.org/cafes/sabarsky
Hours
Breakfast served 9 a.m.–11 a.m.
Closed on Tuesdays