Commentary
Peacefully protesting against a controversial election is now a serious crime in Brazil, with sentences of up to 15 years or more. At least 1,200 people have been detained as part of the dismantling of a protester camp in Brasília, Brazil, on Jan. 9.
They've been charged with the "crime" of being camped in front of the army headquarters, believing that they were protected by it, and manifesting themselves for freedom and democracy. And yet hundreds of police in riot gear and some on horseback amassed at the encampment while army soldiers in the area withdrew.
Since Oct. 30, 2022, thousands of Brazilians had camped outside the army headquarters in Brasília, demanding the cancellation of a presidential election in which far-left candidate Luiz Inácio Lula da Silva came to narrowly defeat Jair Bolsonaro.
The protesters were detained and taken by buses to police headquarters following orders to dismantle the camp. All done without proper investigation and without individualization of conduct.
"We have received information that there is a lack of water and food for them. … Among those detained are demonstrators who acted peacefully. In any case, everyone needs basic conditions," congressperson Carla Zambelli (PL-SP) said.
In response, the Minister of Human Rights, Silvio Almeida, released an official note claiming that those protestors deserve no human rights from the state.
Dissenting Political Opinions Being Rapidly Crushed
On Jan. 11, the National Council of Justice stated that more than 1,400 political prisoners will be sent to prison, where they'll be charged as terrorists.
When these protesters were sent to prison, they went through a triage process. Pillows and blankets weren't delivered to these political dissidents for "security reasons," so that the objects aren't used for "acts of violence."

These political prisoners have been forcibly inoculated with vaccines, including ones for COVID-19, in a clear violation of the Nuremberg Code.
Common prisoners in the semi-open regime have been released in order to accommodate these political prisoners in overcrowded prisons.
On Jan. 13, Justice Alexandre de Moraes of the Brazilian Supreme Court issued judicial orders cancelling the social media accounts of numerous politicians and social influencers. They were punished with the blocking of their Twitter, Instagram, Facebook, and TikTok accounts.
On Twitter, Glenn Greenwald, an American journalist based in Brazil since 2005, questioned these recent social media suspensions, finding these judicial measures "shocking." According to him, "the censorship regime in Brazil is growing rapidly, virtually daily now."
Greenwald also said he was afraid to report the censorship that's taking in Brazil for fear of retaliation, spending hours discussing with lawyers and consulting Brazilian laws to ensure that he could run the story without being the target of judicial harassment.
Lula da Silva's Socialist Roots
Perhaps it's important to disclose the disturbing background of the current president of Brazil. In September 2009, Lula compared the brutal crackdown on pro-democracy protesters in Iran to a row between fans of rival football clubs.
As reported by United Press International, Lula even questioned the democratic right of Iranians to protest against those apparently rigged elections, pointing out: "In Brazil, we also have people who do not accept electoral defeats."
In 2002, the French newspaper Le Monde published a story that states that Lula "strongly believes that every election is a farce and a mere step to take power."
The president is a founding member of the Forum de São Paulo (FSP), an extreme international-socialist organisation.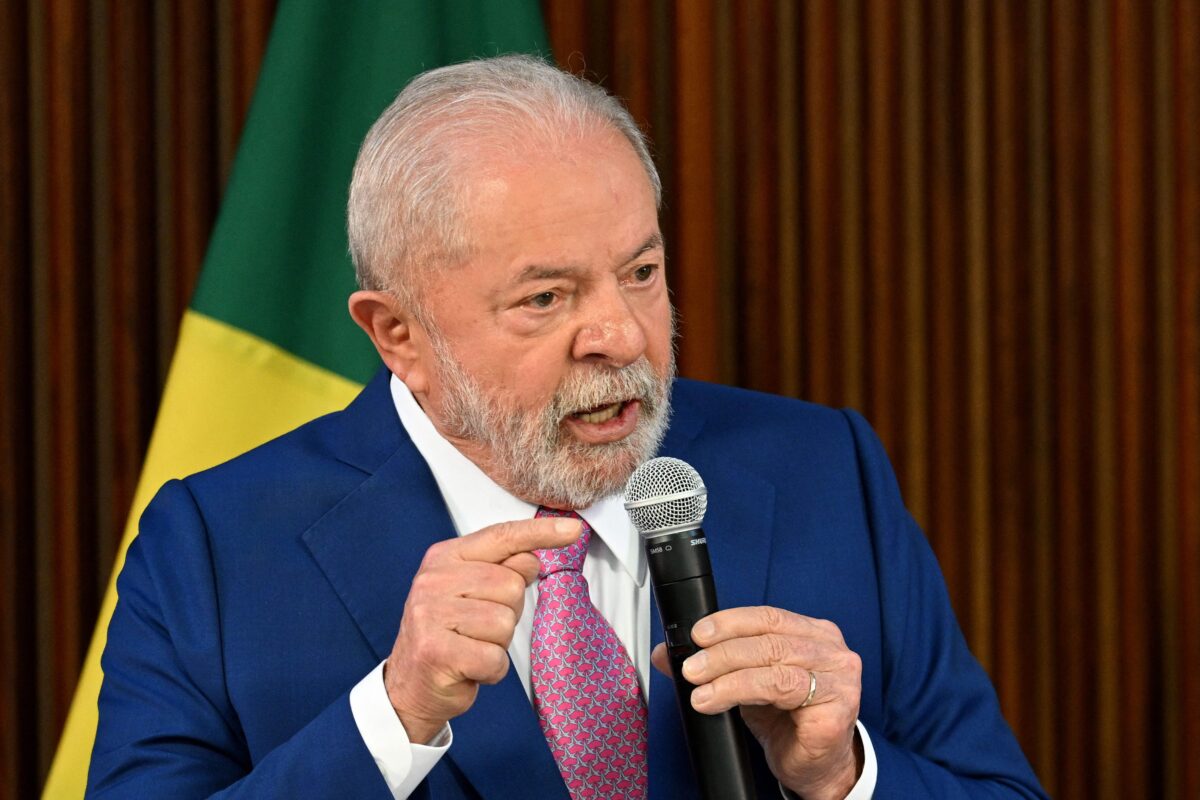 The successor of Lula as FSP chairman was his then-foreign affairs adviser Marco Aurélio Garcia. In 2002, in an interview with Argentina's newspaper La Nación, Garcia claimed that once in power, Lula would have no interest in preserving democracy.
Garcia told the paper: "The impression that the PT [Workers' Party] moved to the center arises from the fact that we have had to make commitments that are in that area. That implies that we will have to initially accept some practices. But that is not forever."
Lula is also a self-declared admirer of the late Fidel Castro—the communist dictator of Cuba. In April 2003, his government abstained at the U.N. Human Rights Committee from condemning the assassination of political dissidents in Cuba.
Speaking on behalf of the Lula administration, the then-Brazilian ambassador to Cuba called those political dissidents "traitors" who were "destabilising" that communist regime.
Curiously, when asked some decades ago by Playboy magazine about which leaders he most admired, Lula cited figures such as Che Guevara, Fidel Castro, Mao Zedong, and Adolf Hitler.
The German dictator, Lula said, had what he really admired in one man: "the courage of proposing to do something and trying to do it."
Be that as it may, few would ever imagine that we would be witnessing the creation of the first-ever concentration camp in Brazil's history, for the scenes recently observed in Brazil are clearly reminiscent of Germany from the 1930s.
Views expressed in this article are the opinions of the author and do not necessarily reflect the views of The Epoch Times.