U.S. Customs and Border Protection (CBP) has reported a 1,066 percent increase in fentanyl seized in south Texas ports during fiscal year 2021.
Border agents at eight ports of entry extending from Brownsville to Del Rio said that between Oct. 1, 2020, and Sept. 30, 2021, they seized 87,652 pounds of narcotics that would have commanded a combined estimated street value of $786 million, CBP reported on Jan. 5.
Of this, 41,713 pounds was marijuana, 8,592 pounds was cocaine, 33,777 pounds was methamphetamine, 1,215 pounds was heroin, and 588 pounds was fentanyl. That's a 1,066 percent increase in fentanyl seizures, as well as a 98 percent increase in cocaine seizures, from the year prior.
They also reported having seized $10.4 million in unreported currency, 463 weapons—up 21 percent from FY 2020—and 84,863 rounds of ammunition.
The eight ports of entry comprise the Laredo Field Office. The CBP officers at these ports of entry also noted that in FY 2021, more than 20,701 non-U.S. citizens were inadmissible to the United States due to violations of immigration law.
Randy J. Howe, the Laredo Field Office's director of field operations, said in a statement that despite significantly less traffic due to travel restrictions amid the COVID-19 pandemic, "the drug and contraband threat remained the same."
"Our significant gains in fentanyl and cocaine seizures underscore the deadly nature of the contraband we encounter, the need to utilize Personal Protective Equipment to protect our officers and our continued resolve to carry out our vital border security mission," he said.
Fentanyl is a highly addictive and deadly drug that's about 100 times more potent than morphine and 50 times more potent than heroin. Just a 2-milligram dose of the synthetic opioid can be deadly.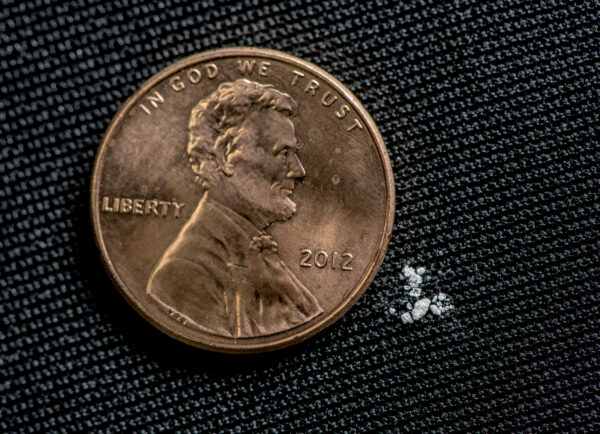 China is "the primary source of fentanyl and fentanyl-related substances trafficked through international mail and express consignment operations, as well as the main source for all fentanyl-related substances trafficked into the United States," the Drug Enforcement Administration (DEA) said in its 2020 National Drug Threat Assessment report (pdf).
A record number of Americans—more than 100,000—died of drug overdoses in the 12-month period ending in April, according to data from the Centers for Disease Control and Prevention (CDC), and fentanyl was involved in almost two-thirds of those deaths, making it the largest cause of overdose deaths in the United States.
Overall, during fiscal year 2021, CBP confiscated a total of 11,200 pounds of fentanyl—up from 2,150 pounds the year prior, signifying a 521 percent increase.
For Help
Treatment helpline
1-800-662-HELP (4357)
Information
www.SAMHSA.gov
National Suicide Prevention Lifeline
1-800-273-TALK (8255)