Cyril Dabydeen "stakes claim to legendary status," says New York-based literary critic Dr. Glenville Ashby in a Caribbean book review about "God's Spider," the eighth collection by the Guyana-born Canadian writer and former Poet Laureate of Ottawa. It follows on previous books by Dabydeen such as "Uncharted Heart" (Borealis Press) and "Imaginary Origins: Selected Poems" (Peepal Tree Press).
Dabydeen was invited by the Congress of Humanities and Social Sciences at its last assembly at the University of Ottawa to read from his new collection to an audience of international scholars. In "God's Spider," Dabydeen draws from a storehouse of rich imagery as he "makes enlightening connections between ancient Greece and Amerindian myth in Guyana, and present tropes of the buried voices of the past," the book's blurb notes.
God's Spider has cemented [Cyril Dabydeen's] place as a literary tour de force with enviable range and depth.
Dabydeen's forte is to intersect past and present. Here he pays homage to Guyanese-born novelist Wilson Harris (London-based, knighted in 2010, and now over 90 years of age), whose works have been described as "revolutionary" and "innovative." Dabydeen has long admired Harris's novels such as "Palace of the Peacock." As the "God's Spider" blurb states, "Cyril Dabydeen signals that he too is a rejector of absolutes, in search of multiple possibilities."
Dabydeen captures pre-Columbian motifs and images as he invokes "the bone-flute of memory" of the Amazon in the most evocative poem in the collection, "Wilson Harris: Land Surveyor." The title refers to Harris's earlier career as a surveyor and his intimate knowledge of the Guyanese landscape and hinterland, gained from trekking through the country's Amazon rainforest and other regions.
The spider is seen in Native and African lore as a traditional symbol of the web of mystery.
The figurative language of the spider throughout the book is symbolic of the artist spinning the web of creativity. The spider is seen in Native and African lore as a traditional symbol of the web of mystery, such as in the popular Caribbean and West African folktale character Anansi. Such symbolism is perhaps universal. But Dabydeen goes deeper in his new collection, where Canada and his native Guyana are linked.
Canada-Guyana Interconnections
In "God's Spider," among the expressive poems of this tenor and interconnectedness is "Annals of Time,"—about literary scholar Northrop Frye who had visited Guyana sometime around 1980. Dabydeen sees Frye's mythopoeia associated with spatial Guyana and Canada in the poet "facing up again to what's / our common ancestry as Jung / would have it…"
Imagery is also seen in another poem, one about creativity and ants. This is Dabydeen's take-off from Margaret Atwood's wry advice to beginning writers—that they write in such a way as to make ants interesting. Dabydeen capitalizes on this, while urging in satire that students write "without angst / or Antwood, but only with / a writer's lasting itch."
The sense of voyaging and discovery is also prominent in this volume.
The sense of voyaging and discovery is also prominent in this volume. Dabydeen metaphorically goes back to classical Greece and to what's tied to history and the exploitation of indigenous peoples, as well as to slavery and indentured labour.
These are themes not uncommon in Dabydeen's work. They appear also in his acclaimed books of short stories and novels. Of note is that this new book's epigraph is from Dante—"In the middle of the road / I found myself in a dark wood"—giving a sense of contrast and journeying. Indeed, Cyril Dabydeen's dark wood reflects a timeless quality of searching and yearning.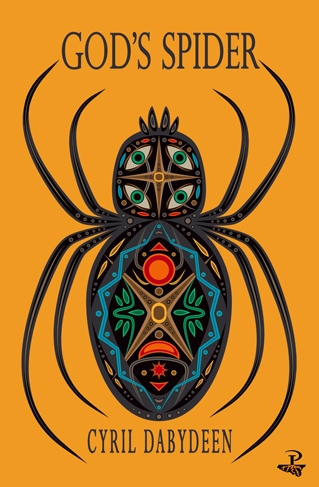 He also goes back to his Indian forebears and lore in "Tryst With Destiny," "Sarojini Naidu: Letter to Daughter Leilamani," and "Shakira Meets Shiva: Sweet Dreams." And, with his Canadian sensibility very much alive, we have the evocative poem "Buddha in Ottawa."
Related Coverage
In Part 4, there is definitive animal imagery in poems such as "Hawk," "Owl Night," and "Birding the Cage," about the poetic craft itself, and "Jawala," about the Amazon jaguar, which is reflective of the hinterland landscape. These poems capture the "outsider" motif as African and Caribbean elements are mixed in.
This motif is especially seen in other poems such as "Tombstone (Tobago)"; "Bicentenary," about the abolition of the slave trade; and "The Border," where Dabydeen says, "It's not where I want to be, / adrift, facing barbed wire fences, / palings, tunnels and border guards, / yet being here with you makes more / than a disturbance of the spirit." This is followed by the striking poem "Cold in Canada."
'How I Fathom Myself'
Dabydeen's mysticism and religious instinct are associated with personal angst in nearly all the poems in this collection, but seen particularly in "How I Fathom Myself." Invariably, it is the "poet's quarrel with himself" (W.B. Yeats) in coming to grips with inner reality that this Ottawa-based writer captures in "God's Spider."
As critic Dr. Glenville Ashby writes: "Dabydeen is prolific having produced many worthy pieces in the past, but 'God's Spider' has cemented his place as a literary tour de force with enviable range and depth … with a fair use of free verse, metaphors and symbols … from the mundane to the philosophical and spiritual."
This book was a shortlisted finalist for the international Guyana Prize for Literature (Best Poetry Book category). Many of the poems here have previously appeared in journals such as Prairie Schooner (U.S.) and the Warwick Review (U.K.). Cyril Dabydeen teaches Creative Writing at the University of Ottawa.
"God's Spider," By Cyril Dabydeen, Peepal Tree Press, U.K., 2014, 112 pages
Claire R. Kinnis is an independent reviewer. She is a communications adviser with the government of Canada.