BMW RLL Bringing New Z4s to ALMS for 2013
January 14, 2013 1:27 pm Last Updated: January 15, 2013 2:15 am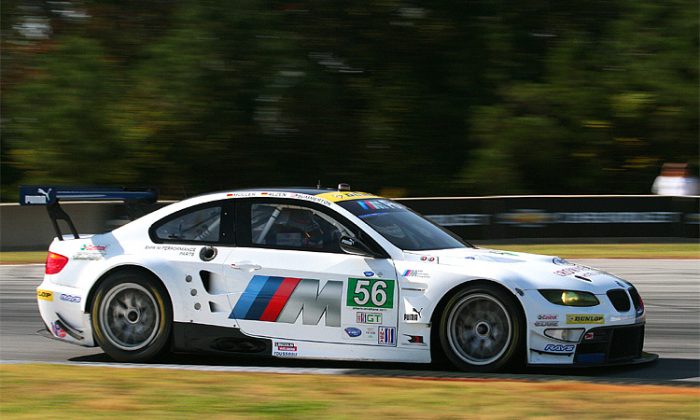 Former GTE champion BMW Team Rahal Letterman Lanigan will be back in the American Le Mans Series with new cars in 2013.
Rahal Letterman Lanigan Racing has entered a pair of GTE BMW Z4 V8s along with a crop of old and new drivers to contest the final season of America's premier sports car series.
Team RLL won the 2010 and 2011 ALMS GTE Team and Manufacturer championships and the 2011 Drivers' title with its pair of M3 coupes. In 2012 RLL finished second as a team and third among manufacturers with two wins and five podium finishes.  
Prospects for 2013 look strong. The team will be trading in its aging M3 coupes for the GTE version of BMW's highly successful V8-powered Z4 coupe, a proper two-seat sports car, which has proven highly competitive in GT3 form.
"All of us at BMW Team RLL are very excited about the 2013 season with the new BMW Z4 GTE," said Team Principal Bobby Rahal on the RLL website. "We had four great years with the BMW M3 GT and now want to compete on par with our rivals with the BMW Z4 GTE as soon as possible.
"With any new car there is going to be a period of development, but we are excited about the upcoming season. This will be our fifth year with BMW and it's obvious we have a great working relationship. In fact, some of the members of the team are in Munich working side-by-side with BMW Motorsport building the cars. We share the same approach in terms of our desire to be successful and it's a real honor and privilege to represent BMW in motorsport."
Three of RLL's championship-winning drivers—Bill Auberlen, Dirk Müller, and Joey Hand— will be back for 2013. Hand will be replaced on occasion by open-wheel and Grand-Am veteran John Edwards when Hand has conflicts with his DTM schedule.

The fourth full-time member of the team will be Maxime Martin, fresh off a season of success in the Blancpain Endurance Series and ADAC GT Master. The 26-year-old Belgian driver was the runner-up for the 2012 BMW Sport Trophy. His familiarity with the Z4 GT3 will give him a head start over his teammates when they first pilot the GTE version.
Martin will make his North American driving debut in a Turner Racing Rolex GT M3 at the Grand Am Rolex 24 on Jan 26. Tickets for that event are available at Grand-Am.com.
BMW factory drivers Uwe Alzen and Jörg Müller will round out the lineup for the longer races, Sebring and Petit Le Mans.
BMW RLL looks to be well placed for the coming sports car series merger in 2014: BMW has picked Gordon McDonnell, who has managed BMW Motorsport Parts and M Performance Parts in North America, to be the factory's North American Motorsport manager.
McDonnell is currently running BMW's Grand Am programs; when ALMS and Grand Am come together for 2014, he will already know everyone in both leagues.
The American Le Mans Series 2013 field can first be seen at the Sebring WinterTests, Feb. 5–8 at Sebring, Fla. The first race of the 2013 will be the Sebring 12 Hours, on March 16. Tickets for both events are available through the Sebring International Raceway website.
The Epoch Times publishes in 35 countries and in 21 languages. Subscribe to our e-newsletter.