Indian sweets are famously cloying. Whenever I bite into one I always think of dentists. Would they wring their hands in anxiety or rejoice? It depends on the dentist, I suppose.
But the Indian-inflected sweets made by pastry chef Surbhi Sahni for her company Bittersweet NYC are a rare exception to the rule.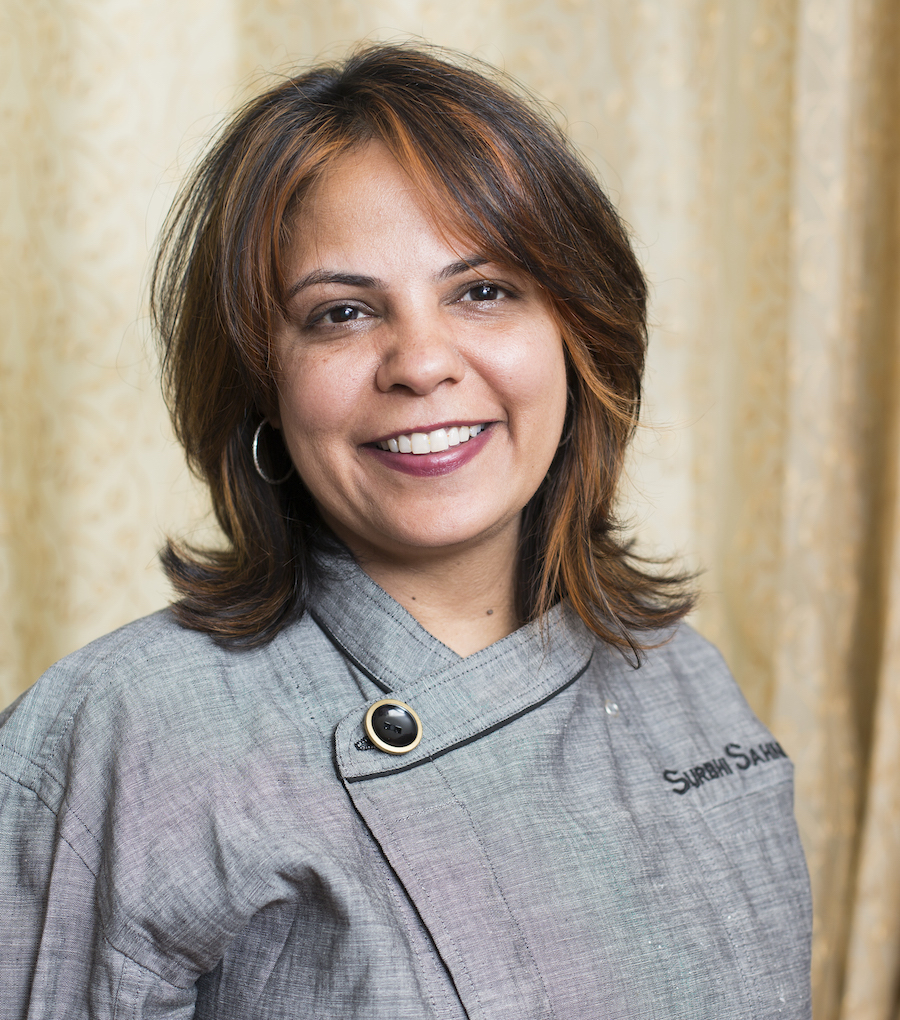 The sweetness is minimal, and you can taste the delicate spices, which offer just a touch of eye-opening somewhere-else. Her little squares of chocolate fudge, bearing a gold dusting as if a fairy had just flown by, leave behind a tantalizing aroma—cardamom, as it turns out.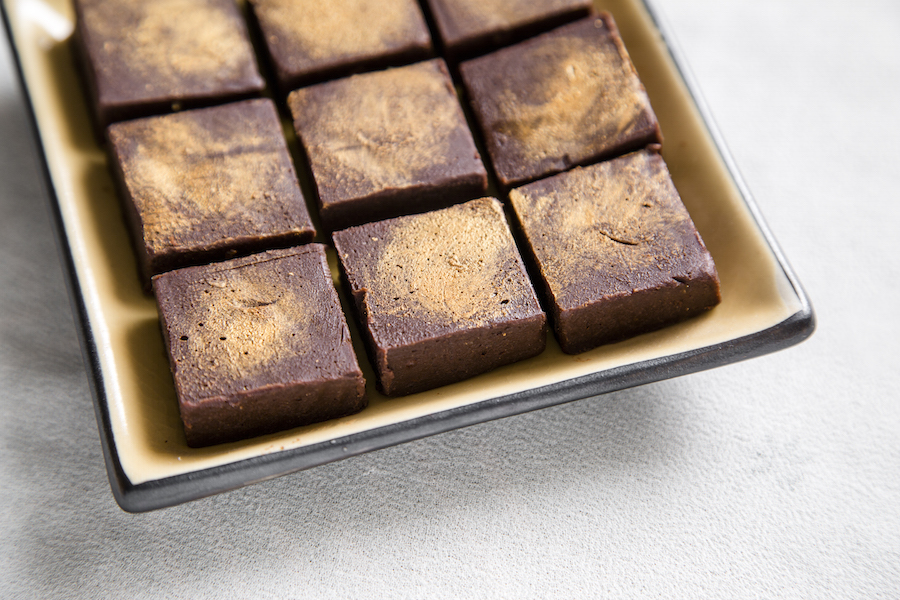 Then there's also golden squares with a sheen of silver dust: kaju katli are nutty, with the taste of cashews coming through clearly.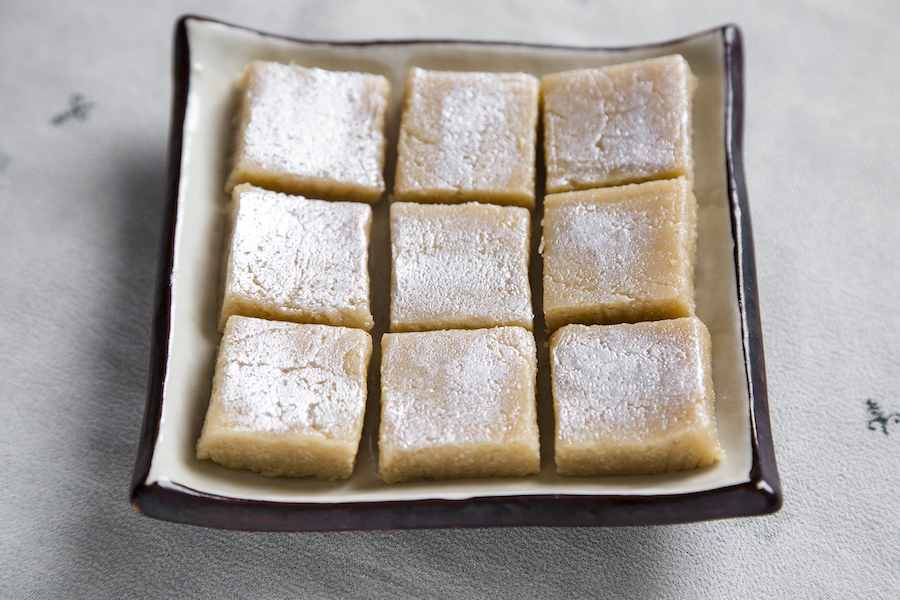 A distinguishing flavor and hallmark of Indian pastries is the use of khoya, a milk base. To this Sahni adds premium ingredients. Because she keeps sugar to a minimum, their flavor comes through.
These sweets are smaller than the standard size you'd find in Indian sweet shops—and I am partial to the size as well as the minimal level of sweetness. They are "just right," to borrow the words from Goldilocks.
They are also quite pretty.
For example, green sugar crystals tops the kesar malai ladoo, little balls of saffron and cream, with tiny bits of almond inside. Cardamom, orange, and coconut burfi sparkle with a dash of orange sugar on top.
Still, my favorite is the plainest: besan ladoos, little chickpea flour balls made with nothing but butter, sugar, and chickpeas. But they are so good, and they are the one confection that its creator can't help but eat.
"It's the only sweet I cannot resist if it's there," Sahni said as she reached out for a second helping, "They remind of my childhood. I'm mad for them."
Sahni also creates the sweets at Haldi, the popular eatery on Curry Hill. She hasn't had time to do the desserts for the other restaurants of the Fine Indian Dining Group, which she and her husband Hemant Mathur run, but next on her list will be Kokum, a few doors down from Haldi.
Wedding cakes are also part of the business. They are spectacular confections, with graceful designs ranging from peacock feathers to mehndi patterns to lush flowers.
The top-selling cakes are the chili chocolate cake with either hazelnut or caramel icing; and the saffron cake with coconut cream and plum preserves.
It's only been about three years since she started doing them, but the seed was likely planted decades ago. At the time, Sahni was looking to follow in her father's footsteps as an artist but didn't get into art school.
"My dad said 'You could always do wedding cakes. It's an art form,'" she said. "I'd never seen a wedding cake. I didn't know what a wedding cake was."
Perhaps things were set in motion even earlier, when Sahni's father took her to the Maurya Sheraton in New Delhi where he had an exhibition.
"They served us tea and cookies over there. I was so fascinated by this gorgeous-looking hotel. I was from a very simple middle-class family. I had never seen a place like that. My eyes were as big as saucers," she said. She told her father:"This is where I want to work."
As it turned out, the West View in the same hotel was her first job. Hotels at that time were the only places where you could find high-quality restaurants serving European cuisine.
In Manhattan, where Sahni moved to study food anthropology at NYU, she worked for acclaimed Indian restaurants Devi, Tulsi, and Tamarind.
But once upon a time, you would never have found her working at an Indian restaurant.
She said, "I never wanted to work in Indian restaurants, ever—no! I can say it openly. We grew up with a very British mentality" that held Western cuisine high aloft and regarded Indian food in low regard. "What's there to learn about Indian food?" was the prevailing mentality in the hospitality industry.
Sahni has of course changed her mindset. She looks to take classic and homey Indian flavors, and present them in a more beautiful way, or change the flavors, and add high-quality ingredients.
The home kitchen is where she now spins her magic, making sweets that are sweet—but not too sweet. And surely somewhere is a tray of besan ladoos, always within reach.
Experience Bengali and Keralan flavors with chefs Surbhi Sahni and Hemant Mathur at the James Beard House lunch on Sunday, June 28. Part of a Taste Asia celebration. Tickets $200. TasteAsia.org or JamesBeard.org.