A bipartisan group of more than two dozen House members is urging House Speaker Nancy Pelosi (D-Calif.) and House Minority Leader Kevin McCarthy (R-Calif.) to allow a floor vote on a bill that would bar members of Congress from trading individual stocks, which critics say is inappropriate due to lawmakers' inside knowledge on financial and political affairs.
The demand was made in a Jan. 24 letter spearheaded by Rep. Jared Golden (D-Maine). A total of 27 lawmakers signed Golden's petition, including 25 Democrats and two Republicans.
In the letter's opening line, the coalition urges Pelosi to "swiftly bring legislation to prohibit members of Congress from owning or trading stocks." Two bills that would do just that, the "Ban Conflicted Trading Act" and the "TRUST In Congress Act," have been sitting in congressional limbo.
The responsibility to bring them to the floor for a vote lies largely with Pelosi, who has so far made no effort to do so.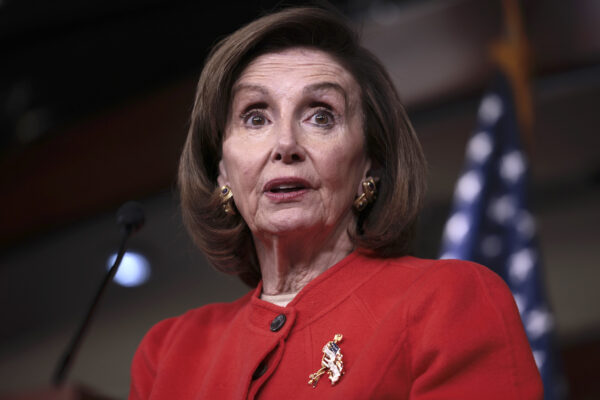 Golden argued that such a ban would be a "common-sense measure" that is "supported by Americans across the political spectrum."
A recent poll supports the claim.
The poll, conducted by the conservative group Convention for States Action in conjunction with Trafalgar, found that more than three-fourths of Americans believe that lawmakers have an "unfair advantage" over others in the stock market.
"Congress has a history of passing laws that make it appear as if they are behaving ethically, while continuing to do things that are not honest nor ethical," said Mark Meckler, president of Convention of States Action, about the poll results. "This issue has received a lot of attention, and this data verifies the American people want this practice to end once and for all."
In 2012, Congress approved the Stop Trading on Congressional Knowledge (STOCK) Act, which required members of Congress to publicly disclose their financial transactions. However, a recent investigation by Insider found that many lawmakers in both the House and Senate have violated the provisions of that law.
In view of this, the lawmakers write, "It's clear the current rules are not working."
In another recent example of potential insider trading, several members of Congress allegedly sold stock ahead of the crash precipitated by the CCP (Chinese Communist Party) virus pandemic. These members had received nonpublic briefings on the growing virus outbreak, leading many to believe that the sudden stock sales were carried out on the basis of this knowledge.
"The law prohibits only those stock trades that members of Congress make or direct because of their nonpublic knowledge," Golden states in his letter. "But it can be nearly impossible to determine what counts as 'nonpublic knowledge' or how personally involved members are in their stock trades."
"Instead," the lawmakers demand, "Congress should close these loopholes by simply banning members from owning or trading individual stocks while in office."
"We came to Congress to serve our country, not turn a quick buck," the letter continues.
"While there are many difficult questions facing Congress, this is an easy one," the letter concludes. "Members of Congress should not be allowed to own or trade individual stocks. Let's get this done."
The letter is a rare show of bipartisanship, including a very unlikely alliance of America First conservatives and left-wing progressives.
The Democratic roster includes prominent progressives such as Reps. Rashida Tlaib (D-Mich.) and Pramila Jayapal (D-Wash.), who both have been outspoken in favor of sweeping institutional reforms and costly social spending bills.
The two Republican signatories are Rep. Matt Gaetz (R-Fla.), an ally of former President Donald Trump who has fought against government measures that give an unfair advantage to major corporations or the ultra-wealthy, and Rep. Brian Fitzpatrick (R-Pa.), a longtime moderate who joined Democrats in approving the $1.2 trillion infrastructure bill in late 2021.

Speaking about the letter, Gaetz quipped that "Rashida Tlaib and I don't often agree. But when we do," he added, "America should totally go that direction."
However, not all lawmakers feel the same way about a stock market ban.
Most prominently, Pelosi made it recently clear that she thinks lawmakers should have access to the market.
During a mid-December press conference, just after Insider released a report on violations of the 2012 STOCK Act among members of Congress from both parties, Pelosi was asked whether a stock ban for members of Congress would be appropriate.
"No," Pelosi responded quickly. "We have a responsibility to report [our trades] … [and] if people aren't reporting, they should be."
Further pressed to explain her "no," Pelosi said, "Because we're a free market economy. [Members of Congress] should be able to participate in that."
Meanwhile, in 2008, Pelosi's husband Paul Pelosi bought $2 million of stock in Visa at the same time that Congress was considering a bill that would have seriously undercut the debit and credit card giant's profits. While the bill had gained momentum, it inexplicably stalled in the House.
Because Pelosi was speaker at the time, CBS's "60 Minutes" speculated in a 2011 episode that there was a connection between Pelosi's trading and the bill's sudden collapse.

More recently, Paul Pelosi made a bullish bet in favor of Google parent company Alphabet, just as a proposal designed to undercut tech monopolies was gaining momentum in the House. While others pulled out on concern about the measure, Pelosi's unlikely bet paid off, netting the Pelosis a cool $5 million.
In fact, Pelosi's portfolio has seen such spectacular returns that would-be investors on the Chinese-owned social media platform TikTok follow Pelosi's releases and emulate his trades.
Rep. Dan Crenshaw (R-Texas) has also defended stock trading by sitting members of Congress.
According to a report by Unusual Whales, Crenshaw had the fifth-highest returns of any member of Congress for his stock trading in fiscal year 2021. During an appearance on the All American Savage Show podcast, Crenshaw discussed the returns and his position on Congress members trading on the stock market.
The host asked Crenshaw whether he thought that sitting members of Congress should be allowed to invest in the stock market.
"I think it would be fine if you banned individual stock trading," Crenshaw said, before clarifying, "Notice I said 'individual stocks.'"
The Texas Republican explained that while he would accept bans on buying and selling individual stocks, he thinks that members of Congress should still be allowed to invest in ETFs and similar stock funds.
"I'm kinda neutral on it," Crenshaw continued. But if such a ban were put in place, Crenshaw claimed "no one would run for Congress because you have no way to better yourself."

The bipartisan support for Golden's letter indicates that at least some members on both sides of the aisle appear to be committed to advancing the issue. If brought to the floor, either of the two proposals would represent the most substantial reforms of their kind in a decade.